The Skills Service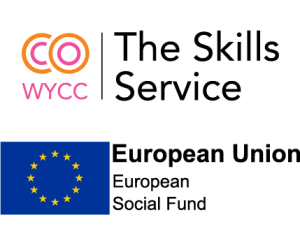 Improve workforce skills with The Skills Service
The Skills Service offers a unique package of training and support for SMEs in the Leeds City Region. WYCC Skills Service Advisors will explore opportunities with businesses to offer the right skills solutions that can be part funded by the European Social Fund.
How can The Skills Service help your business?
Planning: Free Skills Plan session for SMEs to plan employee training and stay ahead of industry trends.
Funding: 40% funding from the European Social Fund towards training your workforce (eligible businesses only).
Training: More training and education opportunities across the region.
Find what you need
Search our latest Skills Catalogue for current training courses available in the region, or request training that is not currently listed in the catalogue by making an enquiry through the Skills Enquiry Form.
Contact
Email: [email protected]
Phone: 0113 235 4460
More than training
Through The Skills Service, you will be offered more than one-off, existing training courses. The West Yorkshire Consortium of Colleges values employers' expertise and insight into industry. Through The Skills Service, businesses will have the opportunity to influence the skills agenda in your industry. As a collaborative organisation, we can connect intelligence and demand with opportunity and are managing a number of ESF funded skills projects.
We will continue to work with businesses to develop the right suite of training and projects to meet the skills gap or support talent pipeline and connect you with the right opportunities to help your business, and industry, flourish.
You don't need to know exactly what training your employees' need, we can work with you to understand your business areas and through a simple skills audit, identify where we can help.
The Skills Service is managed by the West Yorkshire Consortium of Colleges and funded by the European Social Fund.