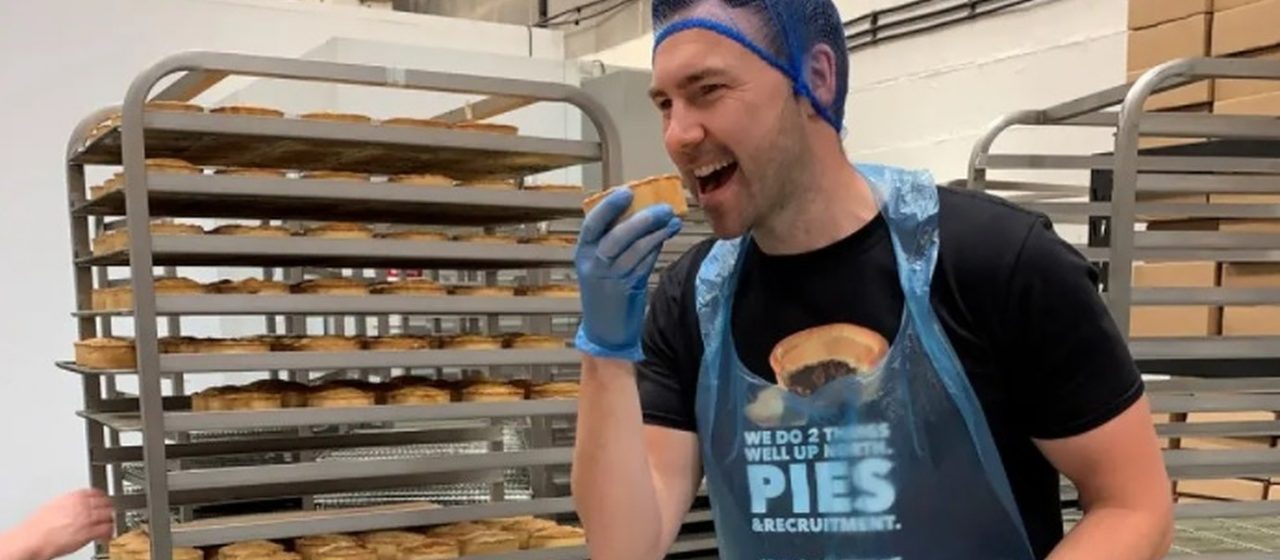 Who doesn't love a pie, on a Tuesday morning during the middle of a heatwave?
by Gareth Peterson, Managing Director at Caroo, Sep 24
I proper love 2 things me: recruitment. And Pies.
So, because I love recruitment, and pies, and to celebrate the relaunch of our tech platform last July, I thought we'd deliver some of these little bundles of orgasmic mouth joy to our favorite in-house recruiters. Northern in-house recruiters.
By some, I mean, 258 pies split in to two award-winning flavours, on a Tuesday morning, in the middle of a heatwave, covering hundreds of miles, across Greater Manchester, in an old refrigerated van which had no aircon (ironic), and 10 of them had 50 quid baked into them. It seemed like a good idea at the time.
Here's why I love recruitment.
The Caroo team and I aren't from talent acquisition or in-house recruitment backgrounds (well, Roddy is an ex-recruiter which is why we made him deliver his 72 pies on foot in 30 degree heat) so our job is to build a community of experts (that's you), listen to their challenges, pain-points, and then work together to design the recruitment experience they want. And thank you. You have been hugely welcoming, hence why we've been able to move our platform and tech on considerably in the last 12 months, and you've shaped the next 6 months product development with a potentially game-changing feature.
You could say that we're basically stealing all of your ideas and sticking our Pacman looking logo on the front of it. On a more serious note, this is how all the best tech businesses that we know and love, have developed their platforms. I mean, it worked for AirBnB, right? Brian Chesky used to design children's hospital beds before embarking on disrupting the travel sector, with a product that was led by its users. And today, Facebook will have 10,000+ variations of their platform live at any one time to understand which experience users prefer before deploying the best performing across their entire network.
When we started our journey to creating a new recruitment experience, we worked with local talent teams at Adidas, Dentsu Aegis, BBC, Boohoo, The Hut Group, Radio.co and half a dozen other TAs and hiring managers. You helped us understand that it was to important match on skills and experience (rather than job titles) to ensure relevancy, you wanted a community free of recruitment agencies, to improve diversity and inclusivity, and where there is the potential for high volume enquiries, list people based on their match percentage to job requirements, and to have a more personal view of people, not just CVs. And the platform you designed is super easy to use. More recently, you've helped us understand and design a content distribution platform for guaranteeing that brand content lands on the feeds of the right professionals (this is hugely exciting stuff).
The bigger our community grows, the more feedback and ideas we get. This was the reason for keeping the platform free of charge (just like Slack did) and is why we decided to make Caroo the cheapest platform on the market (£149+Vat per month, unlimited use, no contracts, no catches). We remove all barriers to entry so that we can get you involved and get your feedback / steal your ideas. It is this community growth and feedback that will create the world's best recruitment experience and technology platform. You can learn more about Caroo, or not, here.
That's why I love recruitment. That's why I love you. Sorry, a bit heavy that.
Here's why I love pies.
I'm Northern, well technically I'm not. Before living in Manchester, I lived in South Africa, so arguably I'm one of the most southern people in the World. Anyway. In't North we love pies.
We launched our platform in the North West and we remained in the region until we developed a product that we are happy to role out nationally and scale, with huge investment in both candidate and employer communities.
Again, this is how tech businesses do it. Facebook started with local universities before branching out to other universities and eventually going viral. Uber adopted a strategy of localization, concentrating on specific cities and at their peak grew by a capital city every two days. Amazon rolls out new products and features locally to their head office before scaling them.
This allows us to achieve two things: firstly, we can get a variety of feedback quicker. We can speak to people about their emotional connection to our product and hear them articulate frustrations, but we can also see how they are using our tech. Data dashboards can't show you, what I like to call twitchy-thumb moments, where users who are testing your mobile platform are confused by the interface and their thumb isn't sure where to tap.
Secondly, this localized approach allows us to acquire users that are relevant to both sides of the marketplace. There's little point in us bringing on jobs in London if we are acquiring users in Manchester or focusing on finance roles if we are acquiring software engineers. Too many businesses launch in this way and it kills them quickly. We are rolling out nationally by geography and by industry sectors. We will start in the North West and Yorkshire before heading to London and surrounding regions, followed by the Midlands, Scotland and the rest of the UK. This will ensure we are highly targeted in who we build our community with.
So. That's why I love pies, because Northerners love pies. [small print. Everyone loves pies] To see #ProjectPie and more #Projects you can check them out here.
The point of all this?
When we were agreed to contribute to the Yorkshire Mafia community I did not want to come here and sell to you. That's not the point of sharing content.
What I hope to bring, and offer is some of my own experiences of starting and growing a business that might in some small way offer you a different perspective. I'd like to share my approaches and learnings, because these might help you in your day jobs or everyday lives.
I have been fortunate enough to work with some amazing experts, too many to list here (Piercy at AO, Sean at BJSS, Imran at Moneysupermarket, Taq at Chess, and countless members of the DBR community, Alan and Jezza – I've never called him that, he probably hates it – , etc.), who have given me their time, their input and even involved colleagues for their points of view. And let's be honest, you lot don't have much free time.
What I'd like you to take away from my ramblings today is that your customers, your end-users are the most important asset you have. I bet you've never heard that before, a thousand times. You can not build a quality product, process, anything, without fully understanding what their pain-points are, what their challenges are and what their ideal experience looks like. The tech, the tools, etc. will follow but first, get out, speak to your audience and learn about them. You can do this locally. No excuses. And sometimes, we need to look at ourselves and how WE do things before we can deliver for other people.