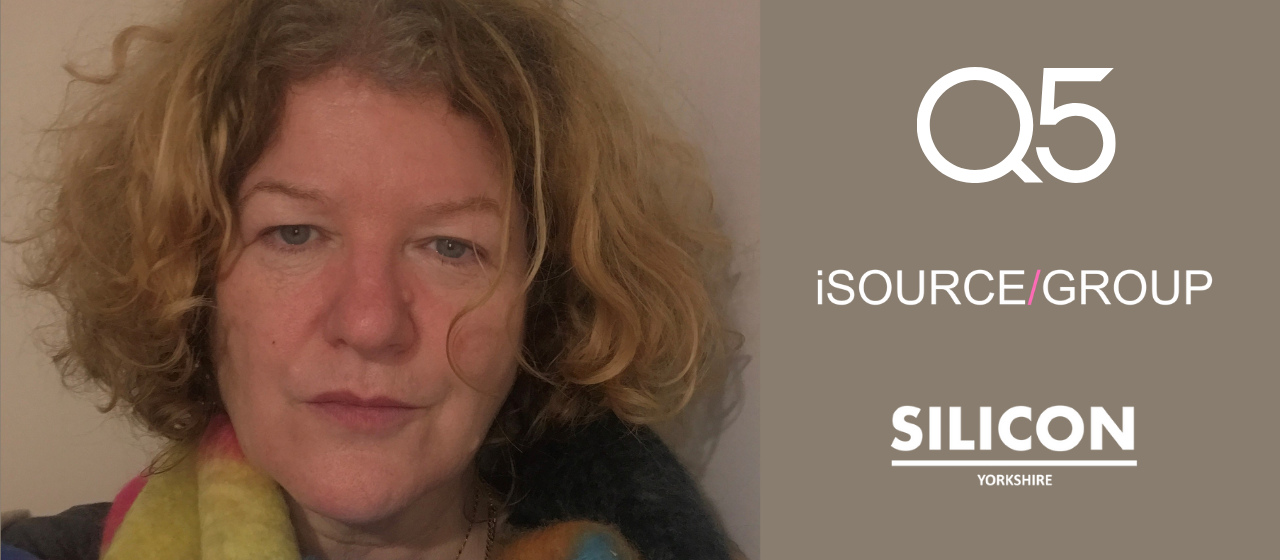 WHAT LESSONS CAN WE HOLD ON TO FROM LOCKDOWN
by The Yorkshire Mafia , Feb 17
Before becoming Head of Public Sector at Q5 in 2015, Sheila Fitzsimons worked in the Cabinet Office in the Government Digital Service working with GOV.UK. Prior to that, she was a journalist at the Guardian, before becoming Executive Director and Director of Transformation.  
Meeting the founders of Q5 more than ten years ago, Sheila had the opportunity to understand first-hand how they work and the approach that they take. Transitioning from client to consultant with the company, today she joins a team of award-winning experts in organisational change, helping to build better business across the world.  
We catch up with Sheila and ask her about her career to date, what lockdown has meant to her and what messages she wants to leave to others that may be finding times particularly tough.
She comments: "After meeting with the founding directors of Q5 many years ago we stayed in touch. They were the sort of consultants I wanted to work with and that now I am very pleased to work for. They have a very different style; they meet you where you are and take you forward, rather than simply telling you where you need to be or repeating back what you say.
"I joined Q5 at a period of uncertainty in the UK. It was the summer before the final Brexit deal. It felt like Government was frozen in terms of what it could do and meant they were perhaps less prepared to experiment with companies they hadn't worked with previously.
"Once Brexit had happened, you could feel a sense of departments wanting to move on. Then the pandemic hit and suddenly there was a huge demand for help that was both agile and purposeful. At times it was challenging and we were navigating uncharted territory but, whilst being mindful of others, it was an amazing opportunity for our people at Q5 to work on the frontline."
Stepping into the unknown  
As the pandemic took hold, public sector work enquiries increased for Q5 giving employees an added sense of purpose in one of the most challenging times in living memory. Sheila explains what those first week were like and how adapting to change was inevitable.
She comments: "During the first few days of the pandemic, I had to travel to and from Cardiff. It was like the zombie apocalypse had arrived. I got to Paddington station and there wasn't a single person around.
"A lone man turned up and let me through the gates. When I got on the train there were no other passengers there at all. It was so strange going through the stations with no one in them.
"When I arrived in Cardiff, I watched as the Principality Stadium pitch was dug up ready for a hospital to be built. There were nurses, doctors, army people, architects, engineers. I remember us passing around a pen to sign in and then realizing that wasn't the safest idea. Mask-wearing wasn't standard then and social distancing wasn't second nature. But there was lots of sanitizer!
"There was a sense of real purpose at that time but also urgency as well. It reminded me very much of what it is like to work for a media company. It's a very powerful thing to have to do. One small discussion was around a comms plan and so I volunteered to help with that.
"On the way home on the train I drafted a plan and sent it across. Everyone expected the best from one another and everyone just got on with anything that needed doing. We soon had a small team of three working there that has since grown and they all mucked in as well as delivering great support to specific projects. We are still there now supporting the vaccination roll-out and other projects.  It was and is a great feeling and we are all so proud to have worked alongside all the amazing people we have met in the health services in England and Wales and in other public sector projects."
Creating opportunity in a crisis 
With situations like the lockdown, we know that businesses were forced to adapt and to implement change quickly. As a consultancy, Q5 started out by hoping for the best but preparing for the worst. Putting contingencies in place, the business put its own advice into practice.
Sheila comments: "We were lucky enough to be able to move rapidly from checking that for our own business and people were safe and secure to looking at how we could help others. It was such an insightful moment in time. We were inundated with loads of really interesting opportunities – but were very mindful of the need to be sensitive around the business community and wider society at large.
"We came up with the concept of creating a free Pop Up advisory service, initially to give people who might be furloughed a way to stay in touch in purposeful way. It fit with the agile mind-set and forced us to see just what we could achieve in a few targeted sessions in one week.
"We never anticipated how popular it would be. Loads of people internally wanted to get involved. And lots of smaller organisations signed up to work with us on targeted interventions. Everyone involved has benefited and it has been very motivating and continues still.
Accepting others and having some fun 
As a company that has increased its workload during the pandemic, Sheila explains that it hasn't been easy for everyone but that new practices have been designed to bring colleagues closer and given them something to smile about.
She comments: "As a business we are doing more to look at how we can incorporate some of the things we have learnt through being forced to practice differently. The pop-up being just one example of this. We got a real buzz out of doing something that was purpose-led but also purposeful. Everyone got really energized from being involved and taking part.
"In contrast, we had to learn that people weren't feeling great at times. Some of us were finding it difficult to separate work from home. An ill-timed comment from a client, which in the working day you might have walked round the block or gone for lunch and forgotten, had a much harder impact.
"Our mentor meetings increasingly encourage people to go for walks or get involved with fun activities. The truth is, we are probably working harder than ever and there are no water cooler moments. No chance to just have a five-minute chat about something unrelated to work.
"Many of us, myself included, were inside all day during the first lockdown not realizing that to get out and about in the fresh air was what we needed. I make it my mission to get out of the house now, even just for a short break.
"We had a team meeting with 20 of us for a full-day recently. I did wonder how we were going to create any kind of atmosphere with so many people staring at a screen together. One of the partners asked us to send across our favourite song. It seemed strange at the time and had nothing to do with the content of the workshop.
"There were really clear timings for the day, but every so often we would have a three-minute break and a song would play. We had to guess who had chosen it. It was really uplifting and gave us an insight into our colleagues we would never otherwise have had.
"Not only did we hear the song, but we also heard more about the reasons each person had picked their chosen tune. It was a great idea and resulted in lots of laughs."
What lessons to take from a lockdown
Although Sheila says that she has been lucky during lockdown, not least as there have been six people in her house to keep her entertained, she is well aware that there are moments of boredom, loneliness and restlessness for us all.
While we look forward to a future that may be very different from our past, she explains how she feels that we should all think about the lessons that we take from lockdown.
She concludes:
"The interesting thing about a lockdown is what we take out of this and hold on to. Each of us needs to find a purpose in what we are doing. We need to keep people occupied in work and we need to support our wider community if we lucky enough to be in work. It's the circle of life. At the moment everyone is playing a role in stopping everything stopping!"
"We have to think about what we can do beyond that. Even if it feels like something really minor – like getting a takeaway coffee from your local café – it helps keeps the economy going. This needs to be a focus for everyone at present if we are to move forward."
For more information about Q5 and how the change management consultancy works with its clients, please visit: https://www.q5partners.com/