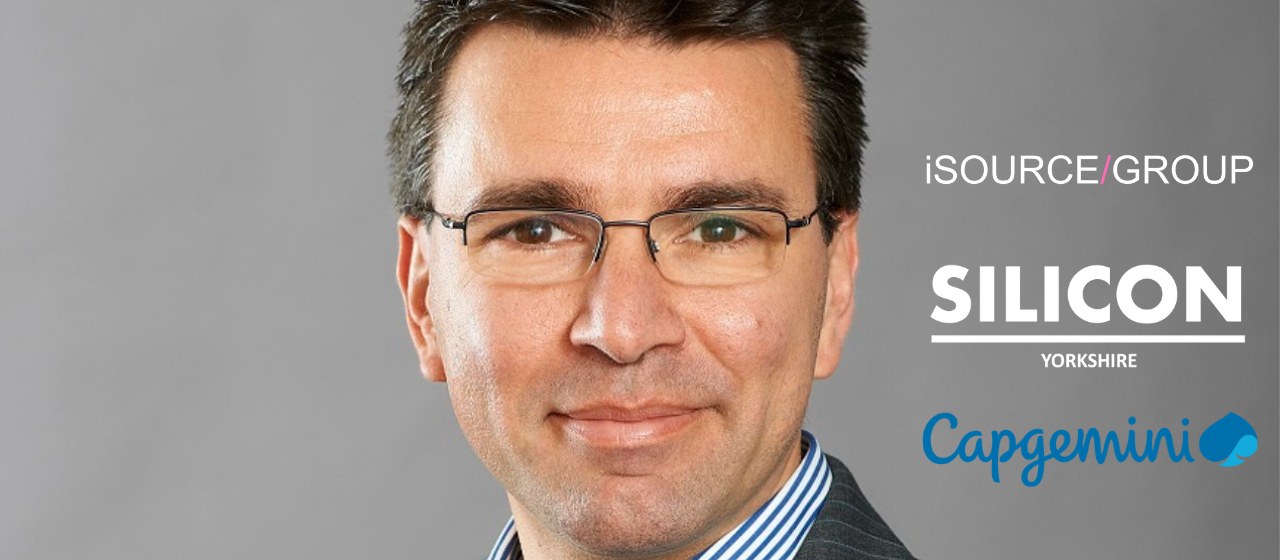 "New Normal? I prefer to use New Different", says CTIO of Capgemini Europe
by Janie Gonsalez, The Yorkshire Mafia, Nov 05
When the coronavirus pandemic hit earlier this year, the importance of technology became clearer than ever before. With a nationwide move away from 'business as usual', many organisations were forced to face circumstances that they had never imagined before. Significantly, those that had not yet invested in digital transformation, were suddenly faced with an ultimatum: in order to survive, you must go digital.
Having more employees working from home raises a whole host of challenges. There's an increased potential of cyber-attacks and threats to IT security, connectivity issues and the need to totally rethink collaboration and productivity methods.
Technology was the driving force which kept the world moving
Yet without technology, this era-defining global crisis would undoubtedly have been more catastrophic. Technology has facilitated new ways of working, giving people the chance to turn adversity into opportunity. We could ensure that the most vulnerable of our society stayed connected at a time when self-isolation became a real crisis, which ran havoc on mental health and wellbeing.
In short, technology was the driving force which allowed the world to keep moving, even when the physical world was off-limits.
Someone who knows all too well about the importance of having a competent IT landscape is Gunnar Menzel, Chief Technology & Innovation Officer at Capgemini Europe. A global leader in consulting, digital transformation, technology, and engineering services, Capgemini currently employs 265,000 people in nearly 50 countries. Furthermore, in 2019, the group reported combined revenues of €17billion.
Despite this obvious success, Capgemini – like many organisations – was not exempt from the sudden challenges which Covid-19 brought. Its European team is comprised of 70,000 staff and within one week, the leadership team had to ensure that all staff could work from home and that the business could continue to be fully operational.
The company also had to support clients with the transition. I caught up with Gunnar to explore his journey through the pandemic and highlight the key takeaways which other business leaders can learn from.
A three-stage technology roadmap to navigate the crisis
Gunnar tells me that Capgemini sees businesses adopting a three-stage roadmap to the crisis, reflecting the technology journey which many organisations are undergoing during this turbulent period.
The first stage is response: dealing with the initial impact of the pandemic by ensuring business continuity and mitigating direct risk. For many organisations this is now a done deal, although much of it could continue to apply for a long time.
Next is the adjustment phase: this may involve improving efficiencies and shifting to new channels and ways of collaborating.
Finally, the renaissance: where businesses begin preparing for the eventual bounce-back. This includes opportunities to scale-up activities and launch new next-generation products, services and even entirely reimagined business models.
Adopt and adapt
Gunnar acknowledges that this is an incredibly tough time for many businesses and individuals, but points to a positive example of how his client managed to adopt, adapt and actually implement a new business model to ensure transition and continuation of work.
Despite being a catering company that had taken the same approach for 20 years, this client recognised that the connections it has in logistics would allow it to source PPE faster than the government could. This equipment could then be distributed to local hospitals that were in desperate need.
Gunnar tells us that he was fascinated by how the company recognised a niche, before adapting and leveraging a new business model within the space of one week.
He reflects on this "unique capability of British society to adapt and modify quickly" and says this quality resonated with him throughout the pandemic; a testament to the individuals, particularly within smaller organisations, innovating at the ground-level.
There will be an end in sight
Gunnar says that amongst the chaos, one thing is certain: "This pandemic will come to an end at some point in the future. It's so important to remember this, particularly when it seems like there is no end in sight."
"Every pandemic in the history of mankind has stopped at some point in time, and when that happens, we will go 'into a new different'."
This philosophical outlook is something that we have seen before at The Yorkshire Mafia, and often sets leaders apart from others. It is the ability to look at the positives during even the most challenging of times. A quality that we share and have put into practice.
The 'new normal' vs. the 'new different'
With the situation in a constant state of flux and the rules around Covid-19 ever-changing, Gunnar argues that we can't say this is a state of normality as the situation has yet to settle, and thus nothing is set in stone.
I'm sure we're all too familiar with one of the popular buzz phrases of 2020, the idea of a 'new normal'. However, Gunnar tells me that he dislikes this phrase as, in his words: "It implies a new stability has been found – but we're not quite there yet".
In fact, many organisations are still finding their feet and dealing with the knock-on effect of the lockdown. He adds: "It's important to recognise that nothing about this situation is normal and until the situation has stabilised, we should still continue to expect change and fluctuation."
Finding the right balance
Thankfully for Capgemini, employees are accustomed to flexible working and for a lot of the staff working from home for a couple of days was common practice, even prior to the pandemic. Despite this, having a full-time home working routine was bound to present its challenges.
Gunnar talks about how important it is for leaders to ensure that their people are finding a work/life balance. If working from home is not the norm, it can be easy to slip into an irregular routine: going from bed to desk, and back again. It is also more likely that employees will work late into the evening or through lunch without even realising it.
Therefore, it is paramount that workers are finding ways to disconnect from their home office and setting clear targets so they know to switch off at a reasonable point. It is also vital that leaders are engaging in open and direct communication with their teams. Furthermore, they need to be making a conscious effort each day to ensure that their colleagues are connected across all levels of seniority.
Gunnar highlights that this is particularly important as the shorter days and darker nights close in, and the mental implications of these seasonal changes on remote workers.
On a personal level, Gunnar says that two of his three children were also working from home in Manchester during the lockdown and so he vacated his office to make space for them to work. He tells me that he recently presented to over 1,000 people remotely, certainly a different experience when faced with the unexpected obstacles of home working!
He explains:
"I've been working from my garden shed, which was a real experience and a complete shift to previous ways of working. My only commute was from the kitchen to the shed and back again! I even painted a sign that said, 'silence please' so that my children knew when I was on a call, indicating that the garden was currently off-limits for a game of football!"
A newfound appreciation for IT
Gunnar has worked in IT for over 30 years and knows first-hand the importance of the sector and digital transformation on our daily lives. The pandemic, he tells us, has highlighted this significance to others too. Organisations who have typically seen IT as a back-office capability have now come to understand it as a key component of the business operation.
So, what have we got to look forward to in the sector? Gunnar says the big future trends will focus on AI, and features such as chatbots, to help with new demands. As an example, he points to the huge increase of first-line calls in sectors such as health and transport. Vitally, chatbots can help to do the job of the human so that this resource can be redirected where it is needed most to be able to innovate and evolve skills as software supplements human intelligence.
The other thing to watch out for is an increasing reliance on collaboration tools like Microsoft Teams and Zoom. Gunnar says that most companies use only 5-10% of these platform's capabilities, but there is huge value to be found here as they have much more to offer when you look further into the product. This could include features specifically designed to make individuals more efficient and effective at work.
We look forward to watching the latest trends shape the tech landscape and following Capgemini's journey through the new different – whatever that might be!
The Yorkshire Mafia's Tech Lockdown Stories are powered by Silicon Yorkshire, a unique platform to bring the whole Yorkshire technology community together. Operating across social boundaries, industries and functions, Silicon Yorkshire offers unparalleled connectivity, supports growth, generates employment and sparks big conversations and ideas. Join us. We are Stronger Together.