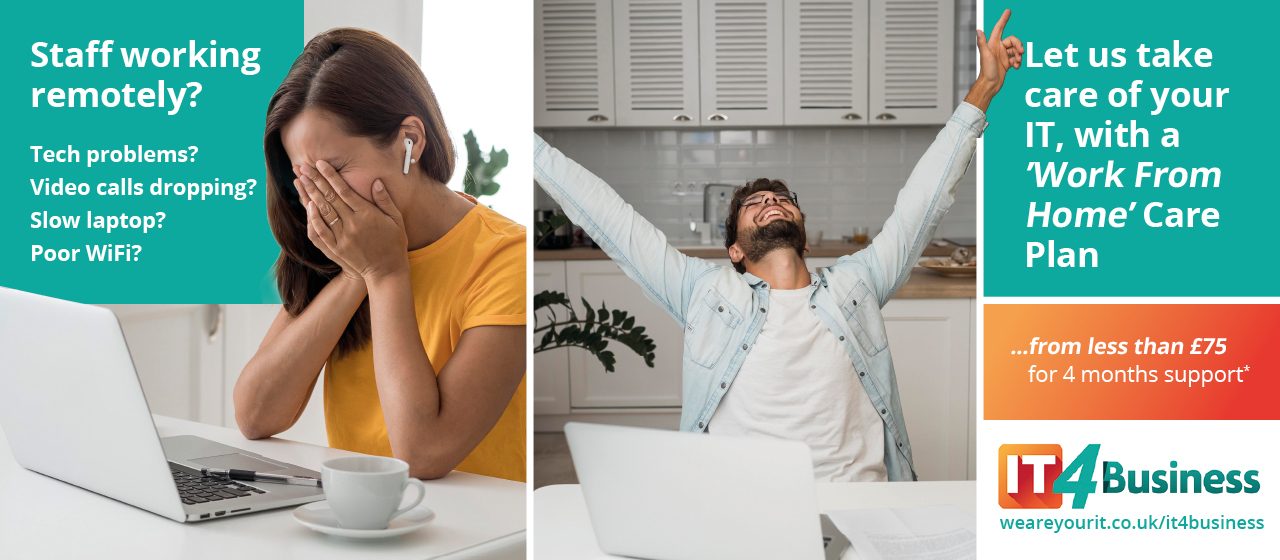 Making things work when working from home
by IT4Business, Dec 02
By IT4Business, a leading provider of IT support services with experts and engineers covering large areas of North, West and East Yorkshire.
2020 has been challenging. As businesses adapted to a global pandemic, so did our working practices. With continued remote working a long-term ambition for many, let's explore some of the biggest challenges companies have faced, and ways we can simplify things in the future.
Earlier this year, many UK workers packed up their desks, ditching the comfort and familiarity of the office working environment for the foreseeable future. For over 10 months since then, it's been stiff wooden chairs, dining room tables, sofas, conservatories and spare rooms-turned-home offices.
The ​ONS estimates​ that in April, over 46% of employed people in the UK worked from home at some point. In Yorkshire, this was a solid 37.6% of all workers.
There have been many common challenges along the way. As well as missing daily interaction with colleagues, we've experienced new distractions — children and family members perhaps chief amongst them. It has been difficult to establish new daily working routines while maintaining a healthy work-life balance.
When IT problems and technology troubles are thrown into the mix, working from home can become even more frustrating. According to an ​Ipsos MORI survey​, 28% find unreliability of technology and IT equipment as one of the main reasons why remote working has been challenging.
Working from home: a trend that's set to continue.
Despite these difficulties, 'WFH' does bring many perks which workers enjoy and cherish — expensive commutes have been eliminated, and there's more family time on the menu. According to ​YouGov research​, 57% want to be able to continue working from home, even after the pandemic, with only four in ten being averse to working from home again.
Sailing a steady ship through tough economic times is difficult enough without nagging WiFi issues, slow computers or unbearably grainy video calls. So, with employees looking to blend the benefits of both working environments, many are asking the question, 'is my business prepared for the ongoing IT problems that inevitably lie further down the line?'
With working from home set to become a long-term trend, businesses can discover a solution to these distracting tech troubles by enlisting an outsourced IT department.
Future proof your business' IT: a new solution
Time consuming, distracting and a drain on productivity — there's nothing more frustrating for employees and employers than connectivity and tech issues getting in the way of work. Working from home has amplified these problems, making it more challenging to provide the proper support when it's needed.
So, why not take the chance to future-proof your business? Imagine how much time and money you might be able to save by having your IT support covered by an expert outsourced provider, able to help at a moment's notice?
This is where IT4Business has stepped up, providing employers with the chance to quickly and easily service all their IT support needs. Their new ​'Work From Home' Care Plan covers all conceivable IT eventualities, making operating a remote workforce as smooth and simple as possible. By outsourcing to IT4Business, you're able to draw on the knowledge, skills and expertise of the entire team, across all IT functions — your tech superheroes, in essence!
The Care Plan covers all connectivity issues: Internet and WiFi, routers, networks and VPNs, video calls as well as printer support. It also extends to virus and malware protection, emergency on-site visits, health and safety audits of working environments, as well as IT health checks. The Work From Home Care Plan also covers PAT testing of home equipment and free labour for repairs.
We completely understand that time is of the essence when it comes to IT; tech issues can put everything on hold. Businesses enrolled with the Care Plan will receive priority for advice and assistance from our team of talented techies.
Ensure that your IT needs are fully covered whilst your business goes about its work remotely. Choose IT4Business for a cost-effective means of future-proofing your IT — Work From Home Care Plans start from just £75 for four months' support.
If you're interested in a Work From Home IT support Care Plan for your business, visit www.weareyourit.co.uk/it4business ​or call our IT experts on 03303 800 100 for more details.