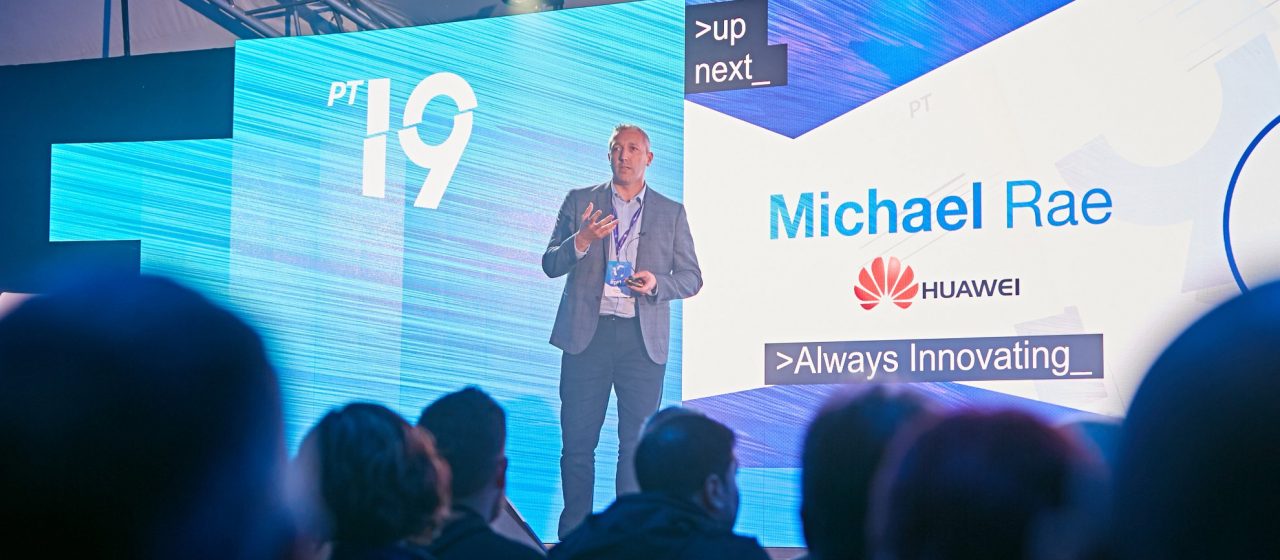 Collaboration and Digital Transformation: The Yorkshire Mafia Interview HUAWEI's Michael Rae
by Janie Gonsalez, The Yorkshire Mafia, Jul 02
On Friday 14th June The Yorkshire Mafia team attended pt19, Pure Technology Group's annual partner tech event in Wakefield, which attracted over 800 industry professionals throughout the course of the day.
Building on its portfolio from last year – including robotics, automotive advancements and drones – pt19 saw industry-first demonstrations of VR/AR and hologram tech, plus brand-new security products, as well as the unveiling of PTG's latest service, pureIoT.
A stellar line up of tech heavyweights took to the stage to deliver keynote speeches, with topics ranging from AI and machine learning, to the challenges that businesses must overcome in order to meet the demands of an ever-changing workforce, who have more digital freedom than ever before.
We sat down with keynote speaker Michael Rae, Channel Director UK & Ireland of HUAWEI Enterprise, to pick his brains on the changing digital landscape and how collaboration between tech companies is facilitating business transformation. Here are the key points we took away from the interview:
Consumers are not just changing the way they use tech, but the way they buy tech
Michael points out that consumers – particularly business owners – can no longer justify buying new technology every few years, and instead are moving toward a model where they pay a subscription-like fee every year, month or quarter.
This goes hand in hand with the notion that an increasing number of businesses are now outsourcing technology to a data centre off-site as opposed to employing staff to manage it. This, Michael says, takes the cost and labour away from businesses, and improves the UX; technology is treated like any other bill, that is readily available once paid.
It's easier for owners of SMEs to consume tech rather than provide it, particularly when they're trying to manage cash flow and grow the business. On the other hand, lots of large organisations have legacy platforms in place that can't be moved to the cloud just yet.
This proves to be a conundrum for larger businesses who are trying to fit into the infrastructure. Crucially, this is where partner companies like HUAWEI and Pure Technology are part of the ecosystem working together to facilitate this movement.
There isn't one industry that won't be impacted by digital transformation
Michael says that one of the key things which companies have to forecast for is that, in the near future, "billions of devices will be connected to the internet. We're all going to have, on average, around 50 connected devices each. This seems hard to believe, but when you start adding them all up it's very believable".
The empowered consumer of today is now more impatient, demanding and curious than ever before. Further to this, disruptive companies who are now at the tip of our fingertips are shaking up traditional business models and changing the way that we work – and play.
"The typical examples are Netflix – what is that doing to the BBC? Uber – what is the doing to the traditional transport service? WeChat – what is that doing to the banking world? In the case of the latter, billions of transactions now go through what was effectively a social media app'"
Michael comments that the "great, smart devices that quite frankly run our lives" are having a direct impact on the experience we expect at work. While changes in tech may be consumer-driven, this is spilling into the business world where increasingly, employees now expect the same experience for their work content that they do for personal content.
HUAWEI's role in this changing landscape is to provide the crucial IT infrastructure that can collect data from all of those sensors and devices onto the network and into data centres, so that companies and individuals can use it effectively.
"Data is a currency. Moving forwards, what you do and how you manage your data could be the difference between a huge increase in business – or not"
Also exploring the office of the future concept was HP's growth partner sales manager of UK & Ireland, Grant Thomas, whose keynote speech delved into the changing workforce. He commented that tech innovation with purpose is crucial for meeting the social and physical demands of future businesspeople, particularly when designing work spaces and in striking the balance between office and remote working.
Collaboration is key
Michael concludes by resolving that there's not one company who can facilitate businesses' move to this new landscape – it must be a collaboration.
Infrastructure, industry and software partners – along with partners like Pure Technology who deliver to the customers, and the customers themselves – are all key stakeholders who must work together to adapt in this new world.