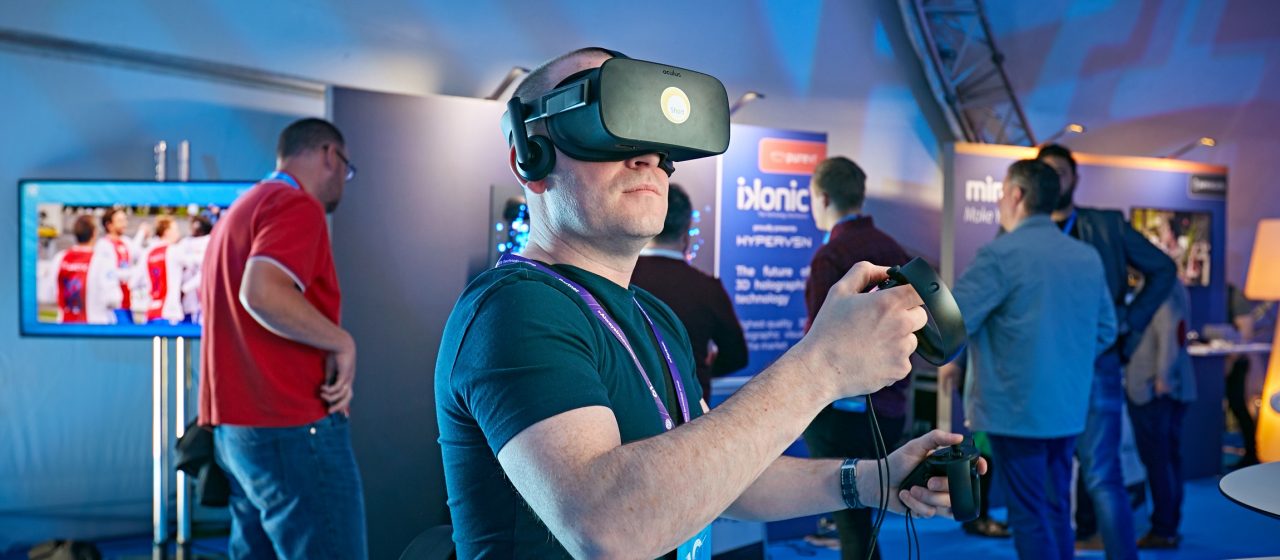 Yorkshire tech expo explores cutting-edge AI and other industry megatrends
Jul 04
Last month, over 800 tech professionals gathered in Wakefield at pt19 – the largest partner event in the UK, hosted by pure technology group (PTG). Artificial Intelligence (AI) was a core theme throughout the day, and delegates heard how digital transformation and technology megatrends – including Virtual Reality (VR), Internet of Things (IoT) and Augmented Reality (AR) – are driving forces behind shaping the workplace of the future. PTG also launched its newest service – pureIoT.
Building on its portfolio from last year – including robotics, automotive advancements and drones – pt19 saw industry-first demonstrations of VR/AR and hologram tech, plus brand-new security products, as well as the unveiling of PTG's latest service, pureIoT.
The Gadget Show's Ortis Deley opened the event, and David Rowan – former editor-in-chief of WIRED UK – was the first speaker to take to the stage. He talked about the different sectors in which AI and machine learning are being incr+easingly applied, and how these tech phenomena are fast becoming a core focus for the world's start-ups. Delegates heard that there is no end to innovation happening at every level of the business world. David's key message was that if human beings want to keep up with demand and expectations, they need to embrace the smart-tech machine, stop viewing it as optional and start recognising it as a necessity.
Michael Rae, channel director UK & Ireland of HUAWEI Enterprise, expanded on digital transformation having to be on firms' agendas, as the world is edging towards a linked society – where everything is sensed, connected and intelligent. DELL Technologies' Rob Tomlin – vice president of UK & Ireland channel – kicked off the afternoon sessions with 10 key technology trends, including cloud, machine learning and security advancements, as well as how tech progressions are facilitating an annual 10x growth in data across the marketplace.
Also exploring the office of the future concept was HP's growth partner sales manager of UK & Ireland, Grant Thomas, who delved into the changing workforce. He commented that tech innovation with purpose is crucial for meeting the social and physical demands of future businesspeople, to ensure they come to the office and don't always work from home. Olympian and world champion athlete, Roger Black, closed the day's talks reflecting on his career decisions and his advice on reaching the top – "Wanting to win is never going to be enough… winning isn't easy. You have to dare to take the step."
Commenting on the day, PTG's Group COO Cliff Fox, said: "This is our fourth annual pt event, and it's been the biggest to-date. The aim of the day is always to bring pioneering technologies from some of the industry's global leaders so that people can get hands-on with new tech, enabling them to experience the future in the present.
"Through innovation, pt19 challenges the conventions of typical IT expos and isn't complacent. Each year we strive for a better experience, additional delegates and partners, and more exclusive product launches and demos – because innovation never stands still."
Just one month after launching pureVR, PTG also used pt19 as a backdrop to reveal its out-of-the-box, data-driven solutions for businesses, that are centred around 'smart spaces' – pureIoT. Separated into three packages – People, Environment and Parking – each one provides accurate monitoring of movement, building and environmental conditions in a specific place.
Sensors are used to optimise energy costs and reduce carbon footprints – collecting data to adjust lighting and heating to mirror external conditions – for instance, while the security alerts report on occupancy levels.
PTG's Group marketing manager, James Blackburn, added: "There was no better setting to launch pureIoT than at the hub of innovation, pt19. Along with a core theme of AI and pushing traditional tech boundaries, the pt events are always about getting customers, guests and partners together to immerse themselves in the technologies that are blazing a trail in the industry. Planning is already underway for ptXX."
Other highlights from pt19 were UK-exclusive product launches, including holographic emitter technology from hyperVSN. McLaren's F1 simulator also attracted delegates, as they were challenged to beat professional racing driver Alex Toth-Jones's lap time. There were also automotive demonstrations from McLaren, Tesla and JCT600, as well as an appearance from robot 'Nuts and Volts' created by Team Apex – a school team of award-winning robot-builders sponsored by PTG.
Vendors on the day included APC, Aston Martin, Avaya, Barracuda, BitDefender, Black Marble, C2G, Canon, Carbon Black, CheckPoint, Dell Technologies, DigitalXRAID, DJI, HP, Huawei, hyperVSN, Ikonic, Intel Technologies, JCT600, Jelf, KIA, Lenovo, McLaren, Mimecast, Overland Tandberg, Phillips, Rolls Royce, S2S, Sennheiser, Tesla, Toshiba, TP-Link, Vapour, Veeam, Volkswagen, West Yorkshire Police Cyber Crime and Zen Office.
Candlelighters – PTG's nominated charity – revealed that the Leeds firm has raised over £66,000 to-date for the charity, via the pt event and a range of other activities.