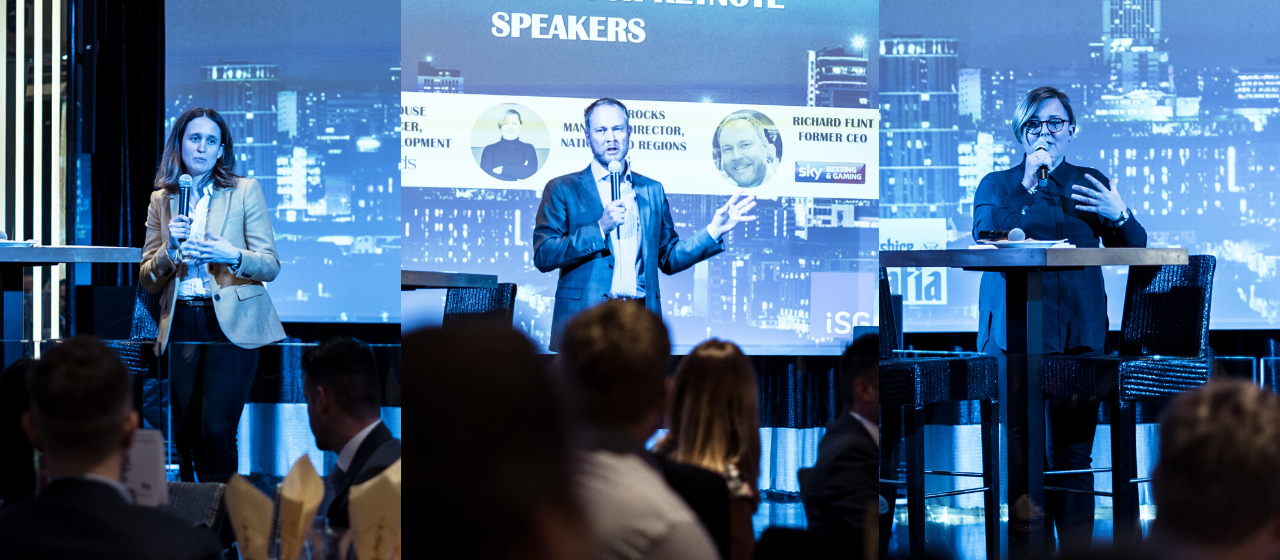 WHEN LEEDS DOES LUNCH YORKSHIRE MAFIA STYLE!
Oct 29
As the great and good from the Yorkshire business community descended upon Bibis Italianissimo, there was only one explanation; it had to be this year's Leeds Business Lunch.
Once the queues of people had handed in their jackets and picked up their drink tickets, the room was alive with chatter. People were on a mission to catch up with contacts old and new, while focusing on building relationships in the lavish surroundings of the venue.
Encouraging members of the YM to meet, share ideas and connect, guests were soon invited to take a seat, relax and settle in for what was set to be a fantastic event.
As you will know, the YM is no stranger to holding some of the most popular functions in the annual business calendar, and this was to be no different. As ever, the team pulled out all the stops and presented us with an incredible line-up of speakers.
With guests settled and ready for their lunch we welcomed Eve Roodhouse, Chief Officer Economic Development at Leeds City Council; Sinead Rocks, Managing Director Nations and Regions at Channel 4; and last but not least, Richard Flint, Former CEO at Sky Betting and Gaming to the stage.
Eve Roodhouse
Making an impactful start to proceedings, Eve reminded us all that even in the current climate of political uncertainty, Leeds still has a great deal to celebrate.
Whether it's the city's vibrant cultural offering, its entrepreneurial spirit and strong business community or the progress that is being made in health and wellbeing, at any one time there are a series of remarkable events, initiatives and plans in place.
Needless to say, the focus was very much on a brighter tomorrow for the people of Leeds.
Sharing facts, figures, and even the odd joke along the way, Eve kept the audience captivated with some detailed insight, giving us all plenty to be proud of and to shout about.
We've listed just a few of our favourite take outs, below:
Being selected as the home of the new national headquarters for Channel 4
Being the only city with an Outstanding Ofsted rating for Children's Services
The only UK city seeing a decline in childhood obesity, particularly in the most deprived areas
Leeds is one of the top three cities outside of London for Foreign Direct Investment
Leeds is ranked as the third highest destination for retail spend outside of London, and it sits just outside the European top 20
In 2018, Leeds attracted the most tech investment of any Northern city
Culture has become a driving force to bring the whole city together when it was decided that despite a bid for Capital of Culture 2023 was rejected, an independent organisation Leeds Culture Trust was founded to carry on and run the festival regardless
Eve's speech ended poignantly, noting that the YM mantra 'stronger together' is not only alive and well within our business community, but also across the Leeds City Region too.
Sinead Rocks
Getting off to a hilarious start, Sinead brought the audience to their knees with laughter, while also treating delegates to a truly insightful peek into Channel 4's decision to choose Leeds as the location of choice for its latest headquarters.
Publicly owned but commercially funded, Channel 4 runs as a self-sufficient operation, ploughing profits back into making quality programmes.
With research having shown Channel 4 to be the most impactful broadcaster when it comes to inspiring change and making people think differently, it stands to reason that the organisation would want to step outside of London and become embedded within the diverse communities which its programming represents.
Furthermore, bursting out of the 'London bubble' where, as Sinead herself put it, 'people take the same tube to work and drink in the same bars', will bring about increased creativity, access to differing viewpoints and increased visibility of the diverse ways of life which are perfectly characterised in the North.
What's more, with its new location comes opportunity – both for the broadcaster itself, for those who live, study and work in the area and also for the wider local economy. After all, where Channel 4 goes, others follow.
It was clear from the outset that Sinead will fit right in, and we hope to hear much more from her and her colleagues during future events.
Richard Flint
As CEO of Sky Betting and Gaming for 15 years, Richard has seen the business grow from a single room in Harrogate to a company which employs over 1,500 people.
With a strong presence here in Yorkshire, as a result of its offices in Leeds and Sheffield, Richard recognises the importance that the area has had upon the company's huge success. In fact, one of the main factors in this has been the fantastic pool of home-grown tech talent that exists locally.
Through this plentiful stream of expertise, the business has been able to retain some autonomy from the firm's London offices, leaving its own legacy within the Yorkshire region.
However, while there are many remarkable reasons to live and work in Yorkshire, Richard points out some of the challenges which make growing a tech business in the area much more difficult.
The main issue, Richard explained, is that of transport and infrastructure. Without ease of movement, expanding across the country or, indeed, internationally, becomes a far more difficult prospect.
Richard also noted that a further possible area for improvement in Yorkshire is in developing a network or ecosystem in which successful Yorkshire entrepreneurs invest in and mentor the next generation of new, up and coming entrepreneurs and leaders. From his experience this has helped sustain tech hubs round the world such as in San Francisco.
Sponsors
In addition to the stellar speaker line-up, we were also treated to a few words from our fantastic sponsors; Quantuma, Mediaworks and Lockyers. We'd once again like to thank them for their support this year, without them our events would not be the success we have all come to expect.
Not only do they allow us to keep the costs affordable, but they are also a reflection of the fantastic businesses, products, services and talents that we have in the group.
Finally, we would like to thank Harvey Nichols for the gift bags. Everyone was very pleased with their sweeties, perfume, face serums and pens. What a great reminder of a lunchtime full of fun, laughter, business and new connections.
Leeds Drinks Evening
For most organisations, delivering a lunchtime event on this scale would have been enough, but not for the YM. After a delicious meal and a few drinks, it was onwards and updates – well, across the road actually – to Chaophraya for our Leeds Drinks event.
It's always a well-attended occasion and we were pleased that our guests took the time to come along and to continue their conversations. We were really pleased to hear so many people meeting for the first time.
Once again, the food was delicious as a variety of nibbles were circulated amongst the guests. The bar was full to brimming as people chatted, chuckled and chatted some more with people that they may otherwise never have come across.
As ever, our events are powered by our members and so we thank you for coming along. Whether you attended both or just one of our events we hope you had a great time. We are still collating feedback so if you have any suggestions or comments please do feel free to let us know.
For further details about our events programme which runs throughout the year, please visit: https://theyorkshiremafia.com/events/