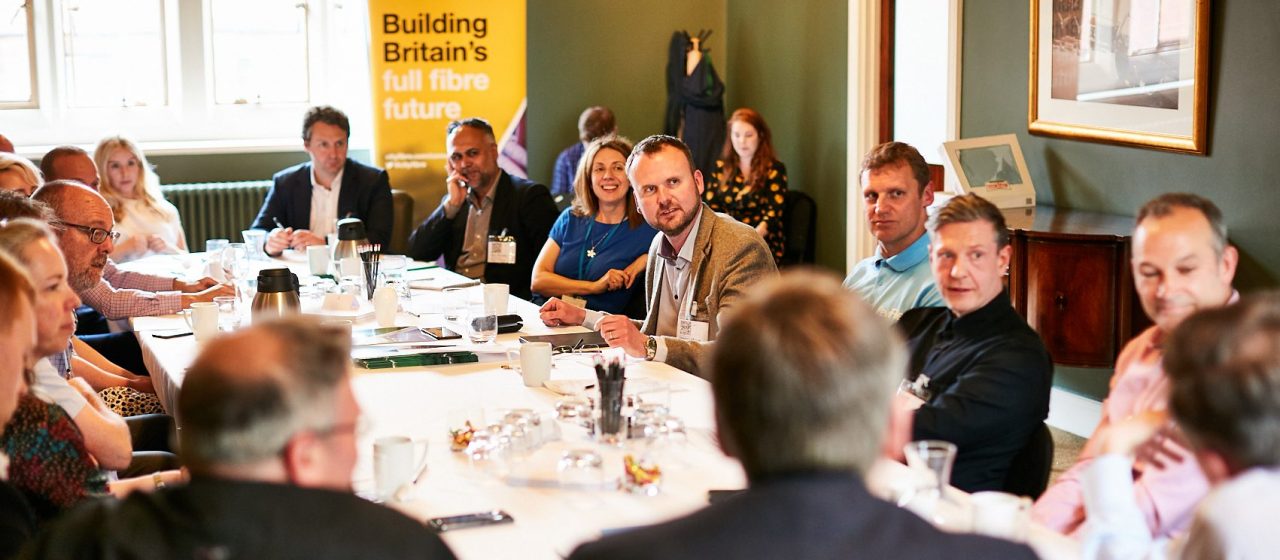 Tech leaders debate: How can Yorkshire ensure it is a leading digital region?
Jul 24
The best and brightest from Yorkshire's tech scene joined digital infrastructure provider CityFibre at THINK Summits in Leeds to share visions of the region's digital future.
Home to no less than nine of CityFibre's pioneering full fibre networks, more than any other region in the UK, Yorkshire is poised to lead the way in building truly digital businesses and services.
In Leeds and Huddersfield, CityFibre has already started work to extend its fibre networks to nearly every home and business, giving them access to gigabit-speed broadband and near limitless capacity, as well as enabling 5G, improved public services, smart city technology and other applications as yet undreamed of. More are bound to follow.
But what other factors are needed to spark digital transformation for the region? Seventeen ambitious leaders from across the public and private sector displayed passion and enterprise in a spirited two-hour discussion that explored the ways Yorkshire's organisations could collaborate to ensure its future as a leading digitally-enabled region.
Hosted by Janie Gonsalez, Business Development Executive at The Yorkshire Mafia and chaired by CityFibre's City Manager for Huddersfield, Stephen Moore, the event took place at this year's THINK Summit at Aspire Leeds. The discussion revealed a growing need to create an inclusive network with the skills and tools to drive true innovation and economic prosperity for the region.
Let's dive deeper into the discussion.
Question: What would success look like for Yorkshire?
James Devitt, Industrial Collaboration Manager, University of Huddersfield said:
"In ten years' time we wouldn't be speaking about other rivals in the UK, we'd be thinking of ourselves on a global stage. Yorkshire would be a living lab for new technologies, such as 5G, and we would be at the forefront of these things."
Muz Mumtaz, Head of Programme – Digital Enterprise LEP added:
"From an economic development perspective, digital enterprise is about helping SMEs embrace digital transformation.
"For us, success would be defined as enabling as many, if not all, SMEs to adopt digital technologies to grow and be prosperous."
Terence Hudson, Head of IT, Kirklees Council said:
"We need more places like Huddersfield's 3M Centre that actively foster innovation and we need to find a way to make it really cheap and simple for SMEs to get into the industry without being overwhelmed by rents and non-domestic rates.
"A lot of the best ideas that come out in the real world are coming from small, risk-taking businesses. All of us need to pull together to support these businesses. How are we going to regenerate areas to bring that thinking to the top?"
Question: What has held us back as a digital region and what challenges do we face?
For the region to reach its potential, many of the group acknowledged some fundamental steps must be taken in raising awareness of how digital technologies can help businesses, with Fiona Bolam, Head of Economic Policy, Leeds City Council noting:
"We need to think about those businesses that don't currently see the applicability of some of this amazing tech and actually, for us, there's far too many of those in Yorkshire. We need more businesses understanding and making use of technology."
Iain Anstress, Managing Director, Q5 added:
"For businesses, the awareness of what is possible from a digital innovation perspective is currently really low. This, of course, isn't down to a lack of willingness or intellectual capability but simply because they're just so focused on the "business as usual".
"Firms are run so tightly and under so much pressure that they reach breaking point and have to do a massive transformation programme – often too late."
Chris Dymond, Co-Director, Sheffield Digital said:
"There's a split in how society and the economy is evolving. Some people are on board the boat that is leaving and a whole load of other people aren't even able to get onto the gangway.
"Bridging that gap and implementing initiatives that get a foothold on that future economy is the thing that's going to decide whether we as a region make it in this data-driven future in a few generations' time."
Kim Johnston, City Manager, CityFibre, acknowledged how this had been put into practice so far, adding: "The Leeds Care Record has been a real success story for the NHS in Leeds and has got even the biggest technophobes within the organisation working on the record. Most of the time and effort spent within the NHS and on adult social care has been on change management, training, and support.
"It is perhaps taking longer than everyone thought it would do, but it's happening. It's embedding and other areas across the UK are looking to Leeds and what they've done here. It's only a "fancy database" but that transition has made a huge difference and will continue to."
Question: What will the major drivers for change be / what could they be?
Picking up on the discussions around inclusivity, Amy Hearn, Digital Inclusion Coordinator, Leeds City Council, said: "There's certain assumptions that people who have grown up in the "digital age" inherently have digital skills. Around one in five adults don't have these skills which would be a huge amount of people to leave behind if we're not careful."
"It's not about forcing people to be online, it's about giving people the opportunity to make informed decisions and have the same choices as everyone else."
Nick Halliday, CEO, Interactive Digital Systems and EviFile added:
"Organisational change management often is finding a way of speaking to people so that they understand why change is happening and why it's beneficial to them.
"Tech companies need to adopt more practices from organisational change and vice-versa."
The need for new routes into employment and nurturing talent also formed a critical part of the discussion with Gareth Yates, Partner, Ward Hadaway saying:
"Because of the shortage of people that we're faced with, we need to look at less traditional routes into a job than we've had in the past.
"Critically, it's up to the employers to have a change of mind-set and recruit people that have the aptitude to work in their industry, if not necessarily the skills, and help to train them up. I expect the typical three-year university degree structure to morph into more of a supported, "dip in dip out" route that provides better job prospects and opens up the job market to a lot more entrants."
Chris Dymond, Co-Director, Sheffield Digital noted a disparity between SMEs and large enterprises when it comes to securing top talent, adding: "It's the big companies that are able to engage with the universities and big talent providers.
"There needs to be a brokerage so that the vast bulk of the industry can actually engage and small companies can take on apprentices and work experience without it being a big overhead."
Question: How do we collaborate across the region to ensure success?
Collaboration and the need for a more joined up approach represented a central thread to the discussion with Fiona Bolam, Head of Economic Policy, Leeds City Council, neatly summarising that: "Leadership, investment and appetite for risk is what lets us collaborate."
Julian Wells, Director, Whitecap Consulting added:
"We're never going to get equal growth around all the cities and towns in Yorkshire at the same time but part of the collaboration is that people need to be patient. Leeds may rise ahead to start with but its success will filter out to the other towns and there will be a halo effect that will ultimately be for the greater good of the Yorkshire region."
Chris Dymond, Co-Director, Sheffield Digital said:
"There's an identity emerging in different parts of the county and I'm hopeful that will mean people don't see it as a zero-sum game all the time where we're competing for investment. For Sheffield, we need more digital economic policy and a better understanding of which sub-sectors we're really going for and we can then collaborate much better."
"Fundamentally, there needs to be more collaboration to understand what everyone else is doing. If people who are responsible for digital skills provision in the major parts of Yorkshire got together and shared what the provision is in their own geographical area I think they'd find plenty of opportunities to collaborate."
CityFibre's City Manager for Huddersfield, Stephen Moore concluded the session: "I want to thank everyone for sharing your expertise and insight during what has been a truly honest and thought-provoking debate. What sounds out loud and clear is how optimistic you all are in our digital future and, although we have some way to go, it is the sheer passion and ambition of stakeholders like yourselves that will carry us over the line."
Ultimately, the group agreed that with a shared vision, and by working together, the cities, towns and communities of Yorkshire can make the case for change, investment and powers far more effectively than alone.
And, while it's exciting and important to consider the possibilities for those at the cutting-edge of digital technology in the region, a key element of the discussion was the need for inclusivity as Yorkshire's digital ambitions take shape.
Nobody should be left behind and social inclusion, business support and direction from the region's leaders are all important for Yorkshire to truly shine as a digital region.
For more information about CityFibre's work in Yorkshire to improve digital connectivity across the region, visit cityfibre.com/gigabit-cities
To find out more about THINK Summits, visit https://thinksummits.com/