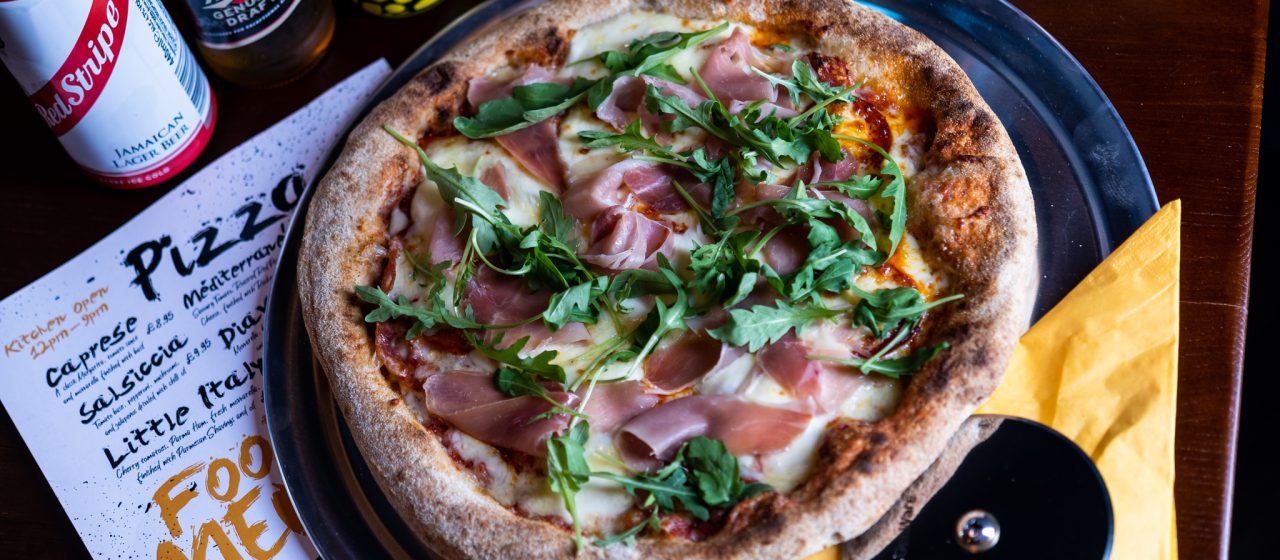 Rebound Social: New bar on the block gives Wellington Street the edge
Sep 23
Edgy new bar opens on Wellington Street in the venue formerly occupied by Doc Bar
Rebound Social will serve up artisan pizzas and paninis daily and offer an impressive selection of beers, wines, ciders, and bespoke cocktails
The bar will play an eclectic mix of modern and classic indie cuts and showcase up and coming local talent with a variety of live music
Rebound is poised to be a hit with locals and city workers with daily offers including 2-4-1 cocktails and £2.50 pints
A pizza and bottomless drinks social designed to spice up your weekend launches on October 3rd
An edgy new bar has arrived in Leeds this month, offering guests an intimate yet safe space to unwind with irresistible food and drink offers and an electric playlist of killer indie cuts. Rebound Social has taken up residence in the venue formerly known as Doc Bar and boasts a dark and moody refurbishment complete with quirky interiors and eye-popping street art.
The latest Wellington Street arrival features a strong focus on live music and will showcase some of the best up and coming talent from Leeds College of Music. Live Music Sundays at Rebound will complement the bars exceptional food and drink offers (including drinks from £2) and provide the perfect soundtrack to end the weekend on a high.
The After-Work Social will run Monday to Friday between 4-8pm, offering local workers and residents the chance to let their hair down with a variety of food and drink deals.
Bottomless weekends
From Saturday 3rd October, guests will be able to enjoy a pizza and 90 minutes of bottomless drinks for just £25. Rebound Social Bottomless will be available every Saturday and Sunday and includes Rebound Lager, Rebound Cider, Prosecco, and selected cocktails.
Care has been taken to ensure Rebound Social keeps both guests and employees safe and has several measures in place to reduce the risk of COVID-19. All guests will be asked to fill in track and trace details on arrival and all tables have been laid out in guidance of social distancing.
Food and drink menus will be accessible online, and all payments will be taken by card. The bar will operate on a table service only basis and all staff will continue to wear masks at all times. In keeping inline with the latest government guidelines, Rebound will be closed by 10pm every evening.
The Rebound kitchen will be open between 12-9pm daily, serving up freshly made paninis and a mouth-watering menu of tasty pizza creations inspired by Italy's most celebrated foodie regions. The panini menu includes The Milano, topped with salami, pepperoni, Parma ham, roasted peppers, mozzarella, rocket and lemon dressing and The Napoli, which comes loaded with brie, grapes, pecan nuts and house dressing.
Pizza lovers can indulge in toppings ranging from Diavola (spicy sausage, mozzarella, fresh chilli, garlic and red onion) to the Mediterranean (fresh tomatoes, roasted red peppers, goats cheese, rocket and herbed oil), or go all out and build their very own personalised pizza pie.
Rebound concoctions
A 2-4-1 cocktail menu will be available all day, every day, and boasts nine original Rebound concoctions you won't find anywhere else. Something Fruity is a bonafide fruit bomb in a glass and blends Absolut Mandarin, passoa, passionfruit puree, pineapple juice and orange to perfection.
The Sour Patch Martini mixes up Smirnoff Vodka with blue curacao, strawberry syrup, and a sherbet rim, whilst The Old Man's Drink is a more refined affair and features Jack Daniels, egg white, sugar syrup and lemon and lime.
Bar Manager, Jade Renner, had this to say about the Rebound Social launch:
''After months of planning, hard work and of course, a lot of uncertainty, we're thrilled to have finally launched Rebound Social. Wellington Street and the surrounding area has really begun to shine over the past few years and I genuinely believe we're throwing something unique into the mix.''
''As well as giving the city some of the absolute best food and drink deals around, our commitment to quality music shines through. Guests can expect to hear a mix of modern and classic indie and get to soak up some exceptional live music from some promising local talent.''
''From our laidback after work socials to our lively pizza and bottomless drink sessions, Rebound has got your city centre social life all sewn up. We've also taken time to ensure our bar is safe as can be amid the global pandemic and strict measures are in place to put our guests and employees' minds at ease. We can't wait to see you at the bar.''