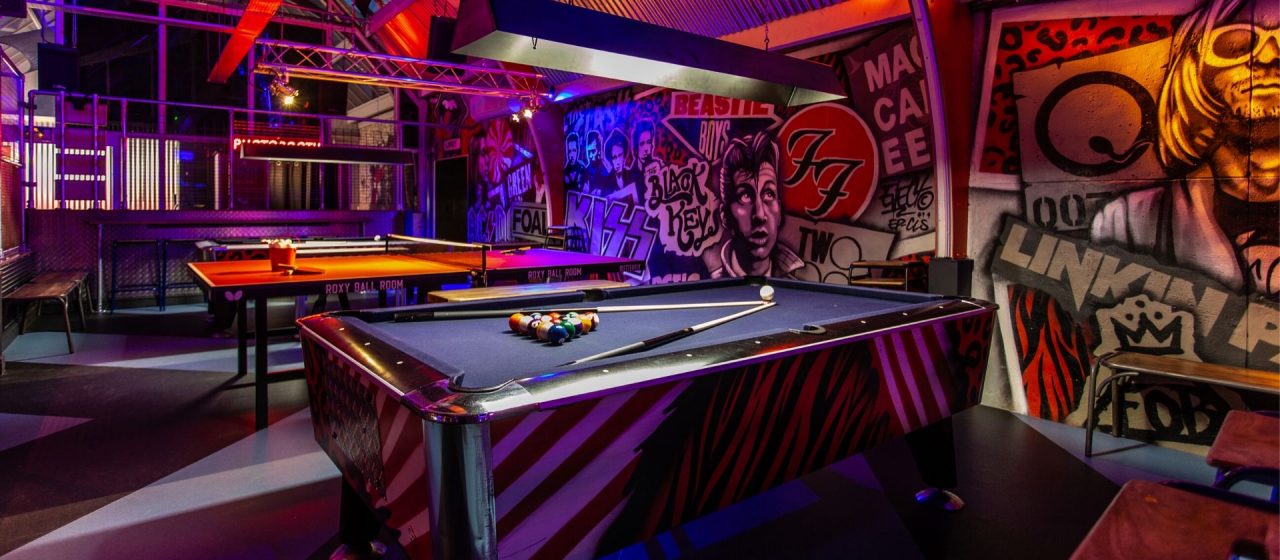 On top of the game: Roxy Ball Room poised for major growth
Jan 10
On top of the game: Roxy Ball Room poised for major growth
Leeds has undergone a remarkable transformation over the past decade and homegrown brand Roxy Ball Room have played a huge part in stepping up the city's nightlife scene during that time.
Founded back in 2013 by Leeds-born brothers Matt and Ben Jones, Roxy have pioneered the interactive booze and ball games culture in the north, opening a string of blockbusting concept bars across Yorkshire and beyond. Key to their success has been the brother's uncanny knack of spotting gaps in the market and then creating trends, as opposed to simply following them.
Fresh from securing a £7.5m investment from the Foresight Group, the trailblazing leisure group are now poised to expand their impressive portfolio of venues throughout 2020 and beyond. This year alone will see Manchester, Nottingham and Birmingham all launch fresh Roxy Ball Room venues.
Homegrown brand
Going forward, the investment will be used in-part as capital growth, to help support the brands ambitious plans to expand into new territories across the UK. The Roxy Leisure group has already become one of the country's most prolific leisure brands, with multiple venues under the Roxy Ball Room, Roxy Lanes and Roxy Arcade banners.
Offering a range of facilities including ping-pong, pool tables, bowling, shuffleboard, mini-golf, arcade gaming, and karaoke, Roxy Ball Room made their debut on Boar Lane in Leeds seven years ago and haven't looked back since. The combination of interactive gaming, premium craft beer, cocktails and fast food has gone down a storm across each bar within their growing portfolio.
Today, Roxy currently has eight venues across Leeds, Liverpool, Manchester, and Nottingham, with their largest site to date (24,000 sq. ft) located in Rainford Square, located in Liverpool's popular Cavern Quarter.
One step ahead
Rob Jones, investment manager at Foresight, said:
"Roxy demonstrates some of the most attractive leisure sector performance metrics we have seen and the growth of the business in recent years has been impressive. The company is well-positioned to accelerate its growth with the additional support and guidance that Foresight will bring.
"Matt and Ben have built a successful business with a good corporate culture and we look forward to working with them to take Roxy through the next stage of its growth."
Matt and Ben added:
''The past seven years have been a complete blur for Roxy Leisure, but what a journey it's been. When we launched Roxy Ball Room on Boar Lane back in 2013, we knew we were onto something special and seven additional venue launches later, here we are!''
''Of course, there's been plenty of challenges along the way, but as the public thirst for a more social and interactive nightlife experience increased, we managed to evolve and stay one step ahead. It has been a pleasure working with Rob and Foresight's experienced investment team who understood our business quickly and demonstrated a strong appetite to support our plans.''
''We've got incredible new bars coming to Manchester, Nottingham and Birmingham in the next few months and keep a look out for details of further projects later in the year. This is going to be a big decade for Roxy!''
Watch this space for further news on the next chapter in the Roxy story, or follow them on Facebook and Instagram for updates at @roxyballroom.