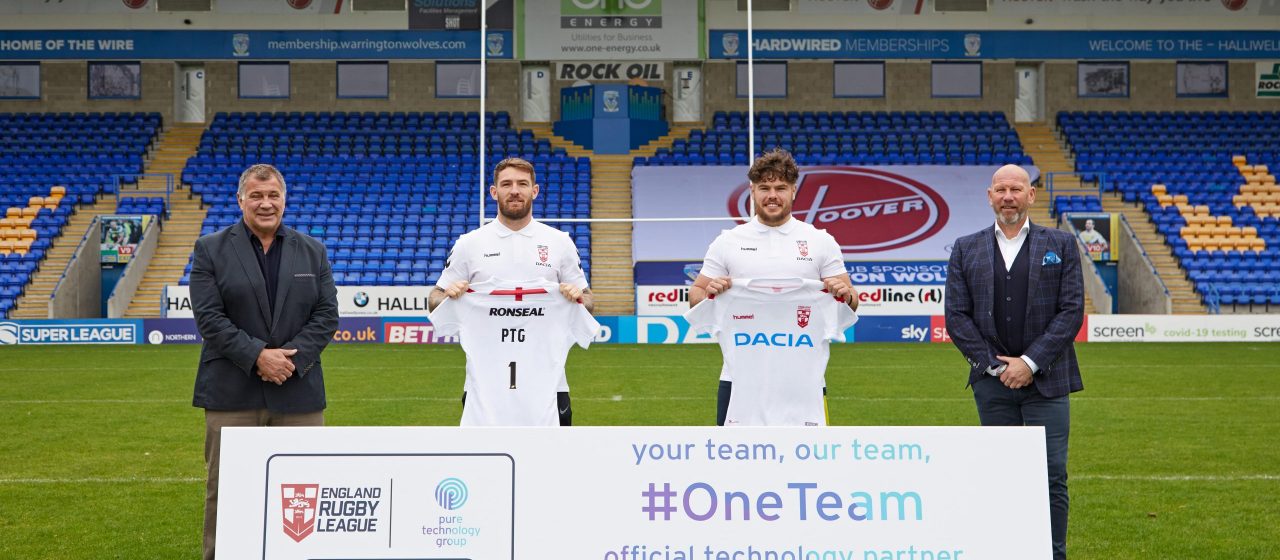 Leeds tech firm helps England Rugby League gear up for 2021 World Cup
Oct 22
Leeds-headquartered pure technology group (PTG) has become the official tech partner of the England Rugby League – helping the national team to harness the power of technology to gain a competitive advantage for the 2021 World Cup.
The joint venture will also see the tech firm and England Rugby League enter into a long-term knowledge sharing agreement. PTG will offer ongoing IT solutions, while England head coach, Shaun Wane, will deliver regular talks to PTG's staff and customers about how to create and be part of a successful team.
PTG's investment in the national team will allow them to purchase brand-new laptops and gain access to cloud-based, performance analytics software, Hudl – allowing them to implement real-time GPS positioning on the pitch, replay and annotate training footage, and track all aspects of the players' nutrition.
Commenting on the partnership, PTG's Group CEO, Stephen O'Brien, said: "The opportunity to get behind our national squad and support them through the use of technology is a very proud moment for our organisation.
"Here at PTG, the ethos around the way we run our business is very much like that found in a team sport. We all have an important role to play in helping reach the common goal, and our collaborative spirit helps us get there. That's why the relationship is such a natural fit.
"We're thrilled to be able to facilitate England Rugby League accessing the analytical tools that allow them to assess, reflect on and learn from their on-pitch performance, ahead of the 2021 World Cup next October, when they'll attempt to win the tournament on home soil."
Elaborating on Stephen's comments, England head coach, Shaun Wane said: "To win a World Cup, we need to be as good as we possibly can be in all areas – on and off the pitch. Preparation is everything and I'm leaving no stone unturned. PTG are part of the jigsaw. Their technology will help me get the best out of the players and help the players get the best out of themselves.
"Attention to detail makes champions. This where the Hudl programme comes into its own. It means coaches and players can drill down into the fine margins to sharpen and improve techniques and stamina. It's very sophisticated software – I'm very excited about its potential.
"This is a crucial partnership for myself, England Rugby League and the game as a whole, and I know we're all going to see benefits from this next year."
Stephen concluded: "There are many synergies with our leadership styles and cultures – one key area is that we're both committed to empowering our teammates to be the best they can be.
"That's why we're looking forward to working together well into the future – sharing leadership knowledge and insight to be innovative and maintain our competitive edge."