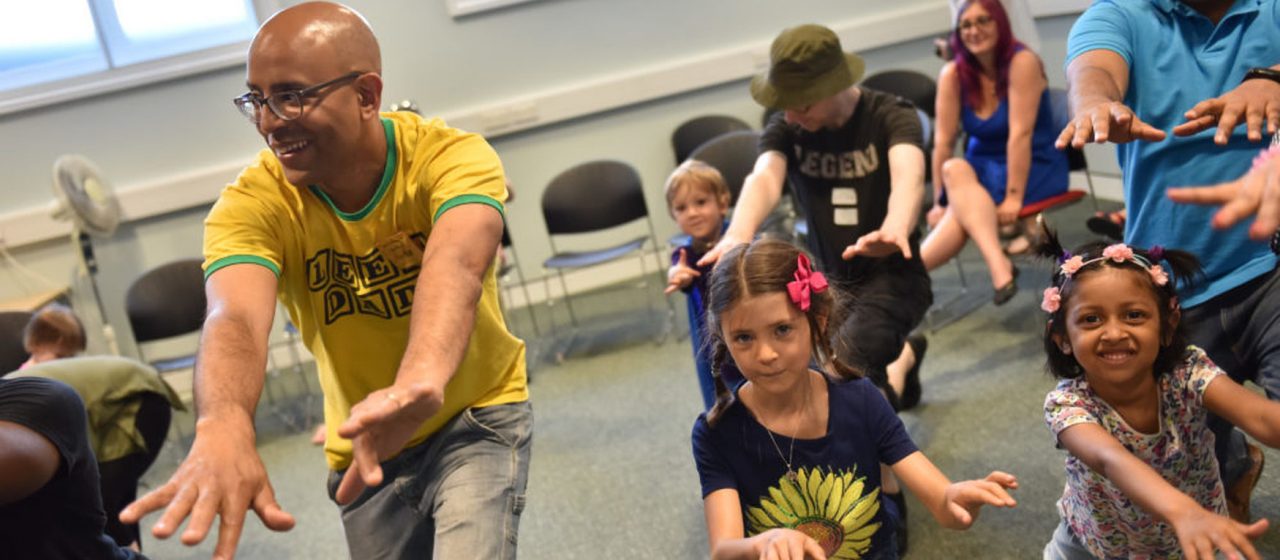 Leeds-based Support Group Returns With Dadstastic Day
May 30
The largest free Father's Day party in England – Dadstastic Day – returns on Sunday 16th June for a day of family fun at Leeds City Museum, Millennium Square between 11am-3pm. 
Organised by the voluntary support group Leeds Dads, Dadstastic Day is a great opportunity for parents and carers to interact with their kids. Babies, toddlers, and children aged up to 11 yrs old can enjoy sport, music, dance, science, storytelling, plus arts and crafts. Mums, grandmas, carers, dads – everyone is welcome!
Learn to dance with Phoenix Dance, upcycle vinyl and turn records into art, jump and shout at the BoomChikkaBoom Baby Rave, and meet your favourite fairy tale characters.
There's fun outdoors with giant board games, Pop Up Sport in Millennium Square, along with inclusive sports such as Wheelchair Tennis and Boccia. Leeds Mobile Libraries will be hosting story time sessions, and you can join Mr Bubbles to blow giant bubbles – can you make a bubble float over Leeds Civic Hall?
Create crazy carnival headpieces, or get into a fight with Lego dad-bots! Learn to comb and brush your children's hair, and plait ponytails galore with Leeds' White Rose Beauty College, and enjoy 'A Musical Day with Dad' at Raise And Shine's Family Story Time Singalong session.
Why not make your own board game to take home with The Gaming Manatee, or build "Squishy Circuits" out of conductive play-dough, LED lights and buzzers with Cyclops Pedal Power.
You can also send and receive secret messages using a BBC Micro:bit to programme Morse code, and there'll also be Litcraft and Sphero tech to explore. (Bring your library card and take a Micro:bit home!)
Partners of Leeds Dads will be supporting the event: Child Friendly Leeds, Leeds City Museum, LCCT and Leeds Inspired. The whole event is part of Leeds Dads' aim to support dads to engage with their kids.
Get Out and Do Something With The Kids! Join us for Dadstastic Day.
Dadstastic Day is Free when you sign up at dadstastic.eventbrite.co.uk
What Is Leeds Dads?
In April 2011 a group of dads looking for ways to spend more time with their babies set up their own playgroup in a café in Leeds City Centre. Now they're opening their doors for hundreds of other dads in the city. Welcome to Leeds Dads!
Leeds Dads is a charitable organisation that brings together a diverse community of fathers for social interaction and support. They host playgroups for dads and kids, organise social events, and signpost towards expert parenting support. Leeds Dads is unique in their key aim of supporting fathers to actively engage with their children, and build lasting relationships.
Leeds Dads has been commended as an asset to the city in Leeds Beckett University's report 'The State of Mens Health in Leeds (2016)'.
It highlights their work supporting the wellbeing of fathers in Leeds, providing a service for fathers and toddlers, and also for fathers who wish to maintain contact with children when separation occurs.
http://www.leedsbeckett.ac.uk/-/media/files/mens-health/160525_11217_stateofmenshealth_researchreport2_web.pdf?la=en
Leeds Dads receive regular referrals from Family Outreach Workers at Leeds Children's Centres regarding families where dads are 'isolated, and seeking involvement in a dads group to make friends and share activities with children'.
Awards
The work of Leeds Dads has led them to win awards such as:
Leeds Dads – Community Group of the Year, Compassionate City Awards 2018
Adult Making a Difference, Child Friendly Leeds Awards 2018
Leeds Dads – Jo Cox Award Runner Up, Compassionate City Awards 2018