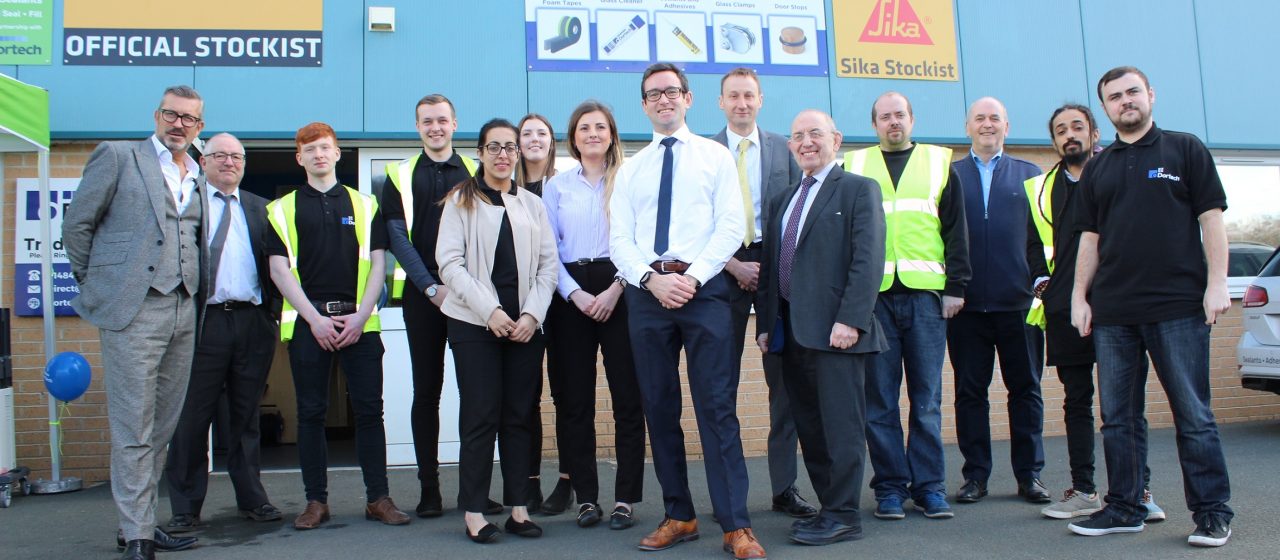 Growing Huddersfield business launches building supplies counter for public
Apr 05
Dortech – the aluminium glazing specialist headquartered in Huddersfield – has opened its doors to the public with the launch of a new retail outlet.
Founded in 2012, its online building supplies division Dortech Direct has continued to grow within the £9m turnover Group. But with his sights set on £2m revenue in the next 12 months – for this brand alone – managing director James Sutherland has invested £45,000 in a new trade counter for builders, glaziers and the public alike.
The ex-fabrication unit is now a dedicated 8,000sqft warehouse with new racking, lighting, heating and stock – complete with a public-facing storefront on Old Fieldhouse Lane, off Leeds Road. Selling everything from glass lifting devices and silicone sealants, to building membranes, adhesives and cleaning agents, it aims to attract people from along the M62 corridor. If targets are met, the plan is to invest in 2-3 further depots in the next three years.
Commenting on what has made the launch possible, James said: "We have worked hard over the past year to better configure our architectural and maintenance divisions, and we've ploughed over £150,000 into new machinery, lighting and racking to take our capabilities to the next level. The result is stronger collaboration between departments, a more efficient business footprint and space to launch the Dortech Direct trade counter. We've currently got two people in our ecommerce warehouse, but will shortly need six.
"This is an exciting step that will take us from an online-only building supplies retailer to one with bricks and mortar space for the trade and general public. It's a bold claim but I'd love to think we can become the ScrewFix of the glazing industry. We know these products inside out, so people come to us for our expertise as well as our stock."
New distributor agreements have proven a key catalyst to making the trade counter happen.
Dortech Direct has been announced as the official northern distributor of fenestration products manufactured by Sika, for example. Agreements have also been signed to make Dortech an exclusive reseller for blu™ performance hardware to this particular industry sector in Midlands, Yorkshire, North West and Northern Counties, and a key distribution partner for Tremco illbruck.
The trade counter was officially opened on Tuesday by Sean Jarvis from Huddersfield Town A.F.C. Goody bags are on offer for the first 10 customers and a Facebook competition has also been launched to celebrate the news.