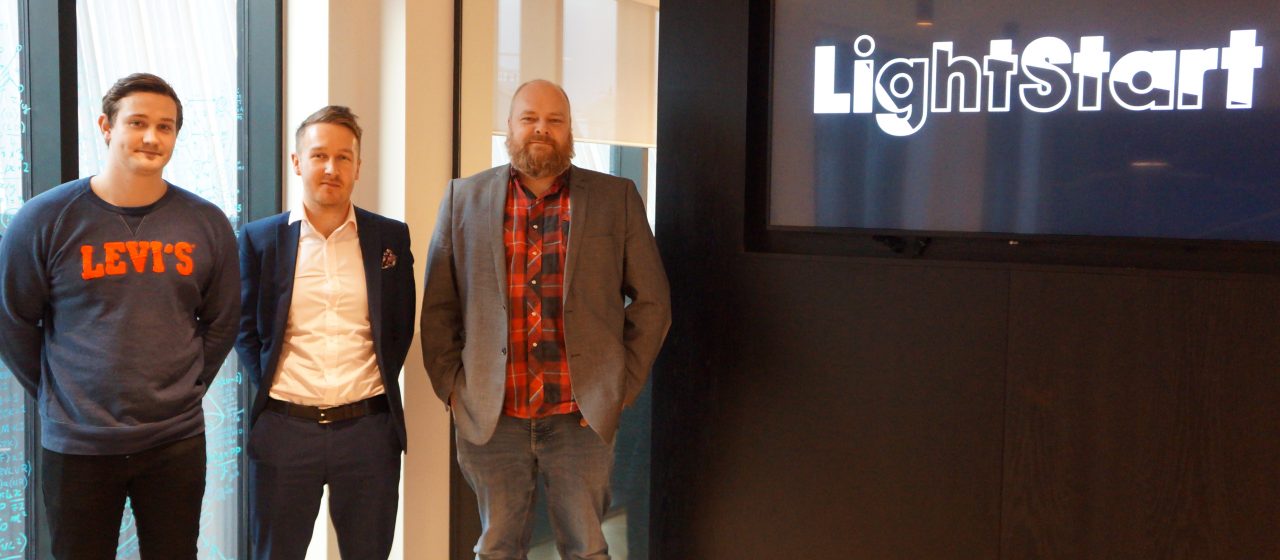 Fast-growing Yorkshire Digital Design House confirms Headline Events Sponsor for 2019
Dec 13
A fast-growing Yorkshire digital firm has announced that it has signed a deal with a headline sponsor for a series of events in 2019.
Leeds-based digital design house, LightStart, has confirmed that national recruitment firm, Sanderson, has come on board as the headline sponsor for its 'Change' category of events for the new year.
LightStart, which runs free innovative events for business people across the city to attend, was founded in 2016 by Simon Edwards and Dan Akers. The company hosts more than 50 events per year, each with a different focus.
The 'Change' category of events includes eight events per year, including 'Remodelling Business', which is all about business analysis, and the '…Differently' series, which focuses on thinking differently by challenging existing business models and ways of working.
Commenting on the new sponsorship, Dan Akers said:
"We're thrilled to welcome Sanderson as our headline sponsor for the upcoming Change events! Sanderson is a fantastic company with an exceptional reputation, having partnered on events previously it's great to have them on board for the new year."
Established in 1975, Sanderson is a specialist IT, Digital and Business Change/Transformation recruitment company with offices across the UK and Ireland. The company boasts an impressive portfolio of long-term candidate and client relationships in West Yorkshire, with particular expertise in business transformation, integration, separation, divestment, process improvement and operational change.
Having sponsored the previous two 'Remodelling Business' events with an aim to help support its engagement with the Leeds business change community, the firm has confirmed its sponsorship of the series of events in 2019.
Alistair Collier, regional director of Sanderson commented:
"Partnering with LightStart is a breath of fresh air! It was a simple decision to make given how amazing the content always is, and how well received their events are.
"Dan and Simon have worked hard to build events that are fit for purpose and of value to the attendees, which bucks the trend of sales focused events that are so prevalent.
"To me, it's essential people can enjoy themselves and network with like-minded professionals and in my eyes LightStart events offer this in abundance."
The next Remodelling Business event is taking place on 24 January, tickets can be booked online here.
-Ends-
Issued on behalf of LightStart by MacComms. For more information, contact Emily Docherty on [email protected] / call 0113 869 5242.
Notes to the editor
About LightStart
LightStart, the digital design house, was founded by Simon Edwards and Dan Akers in mid-2016. The start-up tech firm builds
digital products for its clients including mobile apps, web apps and the underlying platforms that drive them. The core team has 45 years of experience building and launching digital products.
­
LightStart is a thought-leader at the forefront of the digital community in Yorkshire and ensures this through its client projects, its labs projects and by running events for the local tech and business community. In less than two years, the company has grown its client base to include 20 businesses from digital start-ups through to £60M turnover businesses.
Uniquely, LightStart run free innovative events with an annual calendar of over 50 events, all of which are free to attend.
As well as building digital products for clients, LightStart has created LightStart LABS to build its own ideas and get them to market.
For more information on LightStart visit www.lightstart.co.uk