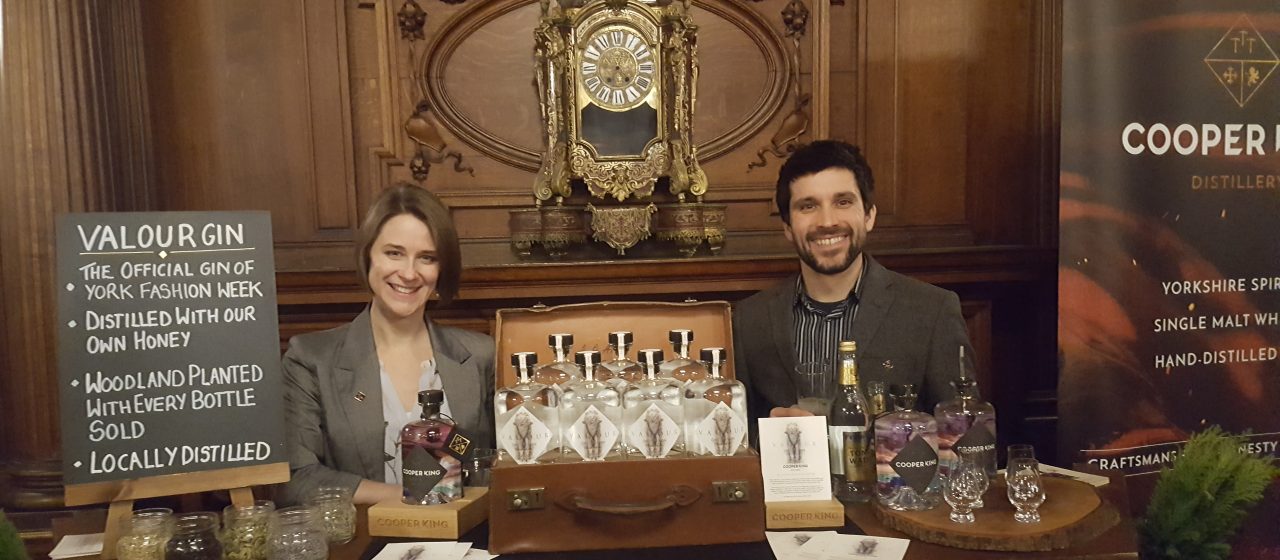 Fashion designer partners with start-up distillery to launch bespoke designer gin
Mar 27
A world-renowned fashion designer of choice for London's "it" girls and international celebrities has collaborated with a start-up gin and whisky distillery to launch a bespoke gin.
Scott Henshall whose client list includes Victoria Beckham, Paris Hilton, and Supermodel Petra Nemcova, has partnered with York-based award-winning distillery Cooper King Distillery.  The duo has come together to create the gin as part of Scott's new 'Valour' brand which launches this week as part of York Fashion Week.
Scott Henshall has been dominating the Red Carpet since 1998 when, at age 22, he became the youngest designer to show during London Fashion Week. He has been the creative director of luxury British fashion house Mulberry and worked with other leading brands including Liberty and Laura Ashley.
Originally from York, 'the king of the red carpet' approached local distillery, Cooper King Distillery to join forces to create a gin as part of the Valour range which encourages people to 'be courageous in all you do.'
Returning to his roots to launch Valour at his Mansion House show on Tuesday 26th March for York Fashion Week, Cooper King Distillery will run a gin cocktail bar using Valour gin.
Valour gin cocktails have been developed by award-winning York cocktail bar Cut & Chase and will be served throughout York Fashion Week, as well at the afterparty for the show.
Fresh basil beautifully balanced with fragrant lemongrass and Yorkshire honey creates a bold, herbaceous gin, which offers the taste of a designer brand. Served with Fever Tree Indian Tonic and a fresh basil leaf, it makes an incredibly refreshing gin and tonic.
Established in Yorkshire by Chris Jaume and Abbie Neilson in 2016, Cooper King Distillery is a self-built, independent and innovative distillery. Having released its inaugural product, Cooper King Dry Gin, in May last year, the distillery has already scooped a World Gin Award for its innovative vacuum distillation.
Vacuum distillation is leading a revolution in the spirits industry, thanks to the clarity and vibrancy of flavours created due to the cool, gentle temperatures used during the distillation process.
Co-founder of Cooper King Distillery, Chris Jaume said:
"We're proud to have collaborated with the king of fashion to create a bespoke gin which perfectly fits the Valour brand.
"We've had great fun creating a unique gin which articulates the luxury and courage which Scott's Valour brand signifies. We have made use of local ingredients, including honey from our own beehives, and are incredibly excited to be launching a product that celebrates the best of York."
Scott Henshall commented:
"I am celebrating my 21st year in the fashion industry and I wanted to think about my legacy.  This is my archive and I wanted to bring it back to York and show it off before I launch my new collections.
"Collaborating with great local talent and passionate businesses such as Cooper King Distillery is important to me. I'm excited to showcase the best of York on an international scale."
The project brings together the York-based businesses, both striving for innovation in their sectors.  Scott has also teamed up with Yorkshire-based master goldsmith Mark Lloyd to create bespoke designed jewellery to compliment the brand.
In line with the distillery's strong sustainability ethos, at least 1% of all sales proceeds will go to the Yorkshire Dales Millennium Trust as part of Cooper King Distillery's 1% for the Planet initiative. The distillery was the first in Europe to join the programme which it supports via ongoing environmental projects, including donating a proportion of gin sales to the Trust to plant new woodland. 
For more information on Valour gin please visit https://www.cooperkingdistillery.co.uk/shop/valour-dry-gin-70.