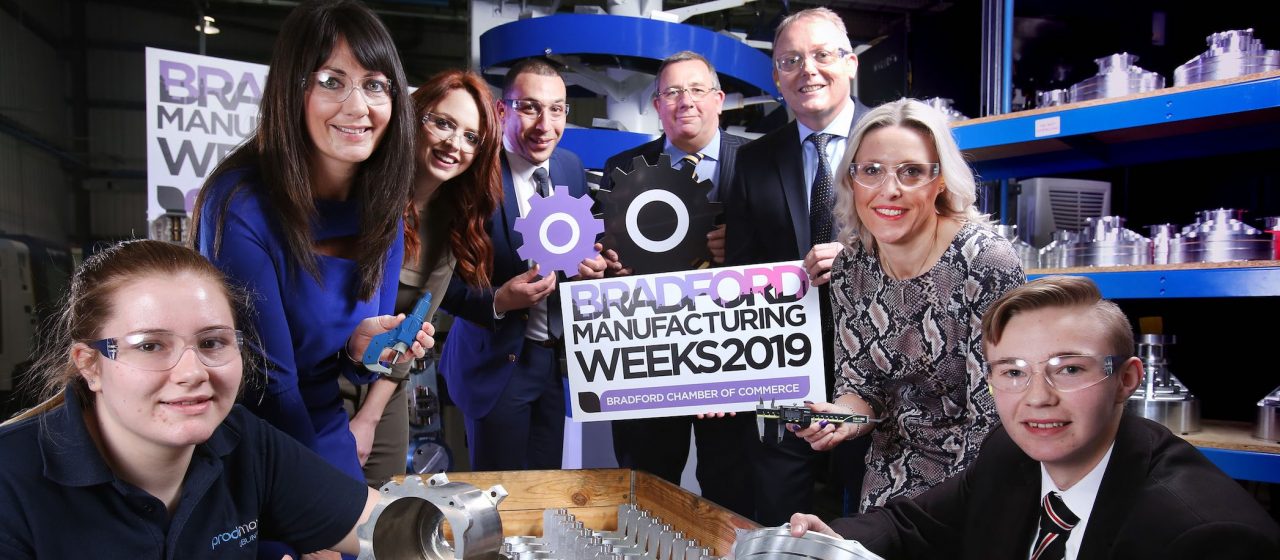 Extended initiative aims to create 6,000 student manufacturing experiences in Bradford
Apr 05
An initiative which educates young people about career opportunities in the manufacturing sector is doubling its targets for 2019.
Bradford Manufacturing Weeks, which celebrated a highly successful inaugural campaign in 2018 after creating 3,000 manufacturing work experiences during one week for young people in the district, has announced it is extending to a two-week initiative from 7-18 October 2019.
Led by West & North Yorkshire Chamber and delivered in partnership with Bradford-based school and career specialists Aspire igen with primary sponsorship from Barclays, Bradford Manufacturing Weeks 2019 aims to double involvement from the 44 manufacturers who took part last year and reach three quarters of the district's 49 secondary schools.
The brainchild of Nick Garthwaite, president of Bradford Chamber, chairman of the Bradford and Airedale Manufacturing Alliance (BAMA) and managing director of international chemicals and detergents manufacturer Christeyns, Bradford Manufacturing Weeks is designed to create more inspired, informed and 'work ready' applicants into the sector.
This year the initiative will include events to support the district's current apprentices alongside a new Apprentice Live panel offering pupils the chance to quiz local apprentices, Qs and As with manufacturers and a series of 'getting to know you events' for schools to network with employers as well as the popular manufacturer tours, work placements, work experiences and careers workshops.
Nick, who this week met sponsors, students and apprentices at Bradford aerospace manufacturers Produmax, to kickstart six months of awareness raising, believes the initiative is already strengthening employer and school relationships. He said: "Last year, one week in Bradford created 3,000 manufacturing experiences for local young people from work placements and factory tours to work experiences and Barclays Life Skills workshops.
"In 2019, by doubling our targets, we want to create 1,000 tours, 600 work experiences, 200 panel participants, deliver 4,000 in-school activities and involve at least 80 manufacturers and 40 local schools. These partnerships are the very best ways of getting young people to see for themselves the exciting and progressive career opportunities our district presents in the most diverse – often hidden from view – local businesses."
Nick added: "This initiative is also about raising awareness of apprenticeships and by improving communication between schools and manufacturers and showing just what an innovative industry this is, we believe we can attract the right talent into apprenticeships and create a strong, skilled employee base for our growing manufacturing sector."
Bradford Manufacturing Weeks 2019 already has support from some of Bradford's major manufacturers including Carnaud Metalbox, Acorn Stairlifts and Solenis and is backed with further sponsorship from E3 Recruitment, Gordons LLP, Naylor Wintersgill, Bradford University and global training provider Dale Carnegie. It will complement the Leeds Manufacturing Festival, an initiative co-ordinated by Leeds Chamber of Commerce and Leeds Manufacturing Alliance which also aims to showcase career opportunities to young people.
Simon Clemmett, STEM and F1 in Schools Lead at Hanson Academy whose student Ben Bott (16) was one of a number to visit Produmax as part of Bradford Manufacturing Week last year, said Ben was delighted to return this week and help announce the 2019 initiative.
"Having our students involved with Bradford Manufacturing Weeks is a wonderful chance to open their eyes to local industry and the career opportunities. We've noticed a real difference in pupil attitudes since taking part last year and as a Design Technology teacher the experience helps me to refer back to student work experiences and relate to practical and theory learning in lessons. Thanks to his Produmax experience, Ben now wants to pursue an apprenticeship and hopes other students will get the same inspiration from this year's manufacturing events."
Bradford district is an economy built on manufacturing with 1,200 businesses employing 27,000 people – 13% of all employment compared to just 8% nationally and the fourth highest of any city district in the UK[1]. Engineering is the district's largest manufacturing sector, which also includes chemicals, food and drink and textiles.
Debbie Mullen, Barclays head of manufacturing in Yorkshire and Bradford Manufacturing Weeks lead sponsor, said: "It is clear that there is a mis-match between perceptions of manufacturing and the reality of what a career in manufacturing can provide. The skills most desired by young people include decision-making, complex problem solving and technical skills, but these match the skills that most manufacturers say employees gain from working in the industry and highlights the need for businesses to engage and inspire the younger generation."
Nick added: "The build up to Bradford Manufacturing Weeks 2019 has begun and our message to manufacturers and schools is simple – sign up and get involved!"
A Bradford Manufacturing Weeks information event for manufacturers is being held on 1 May at the Dye House Gallery, Lister Building at Bradford College. To register interest in the event or in Bradford Manufacturing Weeks 2019 please contact Liz Wood at Bradford Chamber on 01274 206653 or email [email protected]. For further information see the website www.bradfordmanufacturingweek.co.uk and for regular updates follow @Bradfordmfg on Twitter.
[1] Bradford Economic Strategy 2018