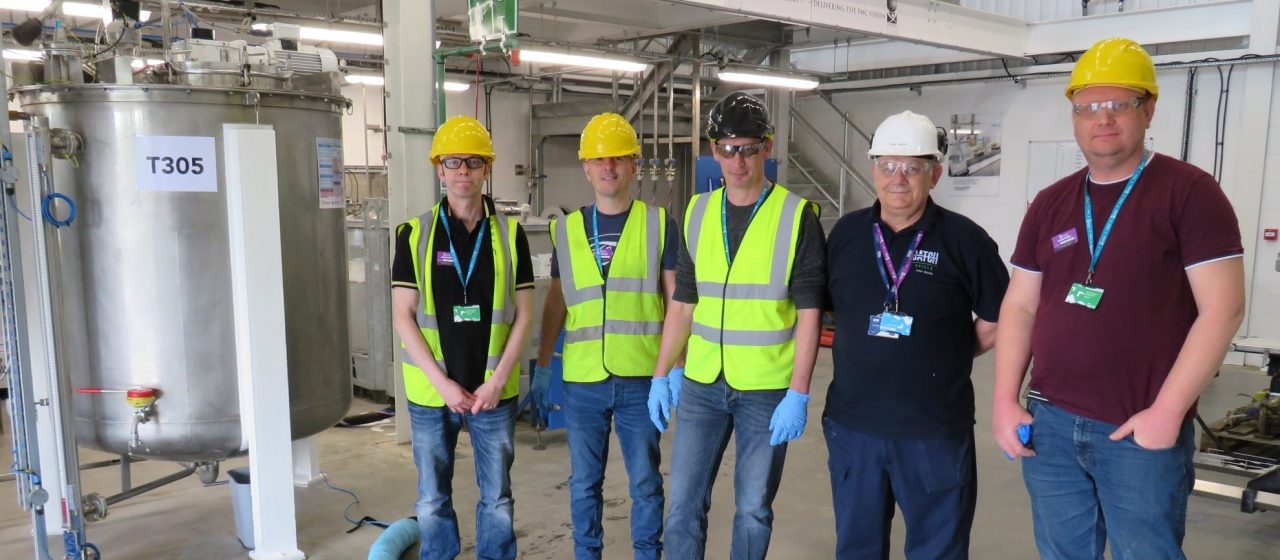 Creating skills solutions for the Chemical Sector
Jun 04
The West Yorkshire Consortium of Colleges (WYCC) is creating opportunities for chemical businesses in the Leeds City Region to train their workforce in the skills they need.
The consortium is bringing businesses, training providers and colleges together to design skills projects and programmes that will help businesses grow.
As part of WYCC's Reach Higher project, which is funded by the European Social Fund (ESF), the chemical sector had its first taste of specialist training in May when a team from Vickers Laboratories received vital training thanks to this collaborative approach.
Delivered at Kirklees College's specialist Process Manufacturing Centre and delivered by Humber-based Catch Skills, the ESF-funded 'Loss of Containment' training was attended by the Vickers team.
Rob Brown, Operations Manager at Vickers Laboratories said, "Catch Skills really understands the training needs of the chemical industry and it's great to have the training delivered locally at Kirklees College's state of the art centre.
"This training will give us even more confidence that the team could handle various spillage scenarios whilst maintaining our core Environmental, Health and Safety responsibilities."
The training came to fruition after WYCC brought together the college and specialist training provider to allow businesses in the Leeds City Region to access training on their doorstep, with funding support. Training will continue to run throughout June.
The work to develop more skills solutions for this industry will continue. WYCC and the Leeds City Region Enterprise Partnership (LEP) hosted an event earlier in May which opened up the conversation with businesses, colleges and training providers about what this industry needs in the future.
Working together, and led by WYCC Project Manager Joanne Harvatt, more opportunities will be designed for the chemical industry to upskill their workforce.
Joanne said, "We've been able to facilitate and part-fund some of the training that chemical sector employers in the Leeds City Region need. We're hoping to develop this offer, and complement it with other projects including The Skills Service's wide range of training for businesses.
"We're listening to what employers' need and what the capabilities of the region's education and training sector are, so we can find a solution to suit everyone and make sure businesses flourish.
"In our recent employer event we talked about issues such as automation, finding the right trainers with experience and knowledge to train for the future technology and practises, and the need for employees to be multi-skilled. We also identified a number of specific courses that the businesses would like to see delivered locally, so we'll see what opportunities there are to bring those on."
Businesses can find details of specialist training through the Reach Higher project at www.westyorkshirecolleges.co.uk along with a wide variety of part funded courses available to SMEs through The Skills Service project.
WYCC manages a number of European Social Fund contracts on behalf of seven colleges* in West Yorkshire, working together under an official agreement called the Joint Venture (JV). The consortium also manages the Leeds City Region Skills Network, which includes a wider set of partners from across the region who work together with the LEP.
WYCC brings together businesses with training partners to deliver workforce training and skills support. These programmes aim to contribute to the economic growth of the Leeds City Region, tackle social mobility and connect the education and business sectors.
*Bradford College, Calderdale College, Kirklees College, Leeds City College Group, Leeds College of Building, Shipley College and Wakefield College.