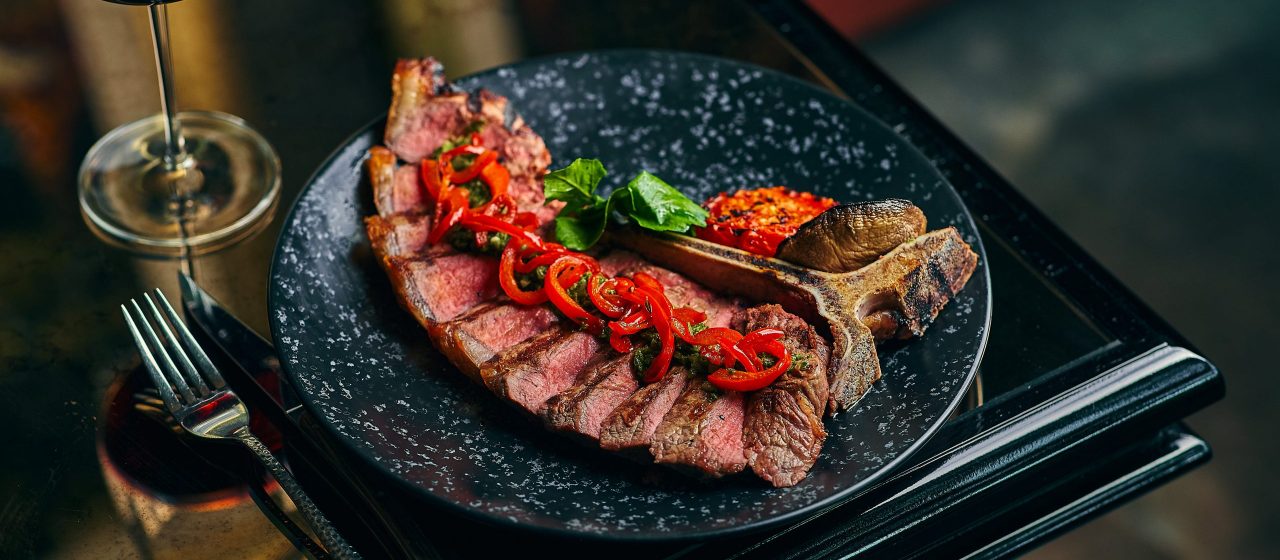 Chophaus drops new Autumn brunch menu and one-off Caribbean night
Oct 19
Oakwood favourite unveil tempting Autumn brunch menu
Dishes include The Bielsa – a mouth-watering Argentinian steak dish named in honour of the celebrated Leeds United Manager
The autumn brunch menu will be available between 10am-2pm every Saturday and Sunday from 17th October
On Monday 2nd November, Chophaus goes Caribbean for one night only when Chef Dom Taylor drops in for the first-ever Haus Takeover
Just 40 tickets are available for this exclusive one-off event
With their first birthday just weeks away, Oakwood trailblazers Chophaus is showing no signs of letting the turbulent events of 2020 get them down. With a new autumn brunch menu ready to drop, they've also got plans for a series of exciting Haus takeovers designed to tickle the tastebuds of local foodies.
The all-new Chophaus brunch menu launches on Saturday 17th October and boasts an array of irresistible dishes that will have you living for the weekend. The Chophaus Full English gives the classic dish a premium spin with a tasty bacon chop, sausage, fried duck egg, roast tomato, grilled field mushroom, homemade baked beans, and black pudding beignets.
The Bielsa
Elsewhere on the menu, there's the unashamedly calorific Grilled Cheese and Parma Ham Sandwich with cheddar, parmesan, fried duck egg and sweet potato crisps, as well as Smashed Avocado and Poached Eggs.
Carnivores will be drawn to the mighty Steak Benedict with its 5oz grilled rump, toasted focaccia, bearnaise sauce and watercress, whilst Leeds United fans won't be able to resist new special The Bielsa. Consisting of a melt-in-the-mouth 300g Argentinian sirloin steak served with chimichurri and roasted red bell peppers, it's the only way to honour Marcelo's triumphant return to the premiership with the mighty whites.
The menu also includes Pancakes with seasonal berries, honey, mixed nuts, and chocolate mascarpone for those with a sweet tooth and a Homemade Granola Bowl with goji berry, yoghurt, natural honey, kiwi, and pineapple.
The brunch dishes will be complemented with a new Spritz Cocktail menu for those looking to add a touch of sparkle to their weekend. Booking is essential, and guests are encouraged to follow the latest government guidelines when it comes to socialising safely and responsibly.
Haus Caribbean takeover
On Monday 2nd November celebrated Chef Dom Taylor will be dropping some Caribbean flavour bombs in the kitchen for the restaurants first-ever Haus Takeover. The one night only event has just 40 places and is expected to wow locals with a jaw-dropping menu of exotic dishes.
For just £45pp (and £30 for vegan option), guests will be able to indulge in a delicious selection of arrival canapes, followed by an inventive 3-course dinner. Starters include Jackfruit Tempura, and Ackee and Saltfish Cakes, whilst main dishes offer up braised Peppered Steak with ginger, pimento and sweet peppers, and delicate Escovitch Seabream Fillets.
A spiced Plantain and Aubergine Fritters with pomegranate molasses and coconut yoghurt is also on the menu, as well as a traditional Caribbean Curried Chicken, made from Dom's secret family recipe. Sumptuous sides include lime, maple, chilli, and coriander dressed plantain, mac and cheese and rice and peas.
Guinness Punch Panna Cotta
The evening will be capped off with a choice of Plantain and Almond Cake, or the boozy Guinness Punch Panna Cotta, which gives the Italian classic a tropical spin. Guests are encouraged to arrive from 6pm for canapes, with the rest of the dishes served in waves from 7pm.
Born in Huddersfield to a Jamaican mother and Saint Lucian father, Chef Dom has had an impressive culinary career that was fuelled by his family's love of Caribbean cooking. After humble beginnings cooking up a storm at family weddings, christenings and parties within his tight-knit community, Dom went on to study cookery and quickly his way up the ladder to become Head Chef at 'The George' pub in Catford.
Before long, he was building an impressive portfolio, including a one-year stint at a golf resort in South Carolina, and the prestigious Belgrave Hotel back in London. After a successful 2-year stint managing two sites for the brunch-centric Jam Tree restaurant group, Dom decided to set up his pop-up chef concept.
The Chef Dom Taylor Kitchen was born, which saw him signed up for his current 2-year residency at Fourteen|87 Restaurant and Cocktail Bar in Catford. His Haus Takeover is set to be one of many one-off collaborations with popular restaurants across the UK, whilst Dom also has his sights set on his very own bricks and mortar venue soon.
With limited tickets available for Chef Dom's Haus Takeover, guests are advised to book early to avoid disappointment. Watch this space for news on the next Chophaus takeover event.