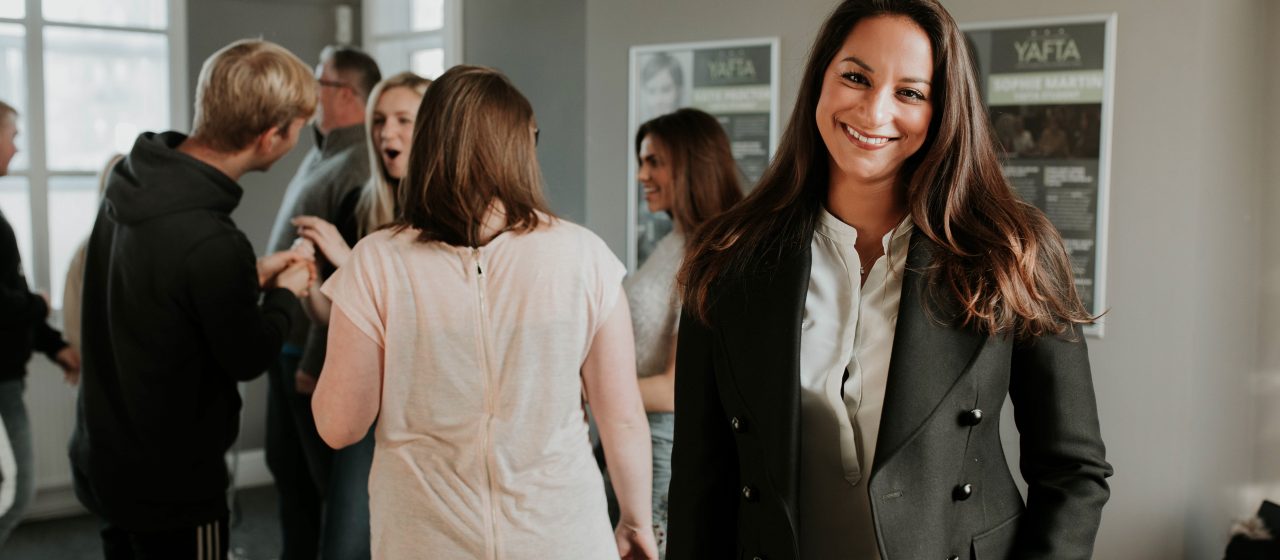 Award Winning Yorkshire Acting Academy Launches Targeted New Scholarship "You Can" Campaign
Dec 21
If you know someone who has always dreamed of an acting career on screen or working behind the scenes on a movie blockbuster now might be your chance to make their dreams come true.
The Yorkshire Academy for Film and Television Acting (YAFTA), based in Leeds has launched a new 'You Can' competition to win a scholarship worth nearly £8000 on one of their exclusive Diploma programmes.
Specifically targeted at those from underrepresented and minority groups, YAFTA is delighted to launch the campaign with support from award winning, and rising star within the Film and TV industry, Blockbuster Production Manager, Bradford born, Umar Hussain.
This scholarship from YAFTA is a fantastic chance for someone who aspires to have a career in the Film and TV industry but feel it's not a sector open to them. I'm proof there is so much opportunity and potential out there, you've just got to believe and go for it!"
Umar Hussain, Production Manager and Supporter of the 'You Can' Campaign
Managing Director, Charlotte Armitage adds: "Here at YAFTA we are passionate about levelling the playing field in the acting industry for talented individuals regardless of their disability or ethnicity. We want to ensure that underrepresented groups are given the opportunity to follow their passion and are fully supported to launch their career in Film and TV industry."
Also supporting the campaign is Umar's father, local business man and philanthropist, Zulfi Hussain MBE who knows only too well the importance of promoting inclusive opportunities within the industry for all those who show promise and talent.
Zulfi said: "I have long championed the opportunities within the media industry for young people from minority backgrounds launching the Excellence in Inclusion programme back in the early 2000s. There's still lots to do as a sector and really pleased YAFTA is able to offer this exciting opportunity to someone from an underrepresented community."
Both YAFTA's Acting for Screen and Film and TV Production Diplomas are part-time courses led by skilled, industry experts and the only ones of their kind taught in the north.
To enter, applicants must be 16+ and are invited to submit a two-minute video of themselves acting out a scene from their favourite film or TV programme, along with paragraph on why they' love to be part of the YAFTA diploma programme. Head to www.yafta.co.uk/you-canto enter now.
About YAFTA
Founded by Leeds business woman, Charlotte Armitage in 2013, YAFTA is an award winning Acting Academy and Talent Agency providing acting classes, workshops and Diplomas to children, teenagers and adults. Providing classes across key locations across Yorkshire, including Leeds, Bradford, Sheffield, Harrogate and York.
Through the Academy and Agency, YAFTA has placed two actors in high profile roles in the country's leading TV programmes: Liam Bairstow who has downs syndrome is the first downs syndrome actor to secure a regular role in Coronation Street and also, James Moore who has cerebral palsy and has just been nominated for an NTA as his role as Ryan Stocks in Emmerdale. Charlotte is also working closely with industry professionals, casting agents and the BBC to work on guidelines for the industry to follow when working with actors with learning disabilities.
In addition to this, YAFTA has successfully helped many Northern based actors secure roles in the nation's biggest TV shows including; BBC Casualty, Doctors, Love, Lies & Records, From Darkness, BBC3's Coconut, ITV's Emmerdale, Coronation Street, In the Club, Happy Valley and C4's Hollyoaks, proving that location isn't a barrier to success in the acting industry.