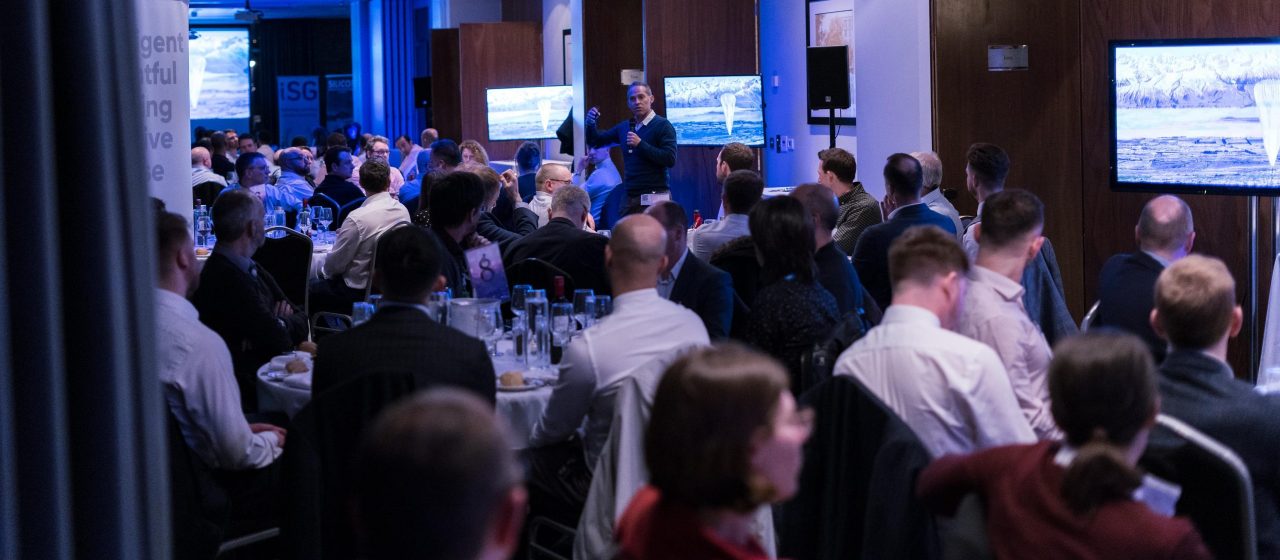 A SERIES OF LIGHTBULB MOMENTS AT THINK SUMMITS LEEDS
Mar 25
Igniting conversation, sparking creativity and powering change, THINK Summits attracted digital experts from across the region and beyond, when the event returned to Leeds on Tuesday, 10th March.
Sponsored by Modo25, and hosted at a brand-new venue, Doubletree by Hilton, the proceedings were kick-started by a series of subject specific roundtables. Here, delegates discussed specific topics aligned to their experience and expertise with topics for discussion including DevOps, Architecture, Software Development, Marketing and InfoSec.
With lively debates firmly underway, guests were then welcomed with a drinks reception, delicious canapes and a chance to mingle and build relationships with other technology professionals from a range of specialisms.
New connections established, it was time to take a seat for dinner. Presenting a further opportunity to meet, learn and share, our guests were treated to a duo of fantastic, and equally inspirational, speakers.
Keynote #1 – Craig Fenton – Director, Strategy & Operations at Google
First up was Craig Fenton – Director, Strategy & Operations at Google. Through a fascinating keynote entitled 'Ok Google, What's Next?', Craig took delegates on a journey to explore the three trends which demonstrate the significance of technology and the internet in our everyday lives.
Access
Of 8 billion people across the world, 50% have access to the internet – a fantastic privilege and one that we often take for granted, especially when we consider the benefits that this offers
Opportunities to learn something new
The chance to reach a global audience
The tools to start a business
But, this is a luxury that is not shared by everyone, this leaves a further 4 billion unable to connect with a wealth of information about the wider world. With a lack of access, this section of society are not privy to the same level of opportunity.
However, taking steps to increase connectivity in harder to reach places, Google has worked alongside mobile operators to deliver Project Loon. A series of balloons which provide internet connectivity to those in remote communities or who are experiencing loss of internet during natural disasters, the project has helped to successfully deliver internet access and opportunity to people around the world, including in Puerto Rico following Hurricane Maria.
Artificial Intelligence (AI)
AI is now woven throughout most of the tech that we use, in ways that we may not realise. Craig gave examples of the spam filter on our email systems, satellite navigation and even the auto-suggestion function on computerised devices.
Sharing how AI learns and, in turn, advances, Craig spoke about how technology has developed and assists with a range of interesting, real world problems – in the diagnosis of serious eye conditions and even in the fight against Coronavirus.
Craig also gave us a taste of the future, showing how virtual assistants will soon be able to undertake more complex tasks such as booking appointments over the phone and completing registration forms – ultimately taking helpfulness through AI to a whole new level.
Video
The third trend explored was the significance of video. Using the example of YouTube, Craig detailed how video provides access to learning, regardless of background, and also provides people with a voice to speak about important subjects such as women's rights.
By creating video platforms, Craig explained that 'magic happens'. The magic, he said, is an explosion of creativity – take 'super selfies'.
Featuring a smile-inducing video of a man dancing in a batman costume, Craig explained how, by uploading his content to YouTube, the gentleman had gone viral – even attracting the attention of Beyoncé herself!
Summarising, Craig deems opportunity and creativity as the two main benefits offered by the technological access enjoyed by billions of people throughout the world.
With plenty of food for thought, guests took a break to enjoy dinner, followed by our next keynote speaker, Brian Wood MC.
Keynote #2 – Brian Wood MC, former soldier in the British Army, recipient of the Military Cross and Sunday Times' best-selling author
In an incredibly touching and personal story, Brian shared, in harrowing detail, his experience of being on the frontline in Iraq and the three battles which he has had to conquer ever since.
The Battle of Danny Boy
Brian's first battle was literal. The Battle of Danny Boy saw Brian and his comrades under ambush, and making incredibly brave and difficult decisions in the name of Queen and country.
Detailing the day of the 14th May 2004, Brian shared how the team were asked to depart their vehicle and fight, despite being out-gunned and under ambush. As a 23-year-old commander, it's a day that he has never forgotten.
Miraculously, Brian and his colleagues all survived. However, they were each left with horrendous memories which are still being battled to this day.
Returning Home
The second battle, Brian explained, was his return home. What should have been a joyous occasion, became incredibly difficult to cope with. Battling PTSD and a difficulty re-adjusting to life at home after such a long period on the battlefield, Brian's mental health declined.
Knocked once again when he heard of the death of a close comrade, Brian was invited to be part of the burial party. Days later, another friend was killed in action, placing further pressure on an already fragile situation.
The Al-Sweady Inquiry
Brian's third battle began in 2009, when a letter was delivered to his home, informing him that he and his colleagues were to be investigated for murder, mutilation and mistreatment of prisoners of war in Iraq. Once again, Brian's life collapsed.
Heavily reported in the papers and across television outlets, the reputations of Brian and his colleagues were torn apart.
Thankfully, after a heartbreaking 6 years and a brutal cross examination, Brian and his comrades, were finally cleared of wrong-doing. The accusations were deemed to be deliberate lies and malicious speculation, without foundation.
With the pressure of the inquiry, Brian recognised that he needed help and finally reached out to seek the support he so desperately needed. Today, Brian is on the road to recovery. His Sunday Times best-selling book, Double Crossed: A Code of Honour, a Complete Betrayal, tells his story in further detail. A major production has also been commissioned to bring Brian's experiences to life.
With the doors having closed on another fantastic THINK Summits event, we want to thank all who came along to discuss and debate the topics that matter most to the digital community across our region.
Upcoming events
On a mission to unite those across IT, digital and tech, THINK Summits, hosted by iSource Group and powered by Silicon Yorkshire, will be rolling out across the country.
For further information or to register your interest in attending an upcoming THINK Summits event, sign up at https://thinksummits.com/. For details of sponsorship packages, contact Janie Gonsalez or Amy Wheeler on 0113 3236421.