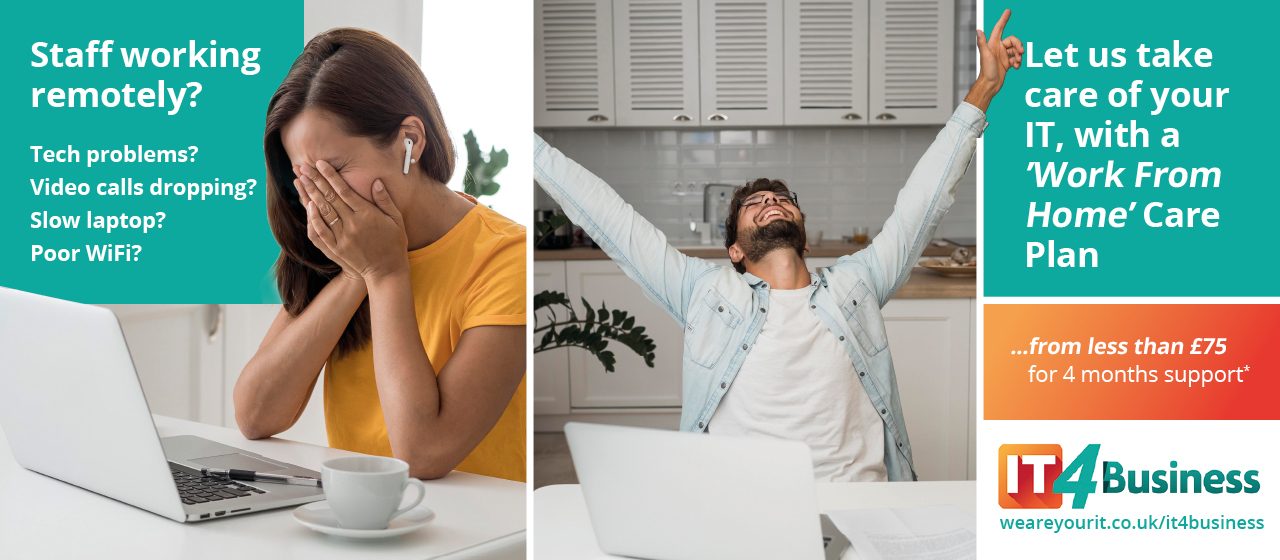 6 in 10 Want to Continue Working From Home: Challenges for Employers
Dec 02
● Statistics reveal that 57% of UK workers want to continue working from home, even after the COVID-19 pandemic is over.
● Only four in 10 want to return to their offices full time once things are back to normal.
● IT4Business has recently developed a new Work From Home Care Plan to help businesses future-proof their IT against this long-term shift in attitudes.
Earlier this year, workers across the UK cleared their desks and began setting up their own home offices. According to the ​ONS​, around 38% of people in Yorkshire were working from home at the beginning of the COVID-19 pandemic.
Swapping the comfort of the office chair for the stiff wooden dining chair has not been easy; many staff have sorely missed colleague interaction, whilst also having to contend with new distractions — particularly for workers with young children — as well as seeking to establish a new work-life balance.
The move to working from home has also caused a range of unique and unprecedented challenges for employers and employees, particularly when it comes to IT; delivering the correct level of technical support has become ever more challenging. According to an ​Ipsos MORI survey​, 28% find unreliability of technology and IT equipment as one of the main reasons why remote working has been difficult.
Yet, despite its challenges, many workers enjoy the perks of being remote, with reduced commuting and more family time on the menu. Indeed, the past 10 months have created new attitudes towards 'WFH', with almost six in 10 people ​reporting​ that they want to continue having the option to work at home, even after the pandemic. Of people who had never worked from home before, 55% say they want the option to continue doing so!
So, how do employers adapt to this new reality? One York-based company, IT4Business, has recently developed a '​Work From Home' Care Plan​ to help employers with this new problem. The plan provides businesses with the chance to quickly and easily outsource all of their IT issues, giving everyone one less thing to worry about.
The IT4Business Work From Home Care Plan covers connectivity support, free repairs, priority advice, PAT testing, emergency visits, health and safety audits and more. Many employers find tech issues to be a drain on productivity at the best of times, so with remote working a longer-term shift, outsourcing IT to a team of external experts is quickly becoming very practical.
Jonathan Granville-Fall, Managing Director at We Are Your IT, commented: "With only 4 in 10 workers wanting to return to offices full time after the pandemic, it looks like working from home is here to stay in some form. Employers need to think about the long-term challenges posed by indefinite remote working.
"One solution many businesses have adopted for future-proofing their operations is enlisting the help of an expert outsourced IT department. Our comprehensive 'Work From Home' Care Plans start from just £75 for four months' support, and cover all tech eventualities."
If you're interested in a Working From Home IT support Care Plan for your business, visit www.weareyourit.co.uk/it4business ​or call our IT experts on 03303 800 100 for more details.