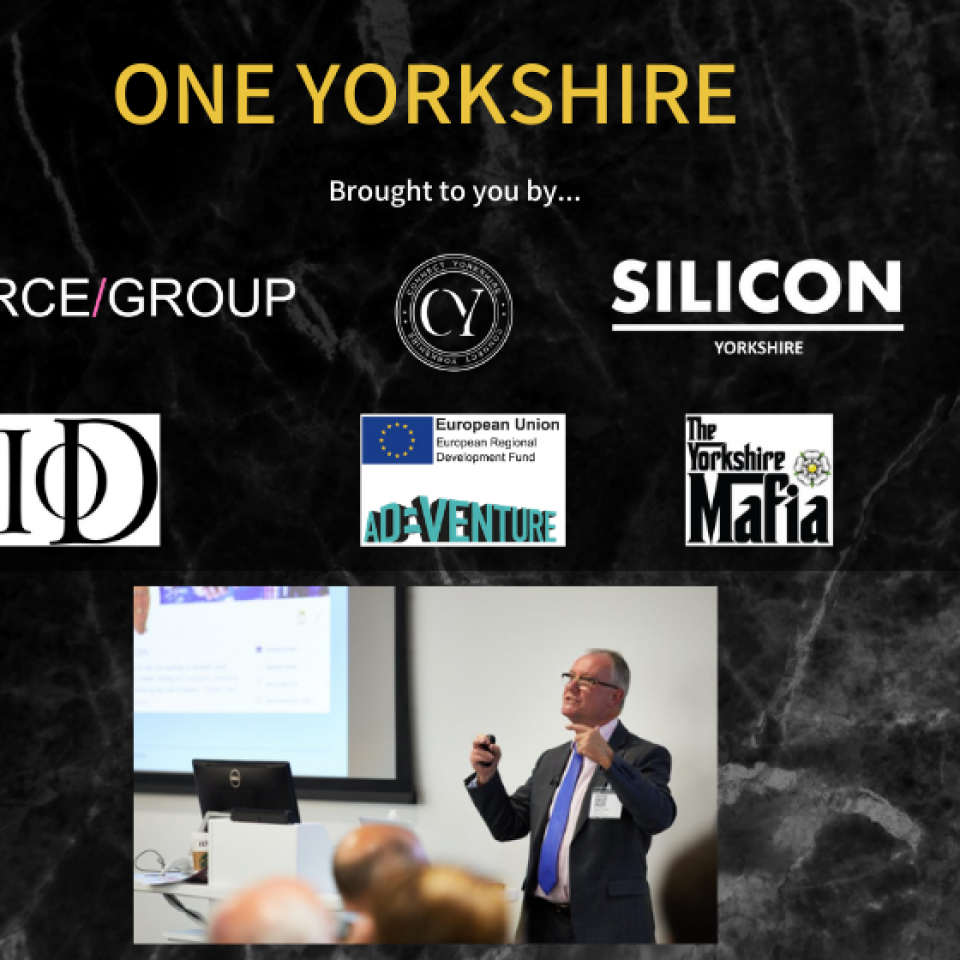 You're on LinkedIn, but are YOU converting customers?
This event is part of One Yorkshire, a three-month virtual series of curated events, seminars, workshops and get-togethers for everyone in, from or into Yorkshire, created to deliver a real business boost to our community. Events are free of charge and everyone is welcome to attend.
So, your new business development activity has taken a knock, eh?
– No networking
– No meeting for a coffee
– No informal meetings
– No conferences
– No exhibitions
But what you HAVE done is taken your connectivity online?
Has LinkedIn moved up your To-Do list like it has for many others?
Is NOW the time for you to act?
Most business professionals have a LinkedIn Profile but frankly, in my experience, most haven't a clue about how to use this to their advantage.
Yes, they have a half-decent profile.
Yes, they 'Like' a lot ('cos that's engaging isn't it?!)
But are YOU converting customers as a result of your activity on LinkedIn?
In this session, I will reveal my top tips to take you from average to – well, wherever you'd like to go. I will reveal the opportunities that can come about from having an optimised profile and engaging on the platform in the RIGHT way.
How to create a good post
How to create a 99% successful connection strategy
And much, much more!
I'll be taking questions throughout, so bring your LinkedIn challenges!
14:00 - 15:30
Zoom
Please register - Meeting link will emailed to you in advance of the event.
Attending
Buzz Mason
Director
CBM-Logix Ltd
Naomi Berry
HR Consultant
Progeny
Deborah Bennett
Owner
The Chronic Coach
Harold Rose
Managing Director
Alex Rose fine tailoring
Sally Poyser
Leadership coach
SPoyser coaching
Dom Owen
Director
Tuned to R.I.S.K. Ltd
David Powell
Carbon Footprint Specialist
Auditel
Fiona Ibbetson
Regional Director
Get Ahead VA
Liam Kinney
Project Manager
Alexika Ltd.
Chris Verney
Regional Fundraiser
Martin House Children's Hospice
Nicola Christian
Business and Corporate Engagement Partner
Canal and River Trust
Mark Robinson
Managing Director
Alexika Ltd
Sarah Edwards
Founder
Purple Banana Marketing
Linda Hogg
Head of Business Development
Black Marble
Jane Cameron
Director
Look Lively Media
Lyn Morton
Business Development
Scandinavian Homes Limited
Sarah Hull
Family Law Solicitor
Life's Chapters
Lynne Wright
Chief Experience Officer
Ferris Wheel People Experience Agency
William Fox
Business Development Manager
Boulder Developments Ltd.
Peter Nicholson
Director
Interactive Flat Panels Ltd
Victoria Fleming
Director
Buzztastic Ltd
Fran Grant
Copywriter
Fran Grant Press Ltd
Gemma Smith
Translations and Training Manager
Alexika Ltd
David Belford
Director/Investor
Various
Lisa Saunders
Bdm
Alcumus
Kathryn Johnson
Creative Catalyst
School Postcards
Audrey Zeitoun
Coach
Audrey Zeitoun Coaching
Stephanie Tague
Head
Building Our Skills
Michael Hackett
MD
Technical Display Consortium Ltd
Gillian Shepherd
Project Manager
St Michael le Belfrey
Catherine Herd
Creative
Purple panda Creative marketing
Colin Glass
Director
Murray Harcourt
Sarah-Jayne Beckett
Communications Manager
CORE
Lyn Morton
Business Development
Scandinavian Homes
Kedar Karandikar
Mediator
AE Mediation
Karen Gavin
Photographer
Karen Gavin Photography
Sharon Mushod
Sales Manager
Aiforia
Craig Walker
Tax Director
Hawsons
Toni Jackson
Managing Director
Virtually Managing Ltd
Molly Jewitt
Freelancer
Communications / Public Relations
Sophia Jones
Regional Fundraiser (North Region)
Dementia UK
Rizman Khan
Photographer
Coverage Studio
Sarah Fulcher
Owner
Worth Telemarketing
Mark Ashmore
Specification Consultant
BePlas
David Wilson
Director
PwC
James Hall
Personal Development Coach
James Hall Coaching
Peter Scott
Coach
Peter Scott Coaching
Michelle Dalby
Marketing Manager
MD Marketing Associates
Annina Diston
Creative Director & Graphic Designer
Annina Diston - Creative Direction & Graphic Design
Helen Crossland
Start-Up Business Coach
Helen Crossland
Hannah Moran
Solicitor
Irwin Mitchell
Michael Peckett
MD
FELL PROMOTIONS LTD
Jeremy Meadowcroft
Investment Manager
Finance For Enterprise
Dawn Lockwood-Haley
BD Executive
Irwin Mitchell
Bradley Perigo
Videographer
Bradley JP Productions
Rosine Suire
Consultant and Coach
Rosine Suire