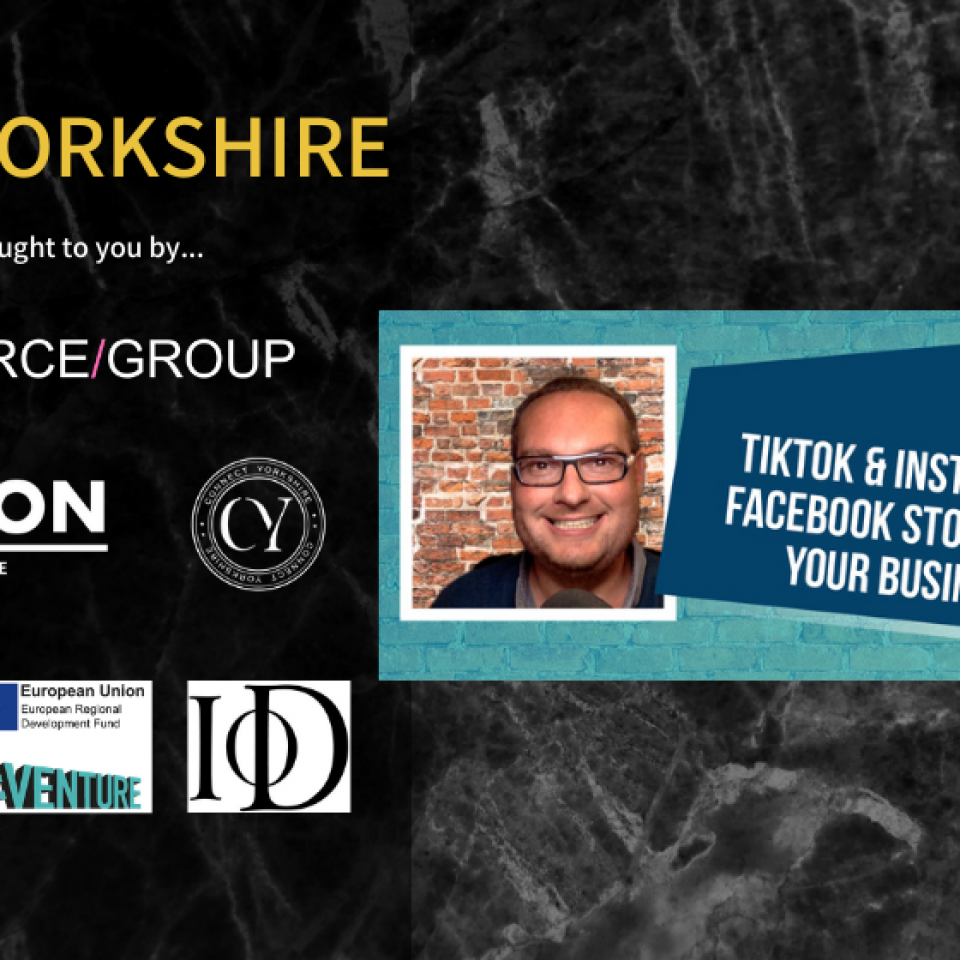 TikTok & Instagram/Facebook Stories for your business
This event is part of One Yorkshire, a three-month virtual series of curated events, seminars, workshops and get-togethers for everyone in, from or into Yorkshire, created to deliver a real business boost to our community. Events are free of charge and everyone is welcome to attend.
Join us for a 1 hour interactive webinar!
Learn how to captivate your audience using social media's most visual, authentic and creative platforms: Tiktok, Facebook stories and Instagram stories. The average person spends over 3 hours on their phone daily – incorporating full-screen video platforms into your marketing strategy channels this attention towards your business.
Led by digital strategist Jonny Ross, this session is a one-hour crash course for those who want to keep updated with the industry's most current, untapped marketing strategies.
You will learn:
The fundamentals of TikTok, Facebook stories & Instagram stories
Best practices for marketing on each platform
How to find and appeal to your target audience
How to grow your reach organically, with industry examples
How to leverage user-generated content, with industry examples
Practical tips & tricks for incorporating TikTok, Facebook Stories & Instagram stories into your business' marketing strategy
Expect to come out of this session equipped to expand your social media marketing strategy, ready to reach your audience confidently through new & engaging platforms.
Jonny will be sharing some of his best tips & tricks, using industry knowledge and existing campaigns to show you what works – and what doesn't – when expanding your business onto TikTok, Instagram stories and Facebook stories.
09:00 - 10:00
Zoom
Please register - meeting link will be e-mailed to you in advance of event
Attending
Hannah Swierstra
Founder
Balance VA Services
Fiona Sorensen
Owner
Self-employed
Gordon Wills
Chartered Financial Planner
Wills Financial Consultancy
Scott Palmer
Chartered Financial Planner
Novus Financial Services
Tim Holdsworth
Business Growth Specialist
ActionCOACH
Simon Morgan
Creative Director
Bread & Butter Creative Communications
steven wolfenden
Managing Director
LamSol (UK) Limited
Sally Bendtson
HR Consultant
Limelight HR
Phoebe Carter
Influencer Strategy
Media Performance
Sue Beckingham
Principal Lecturer and LTA Lead for Computing
Sheffield Hallam University
Gemma Bassett
Marketing Manager
Sinclairs
Anita Mistry
Senior CRM Manager
BT
Peter Nicholson
Director
Interactive Flat Panels Ltd
Andrew Vevers
Voiceover Artist
Vevers Voiceovers
Millie Wright
International Project Assistant
Inova Consultancy
Steve Dixon
Director
Cognosco Marketing
Jennifer Coulter
Digital Graphic Designer
Cromwell
Kathryn Johnson
Creative Catalyst
School Postcards
Francis Grogan
Director
GRGprint
Stephen Dunne
Consultant
Networks Technology
Mandy Haigh Haigh
Project Manager
Leep1 CIC
Sharon Le Goff
Business Development / Marketing Manager
We are IVE
Steven Wright
Director
Candid PR
Ali Pickett
Director
Trueform Wellness Ltd
Janie Gonsalez
Business Development Executive
The Yorkshire Mafia
Rebecca Ross
Business owner
Spruce York
Samantha Jenkins
Founder
twelve.dog
Catherine Stern
Operations Director
CEA Limited
Nadia Williams
Marketing Manager
British Recycled Plastic
Sarah Agar-Brennan
Business Coach Specializing in Product Development
Sarah Agar-Brennan Business Consultancy
Helen Crossland
Start-Up Business Coach
Helen Crossland
Lisa Caswell
Freelance
TBC