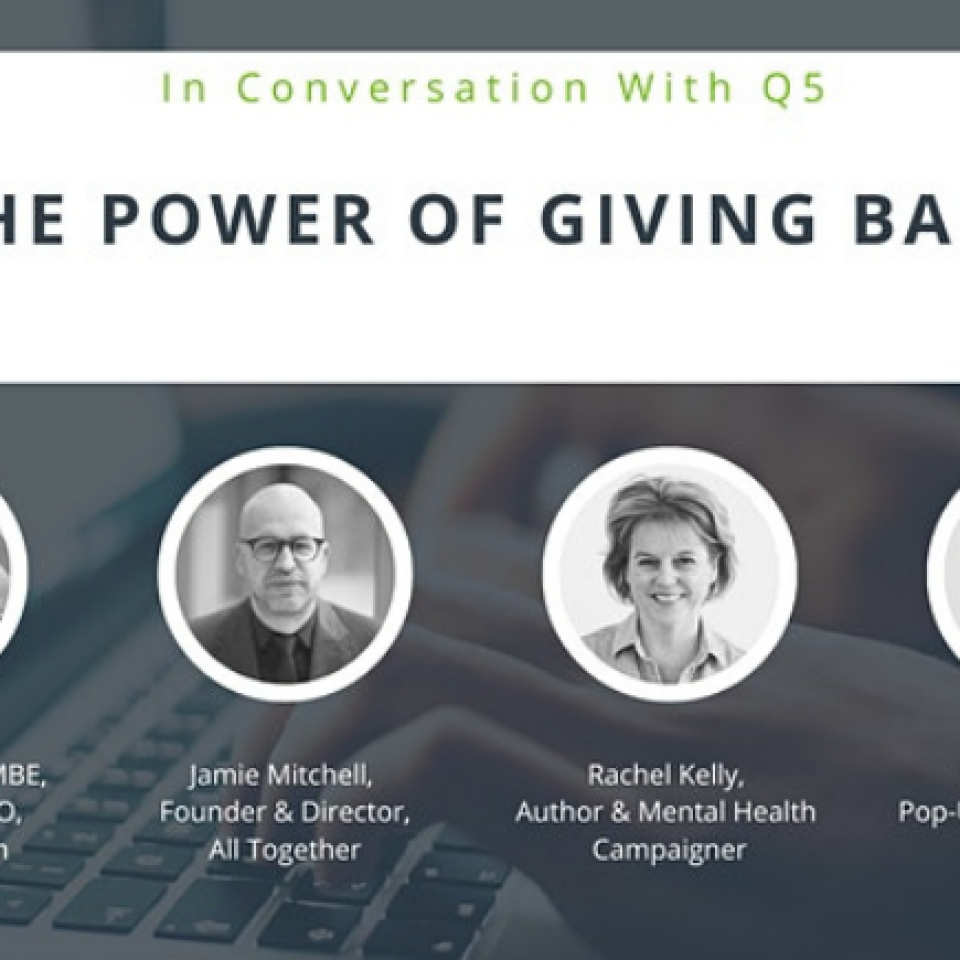 This event is part of One Yorkshire, a three-month virtual series of curated events, seminars, workshops and get-togethers for everyone in, from or into Yorkshire, created to deliver a real business boost to our community. Events are free of charge and everyone is welcome to attend.
Chaired by Q5's Rowenna Reid, we are absolutely delighted to be joined by expert speakers Emma Henderson MBE, Co-Founder & CEO of Project Wingman; Jamie Mitchell, Founder & Director of All Together; and, Rachel Kelly, Author & Mental Health Campaigner.
Considered the hidden, '4th wave' of the C-19 crisis, mental health is a major concern for employers, with up to 20% of the population across the UK expected to require support as a direct consequence of the pandemic. Corporate Social Responsibility and giving back can provide a positive outlet and a way for employees to find purpose in their lives and their work, with positive impacts on their mental wellbeing, their productivity and ultimately their organisations.
In Q5 we have experienced this positivity ourselves through our pro bono consulting practice, Pop Up Consulting. Launched as the nation first went into lockdown in March 2020, Pop Up provides support for charities and small-medium organisations struggling with the disruption of the pandemic.
Meeting link: https://q5partners.zoom.us/j/98265369482?pwd=RDlEdmdoVlJvVHFTOUVnNThXaEVvdz09
Passcode: 251082
Or iPhone one-tap :
United Kingdom: +441314601196,,98265369482# or +442034815237,,98265369482#
Or Telephone:
Dial (for higher quality, dial a number based on your current location):
United Kingdom: +44 131 460 1196 or +44 203 481 5237 or +44 203 481 5240 or +44 203 901 7895 or +44 208 080 6591 or +44 208 080 6592 or +44 330 088 5830
US: +1 646 558 8656 or +1 669 900 9128 or +1 253 215 8782 or +1 301 715 8592 or +1 312 626 6799 or +1 346 248 7799
Webinar ID: 982 6536 9482
International numbers available: https://q5partners.zoom.us/u/ahP6vAXl
10:00 - 11:00
Zoom
Meeting Link in Event Description
Attending
Deborah Bennett
Owner
The Chronic Coach
katy Winship
Marketing Executive
ACS Business Supplies
Dom Charkin
Community Projects Manager
Zest Health for Life
Miles Thorp
Founder & CEO
AREOI
Paul Mitchell
Head of Foundation
The Bradford Bulls Foundation
Rebecca Lowe
Corporate Partnerships Manager
Royal Armouries
Francis Grogan
Director
GRGprint
Josanne Burnham
Video Production and Editing
Visionmix Productions Ltd
Brian Curran
Head of Fundraising
The Give A Duck Foundation
Dipesh Mistry
IFA / Director
Illuminate Wealth Management Ltd
Andy Barton
CEO
Skipton & Ripon Enterprise Group
Brent Riley
Employment & Engagement Worker
Engage Leeds
Charis Palmer-Smeaton
Charity Operations Manager
The Brownlee Foundation
Roger Powell
Project Manager
Hillbrook Ltd
Nathan Shrubb
Corporate Partnerships Manager
NSPCC
Janie Gonsalez
Business Development Executive
The Yorkshire Mafia
Donna Morris
Marketing Manager
Marketing
Tom James
Director
Howard Conrad
Sophia Jones
Regional Fundraiser (North Region)
Dementia UK
David Wilson
Director
PwC
Lisa Caswell
Freelance
TBC