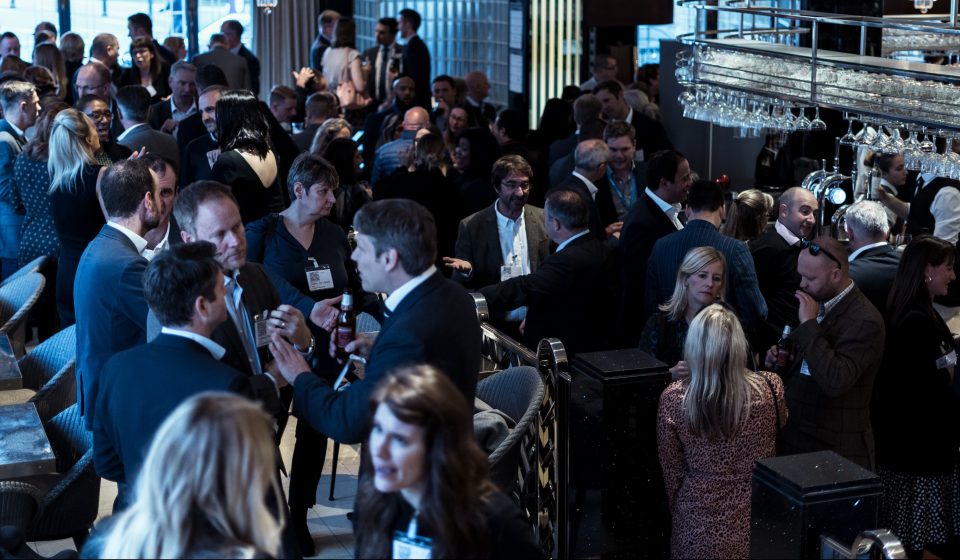 Take a <br> 2.0
A special Yorkshire Mafia Drinks Evening for the Digital & Technology Community.
"Technology is best when it brings people together." #MattMullenweg
Following on from the success of our launch event in September 2019, Take a <br> 2:0 will once again bring together peers across the Digital & IT sector with a collective mission to ignite conversation between the right contacts and lead the Northern tech community.
Calling all IT business leaders, creative digital entrepreneurs, and those with a shared investment in the technological advancement of our region – join us for an evening of relaxed networking, where you will have an unparalleled opportunity to build meaningful relationships and learn from each other.
Meet, network, innovate.
For information on sponsorship opportunities, please contact the YM team.
18:00 - 23:00
East 59th
Victoria Gate, 3rd Floor Rooftop, George St, Leeds LS2 7AU
Attending
Tom Hoyland
Principal Consultant
that Agile
Andrew Jack
Co-Founder
Candle Digital
Simon Hill
IT and Projects Director
Jersey House Limited
REBECCA ROBERTS
Sales Director
KulaHub Ltd
Rudy Heywood
Owner & Founder
Famous Wolf
Steve Teasdale
Business Development Manager
Connectus
Steve Coleman
Director
BRIGHTER CONNECTIONS APPLICATIONS AND ANALYTICS LT
Zoe Bray
Corporate Partnerships Manager
Royal Armouries
Annamarie Lynch, PMP®
Consultant
Consultancy
Josh Kennon
Social Media Advertising Manager
CMS Advertising
John Burgess
Client Needs & Opportunities Facilitator
Sagars
Jonathan Gallucci
Principle Project Manager
TransUnion
Joanne Theodore
Director
Strategic Solutions Northern Ltd
Ed Donson
Business Development Executive
The Yorkshire Mafia
Davis Tarvans
Digital Marketing Consultant
Creative Marketing Services
Lee Gilbank
Director
YorCyberSec Limited
Alexander Paling
Strategy Director
Embryo Digital
Sarah Bates
Graphic designer
Sarah Bates Design
David Brookmyre
Gigabit Network Planner
Diva Telecom Ltd
Mark Craven
Founder
Mcruxive
Joseph Edmonds
Director
Edmonds Commerce
Julian Ward
Group Head of Talent Acquisition
Stickyeyes
Jen Driver
Head of Client Services
Zeal Media Ltd
Marshall Frieze
Founder and MD
The One Solution
Roxane Heaton
Head of Digital
Morrisons
Steve Frost
Digital Consultant
Independent
Sean Allen
Recruitment Manager
BJSS
Colin Glass
Senior Partner
WGN
Dave McCormack
Media Consultant
What Next Digital
Trefor Hillas
Principal Engineer
Ramboll UK Ltd
Jason Newell
Channel Director
virtualDCS Ltd
Eliza_May Austin
CEO & Co-Founder
th4ts3cur1ty.company
Jackie Killiard
Sales Manager
Diva Telecom Limited
Chris Ewens
Owner
chrisewens.com
Ryan Bradley-Evans
Director
R&R Space Ltd
Ellen Hardy
Business Development Manager
Iomart
Simon Whitaker
Owner Operator
FeelgoodDrones
Nick Pomeroy
Head of Creative
Zeal
James Ward
Director
TDC AV
Paul Routledge
Country Manager
D-Link Europe Limited
Alex Mitsionis
Microsoft Dynamics 365 Sales Consultant
ixRM
Jonny Bennett
Partnership Manager
Leeds-List
Craig Johnsen
Planning & Execution Manager
Equifax
Richard Sutcliffe
Founder
Agency For Good
Paula Chellingworth
Business Development Manager
This Is Beacon
Richard Poole
Enterprise Solution Specialist
Business IT Support Team
Luke Pedley
Corporate Finance Advisory
DSW CF
Lucy Bagnall
Tax Manager
Saffery Champness
Abdul Kotia
Business Analyst
MBMB
Janie Gonsalez
Business Development Executive
The Yorkshire Mafia
Wilson Lui
Regional Manager
iGears Limited
Rebecca Craven
Marketing Mentor
Babington
Robert Clulow
Sales
Elcome Limited
Janet antons
Business Development Manager
vertual ltd
Karl Beckett Beckett
Director
Care2inspire
John Richardson
Director
ExP
Mike Channing
Sales Manager
Fired Up Technologies Ltd
Ross Featherstone
Head of Development
Zeal Media Limited
Rob Osborn
Business Continuity Consultant
O-BC
Mark Booth
Business Development Manager
Exa Networks
Ian Patrick
Associate Director
Catax
Andrew Batty
Managing Director
Creative Marketing Services
David Hoghton-Carter
Founder and Consultant
Impact and innovation strategy
Simon Holland
Ceo
Barefoot Lightning
Sam Taylor
Director
madeby.studio
Fiona Ras-Jones
Director
Make Impact
Thomas Fensom
Sales Development Manager
Catax
Selvin Brown
Director
Online Business Advice
David Ranby
Director
Braid