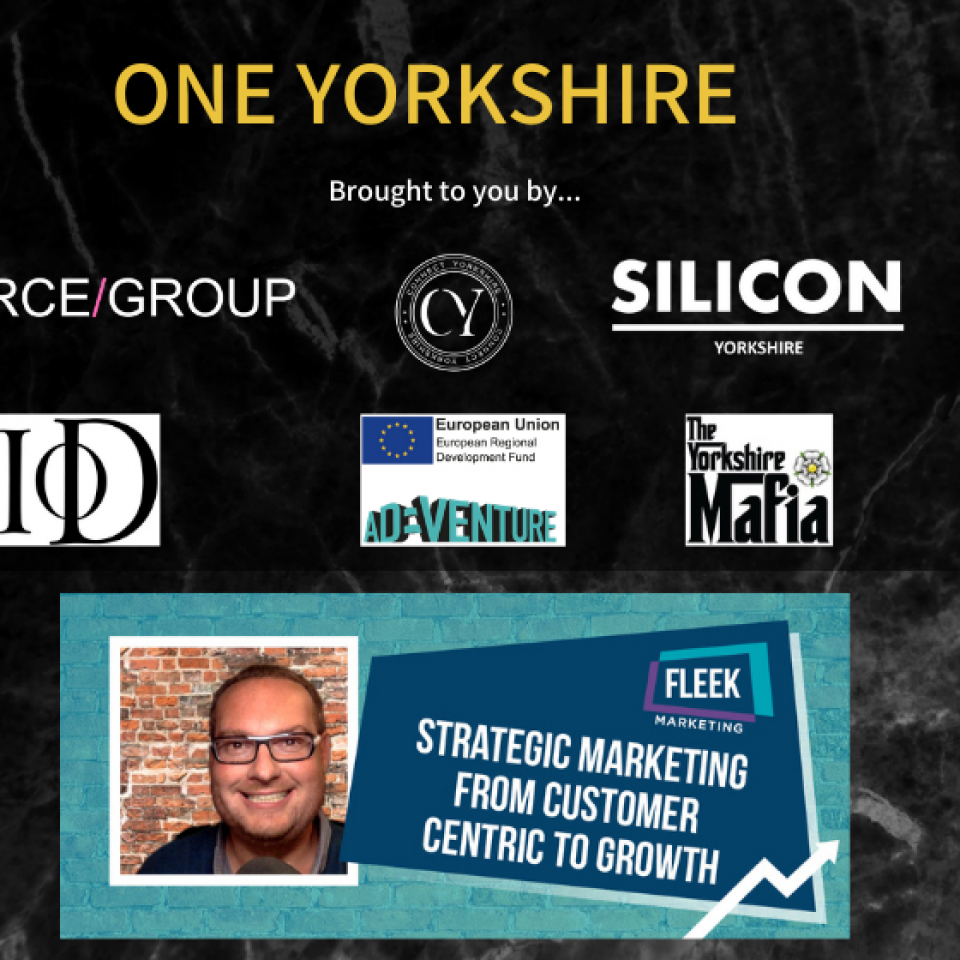 Strategic Marketing from customer centric to growth hacking!
This event is part of One Yorkshire, a three-month virtual series of curated events, seminars, workshops and get-togethers for everyone in, from or into Yorkshire, created to deliver a real business boost to our community. Events are free of charge and everyone is welcome to attend.
Join Jonny Ross for a 1 hour interactive webinar!
How to be strategic and learn some clever techniques! Covering topics from growth hacking and influencer marketing to Scarcity marketing, building trust and customer centric marketing. Jonny Ross from Fleek Marketing will share his insight on some of the simple techniques to ingrain marketing into every aspect of your business, and more so to put the customer at the heart of it!
You will learn:
– How to set SMART objectives
– Identify who your audience is
– How to build trust
– All about growth hacking, looking at Dollar Shave club and dropbox
– Customer Centric Marketing, looking at Virgin, Nandos and Orange (now EE)
– Scarcity and Influencer Marketing
09:00 - 10:00
Zoom
Please register - meeting link will be e-mailed to you in advance of event
Attending
Deborah Bennett
Owner
The Chronic Coach
Esther Morris
Senior Sales Manager
Elder Studios
Scott Palmer
Chartered Financial Planner
Novus Financial Services
Harold Rose
Managing Director
Alex Rose fine tailoring
David Powell
Carbon Footprint Specialist
Auditel
Jo Crebbin
Director
Honeycomb Consulting Ltd
Andrew Vevers
Voiceover Artist
Vevers Voiceovers
Andrew Jones
Owner
Wakefield GoWeb
William Fox
Business Development Manager
Boulder Developments Ltd.
Peter Nicholson
Director
Interactive Flat Panels Ltd
Lisa Buck
Marketing manager
Catch
Lisa Saunders
Bdm
Alcumus
Kathryn Johnson
Creative Catalyst
School Postcards
Francis Grogan
Director
GRGprint
Chris Hart
Managing Director
Graham Hart (Process Technology) Ltd
Michael Tolan
Director
Langcliffe Ltd
Helinka Carr
Owner
Fuschia rosebuds
Liz Blades
Marketing Manager
Lockyers
Michelle Dexter-Lowe
Events Manager
University of Sheffield
Dipesh Mistry
IFA / Director
Illuminate Wealth Management Ltd
Lyn Morton
Business Development
Scandinavian Homes
Kedar Karandikar
Mediator
AE Mediation
Janie Gonsalez
Business Development Executive
The Yorkshire Mafia
Alexis Nicolaidis
Interior design consultant
V A Heritage
Paul Buckley
Accountant
Hargreaves
Paul Smith
COO
incuto Limited
Helen Crossland
Start-Up Business Coach
Helen Crossland