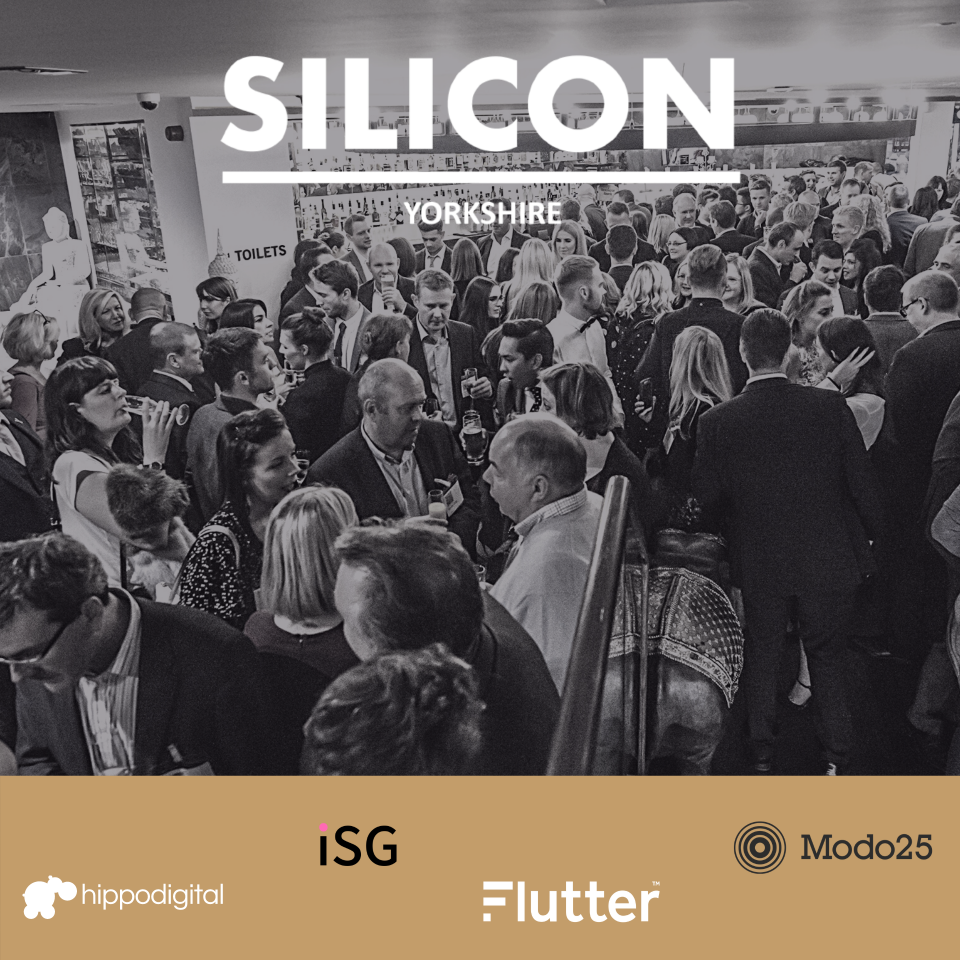 #siliconyorkshire
Silicon Yorkshire is BACK, and look who's with us!
It's been a long time coming, but we're back – with friends and plenty of benefits.
Silicon Yorkshire is bringing together people across the great and wide Yorkshire technology community – with a mission to ignite conversation, boost networks, connect businesses and unlock value.
Join us for an after-work drink or two.
It's part of an ongoing event series from the very awesome Silicon Yorkshire.
IT leaders, founders, startups, creative digital entrepreneurs, technology architects, engineers and everyone in-between: if you have an interest in the technological advancement of our region – then please join us for an evening of relaxed networking.
You'll have a great opportunity to build meaningful relationships with new contacts, reconnect with old friends and be part of building something better, for the whole technology community.
Huge thanks for sponsoring the event to our good friends – Leeds based, Hippo Digital – A high growth, full-service digital consultancy working in the public and private sectors.
"As a home-grown Yorkshire business, we're excited to be part of the new Silicon Yorkshire technology community, creating a support network of businesses and people within the region to bring the best of what Yorkshire has to offer to the wider community".
Lara Longhurst
Chief Operations Officer, Hippo Digital
Please note: this event is exclusively for members of  Silicon Yorkshire and the Technology & Digital community.
For commercial enquiries, please contact geoff@theyorkshiremafia.com
17:30 - 23:00
East 59th, Leeds
East 59th, Victoria Gate, 3rd Floor Rooftop, George St, Leeds LS2 7AU
Attending
Tom Hoyland
Principal Consultant
that Agile
Geoff Shepherd
Chief Executive
iSource Group
Janie Gonsalez
Sales/Account Manager
RapidSpike
Richard Corderoy
Partner Oakland Data and Analytics
Oakland Data and Analytics
Gareth Hammond
Associate Director
iSource Group
Channah Parker-Hamdani
Project Lead
RapidSpike
Fabi Viola
Creative Director
Fab Media
Dr. Fejiro Bello (FHEA)
Senior UR Consultant
Hippo Digital
Jessica Young
Director of Strategic Partnerships
Generation UK & I
Jamil Nawaz
Mobile Engineering Manager
Flutter International Plc
Bethan Vincent
Marketing Consultant & Founder
Bethan Vincent
Laura Schofield
Executive Marketing Manager
The Yorkshire Mafia
Kelvin Roach
Leeds City Region Supply Chain Advisor
University of Huddersfield
Paul Bak
Director
Paul's Innovative Programs Ltd
Steve Teasdale
Business Development Manager
Connectus
Tracy Carpenter
HR Consultant
Self-employed
Carl McDade
Head of Technology
LIMA
Ryan Sheldrake
Field CTO
Lacework
Dale Green
Director, Infrastructure Products, Global IT
Assurant
Andy Copland
Senior Director
Capgemini
Gavin Winter
CEO
RapidSpike
Sarah Aspin
Head of Business Development
OneMedical Group
Megan Noble
Sector Manager - Business, Finance and Professional Services
West Yorkshire Combined Authority
Liz Reynolds
Head of HR
FMG
Alex Clixby
Director
One IT Consulting
John Burgess
Connector
Sagars
Georgina Grant-Muller
Marketing
RapidSpike
Steve Ingram
Director
Deloitte
Tom Lyon
Creative Director
Superla.tv
Katie Davies
Commercial Manager
TheBusinessDesk.com
Lucy Bagnall
Tax Senior Manager
Saffery Champness
Kristina Verney Verney
Director of Performance
William Hill
Chris Rabbitt
Founder
Meeow
Sam Raife
Managing Director
Brand Ambition
Rob Prevett
Marketing Director
Foundry4
Neil Roberts
CEO
Concorde Technology Group
Catherine Bardsley
Co-Founder
Cloudtrainer Ltd
Sarah Edwards
Founder
Purple Banana Marketing
Ednan Karim
Founder
Network 24/7
Guy Dickie
Associate Director of Digital
Leeds Teaching Hospitals NHS Trust
Nikos Vasileiadis
Senior Full Stack JavaScript Developer
HOME
Chris Salt
Corporate Partnerships Executive
Candlelighters
Richard Kirkbright
BDM
SCC Document Services
Sacha Smith
Delivery Manager
Hippo Digital
Julian Graham-Rack
CEO
PrinSIX Technologies Ltd
Tony Marks
QA and Test Manager
Experian
Paul Smith
Founder
100 Innovations per Hour
Harry Burton
Sales Associate
OnePeloton
Dominic Higham
Partner
Clarion
Owen Gleadall
Online Ticketing & Admissions Solutions Specialist
Merlinsoft Ltd - Award Winning Admission & Ticketing Solutions for Visitor Attractions and Events
Jessica Zeun
Managing Director
Zeun Digital Limited
Paul Jones
Chief Digital and Information Officer
Leeds Teaching Hospital
Amanda Lennon
Partner
innov8tive Minds
Richard Mitchell
Cloud Architect
Chameleon Technology
Huw Jenkins
Software Consultant
Rapid Software Consultancy Ltd
Antony Dickson
Managing Director
Anota Limited
Daniel Perez Cascon
Software Developer
Hippo Digital
Zandra Moore (she/her)
CEO
Panintelligence
Alex Berry
Design & Founder
thisishel.
Ian Graham
Director & Founder
VIATIC
Alex Hercek
Recruitment Lead
Hippo Digital
Craig Nathan-Moss
Head of Engagement
Gridfox
lauren Lewis
Senior Data Engineer
Oakland Data & Analytics
Richard Ellis
Head of Digital Retail
Answer Digital Limited
Fiona Barker
Account Director - Cyber & Technology
Marsh Commercial
Keith White
Director
Credera
Sam Taylor
Director
madeby.studio
Rebecca Lowe
Corporate Partnerships Manager
Royal Armouries
Dean Punchard
Head of 3D
Superla.tv
Chris Reid
Senior Partner
AnotherTrail
Clinton lofthouse
Head of Creative
Rebel North Creative
Neil Dunlop Dunlop
Director
Infinity Works (part of Accenture)
Lawrence Dudley
Director
Parallax
James Sarjantson
Lawyer
LCF Law
Spencer Brooks
CEO
The Knowledge Group
George Mill Mill
Talent Acquisition Partner
Hitachi Capital UK
Tom Bennett
Agile Delivery Manager
Sky Betting & Gaming
Anthony Main
Managing Director
The Distance | App Developers
Mark Ellens
SRE
mesg Solutions
Ellen Hardy
Business Development Manager
Iomart
Martin Mann
IT Solutions Consultant
Martin Mann - I.T.
John Plowman
Data Architect
NHS Digital
James Ward
Director
TDC AV
Jeff Clarke
Patent Attorney
HGF Limited
Antony Chapman
Senior Business Development Manager
Field Management Pro
Alasdair Everest-Ford
Head of OneWellness
OneMedical Group
Ian Shepherd
Managing Director
Denlo Limited
Juli Thompson
CEO
Inn Churches
John Earnshaw
Director
Agency Leeds Ltd
Rebecca Barker
Business Development Manager
Dine
Rik Barker
Chief Information Officer
Flutter UK and Ireland
Lucie Warrington
Managing Director
Superla.tv
George Hopkin Hopkin
Chief Noisemaker
specialnoise Ltd.
Jake Watson
Data Engineer
Oakland Group
Michael Maibaum
Technology Evolution Director
Flutter UK&I
Thomas Taylor
Director
Choose Your Charger
Crispin Read
CEO
The Coders Guild
Fiona Bishop
Partnership Development Manager
The Coders Guild
Dominic Mattholie
Creative Director
Rebel North Creative
Mark Booth
Business Development Director
Principle Networks
Richard Louden
Snr Data Engineer
Oakland
Simon Cookson
Director
Northern value Creators
Andrew
Patent Attorney
Appleyard Lees IP LLP
Gavin Wagstaff
Technical Programme Lead
Lucy Zodion Ltd
Simon Holland
Ceo
Barefoot Lightning
Neil Janney
Senior IT Recruitment Consultant
Hays
Selvin Brown
Owner
Online Business Advice
Thomas Bray
Business Development Director
Genco Tech
Jake Unsworth
Solicitor
Womble Bond Dickinson (UK) LLP
Joanne Feaster
Founder & CEO
Actually Education CIC
richard leighton
Head Of Technology and innovation
One Medical Group