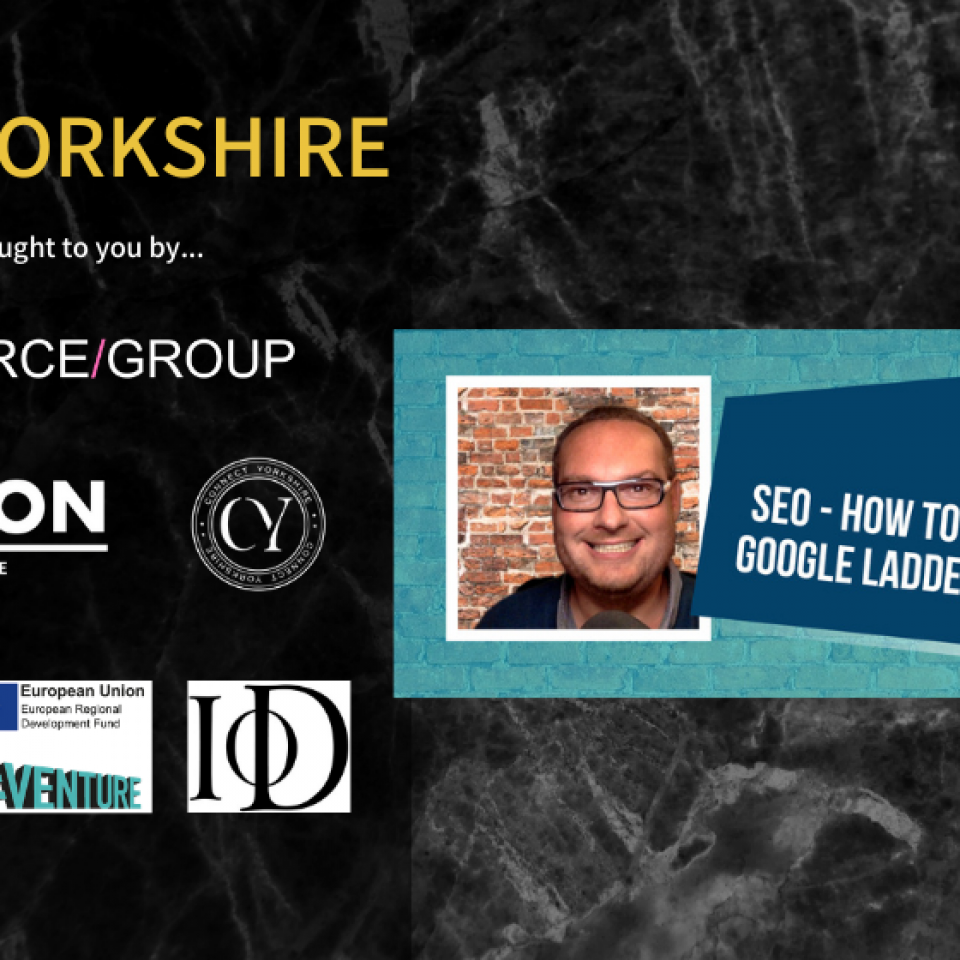 SEO – How to climb the google ladder with SEO
This event is part of One Yorkshire, a three-month virtual series of curated events, seminars, workshops and get-togethers for everyone in, from or into Yorkshire, created to deliver a real business boost to our community. Events are free of charge and everyone is welcome to attend.
Join Jonny Ross for a 1 hour interactive webinar!
How to be loved by Google
Do you want to gain traction through your Google, climb the ladder within the Google Search Engine and achieve more clicks?
Do you have a live website, want more traffic and want to understand why and where your website ranks?
Get to know your OG tags from your SSL certificates, and your IP blacklists to your Sitelinks Search box!
Want to learn how to create and manage blogs and to use them for SEO purposes?
Best ways of SEO Copywriting?
Optimise for Local SEO and Google Maps Marketing, with an introduction to some amazing SEO Tools
including image Optimisation, On page Optimisation, Off page Optimisation, Schema and how to Use Social Media for SEO! It is jam packed!
This SEO webinar will see Jonny pick apart your website and shred it to pieces in a live interaction, together with other business owners.
You will get a really good understanding of how SEO works, as well as practical SEO tips and advice to help you do your own search engine optimisation.
Jonny is known for optimising website and getting Google to love them!
16:00 - 17:00
Zoom
Please register - meeting link will be e-mailed to you in advance of event
Attending
Teresa Jones
Director
Scandinavian Homes Ltd
Dan James
Student
Loughborough university
Scott Palmer
Chartered Financial Planner
Novus Financial Services
Dom Owen
Director
Tuned to R.I.S.K. Ltd
Matthew Ridsdale
Director
Cannon PR
Sue Beckingham
Principal Lecturer and LTA Lead for Computing
Sheffield Hallam University
Gemma Bassett
Marketing Manager
Sinclairs
Sophie Packman
Content Developer
WRIPA (University of York)
Andrew Vevers
Voiceover Artist
Vevers Voiceovers
Andrew Jones
Owner
Wakefield GoWeb
Peter Nicholson
Director
Interactive Flat Panels Ltd
Kathryn Johnson
Creative Catalyst
School Postcards
Chris Hart
Managing Director
Graham Hart (Process Technology) Ltd
James Fawcett
Director
Another Beer Ltd
Lydia Joyce
Senior Marketing Executive
Elder Studios
Janie Gonsalez
Business Development Executive
The Yorkshire Mafia
Alexis Nicolaidis
Interior design consultant
V A Heritage
Rachel Heley
Director
Wild Moose
Sereba Ferrari
Digital Event Producer
Son et Lumiere
Paul Buckley
Accountant
Hargreaves
Nadia Williams
Marketing Manager
British Recycled Plastic
Paul Eddom
Director / Photographer
Visual Image Photographic Services Limited
Paul Smith
COO
incuto Limited
Sarah Agar-Brennan
Business Coach Specializing in Product Development
Sarah Agar-Brennan Business Consultancy
Helen Crossland
Start-Up Business Coach
Helen Crossland