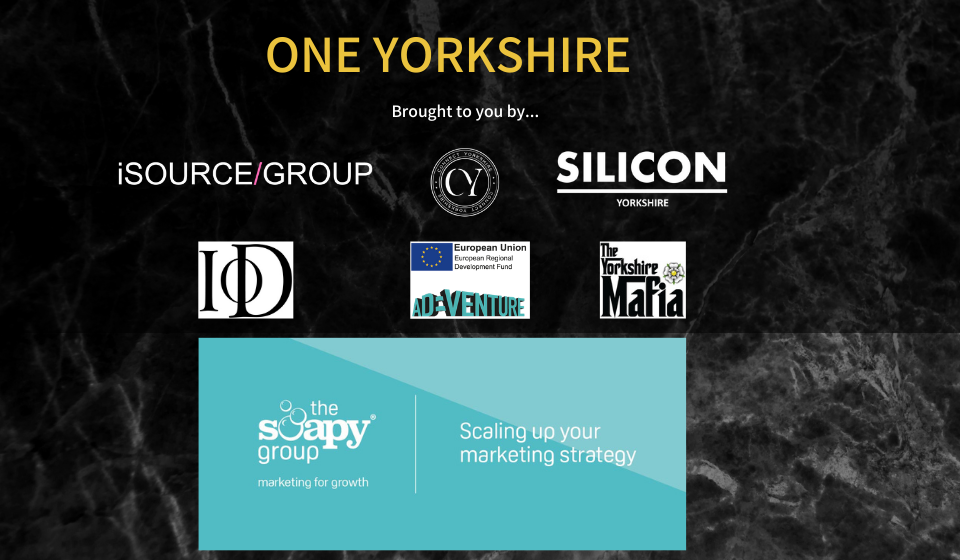 Scale up your marketing strategy
This event is part of One Yorkshire, a three-month virtual series of curated events, seminars, workshops and get-togethers for everyone in, from or into Yorkshire, created to deliver a real business boost to our community. Events are free of charge and everyone is welcome to attend.
Is your business ready to grow – but you are not quite clear on where to start? Gain a refreshed look at marketing strategy to prepare your journey towards growth.
The Chartered Institute of Marketing defines marketing as:
"The management process responsible for identifying, anticipating and satisfying customer requirements profitably."
We take an in depth look at what this really means for SMEs and how you can successfully develop a fully formed marketing strategy – even with limited resources.
This webinar is aimed at established SMEs with courageous owners and marketing managers ready to scale up marketing efforts to fall in line with business growth ambitions.
Gain an understanding of:
– What a fully formed marketing strategy looks like
– Auditing your business, competition and market
– How your business ambitions feed your strategy
– Why marketing is a team effort
– Budgets and investment in resources
– Staying on track
This webinar is led by Sophie Metcalfe, Creative and Strategic Director of The Soapy Group. As a marketing consultant, Sophie works with SMEs to scale up their marketing by helping them develop efficient marketing strategies within their resources.
13:00 - 14:00
Zoom
Please register - meeting link will be e-mailed to you in advance of event
Attending
Gillian Spakouskas
Winemaker
YorkshireHeart Vineyard and Brewery
Julia Szajdzicka
Managing Director
ND Metering Solutions
Deborah Bennett
Owner
The Chronic Coach
Stephanie Dawson
Lecturer
Leeds Beckett University
Rob Brooks
Director
Death and Disease
Andrew Jones
Owner
Wakefield GoWeb
Lisa Buck
Marketing manager
Catch
Lisa Saunders
Bdm
Alcumus
Kathryn Johnson
Creative Catalyst
School Postcards
James Manford
Director
Successful Events Limited
Stephanie Tague
Head
Building Our Skills
Michelle Dexter-Lowe
Events Manager
University of Sheffield
Lyn Morton
Business Development
Scandinavian Homes
Kedar Karandikar
Mediator
AE Mediation
Karen Gavin
Photographer
Karen Gavin Photography
Alexis Nicolaidis
Interior design consultant
V A Heritage
Tom James
Director
Howard Conrad
Lauren Mosettig
Social Media Manager
The Northern Affinity
Jessica McNally
International e-Commerce Adviser
Department for International Trade
Philip Bolson
Owner
Mr B Hospitality