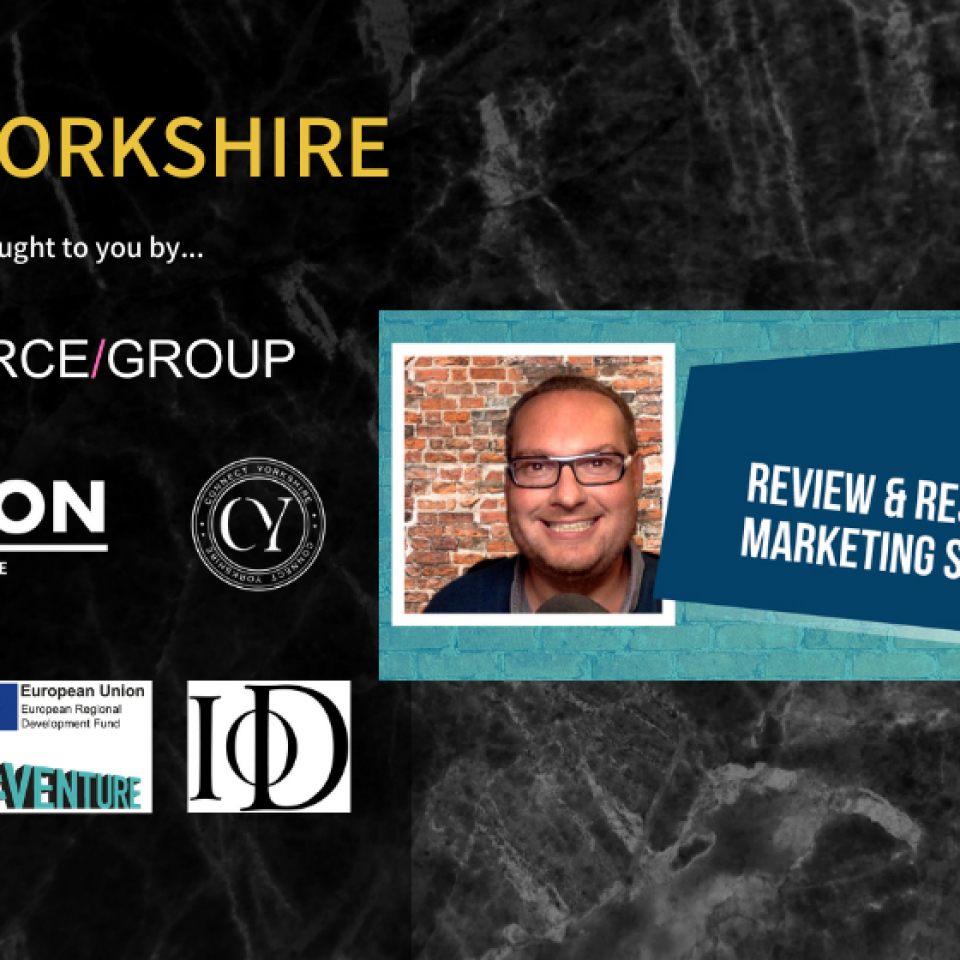 Reviewing and re-setting your marketing strategy
This event is part of One Yorkshire, a three-month virtual series of curated events, seminars, workshops and get-togethers for everyone in, from or into Yorkshire, created to deliver a real business boost to our community. Events are free of charge and everyone is welcome to attend.
Join us for a 1 hour interactive webinar!
It is time to take a step back, review your products, services & customers and drive sales.
Benefits:
Be strategic with your marketing
Spend time in the right places
Speak your customers language
This will ensure you understand the basics for example:
Marketing Principles ( the 7 P's)
Types of contents
Market segmentation
Target audience
The Customer Life Cycle.
With advice and techniques that apply to all markets, this masterclass covers all forms of marketing and includes
· Blogging
· onsite and offsite search engine optimisation (SEO) and
· email marketing;
With Jonny's unique insights on all the major social media platforms, including
· Twitter
· LinkedIn and
· Facebook
12:00 - 13:00
Zoom
Please register - meeting link will be e-mailed to you in advance of event
Attending
Hannah Swierstra
Founder
Balance VA Services
Fiona Sorensen
Owner
Self-employed
Gordon Wills
Chartered Financial Planner
Wills Financial Consultancy
Scott Palmer
Chartered Financial Planner
Novus Financial Services
Tim Holdsworth
Business Growth Specialist
ActionCOACH
Simon Morgan
Creative Director
Bread & Butter Creative Communications
Kelen Beauchamp
Director
Fidence Consulting
Sue Beckingham
Principal Lecturer and LTA Lead for Computing
Sheffield Hallam University
Gemma Bassett
Marketing Manager
Sinclairs
Sophie Packman
Content Developer
WRIPA (University of York)
Sophie Metcalfe
Director
Your Marketing Doctor
Andrew Vevers
Voiceover Artist
Vevers Voiceovers
Karolina Szymanska
Marketing Manager
SRO Solutions Ltd
Lisa Buck
Marketing manager
Catch
Jez Ash
Consultant
Zenocious
Kathryn Johnson
Creative Catalyst
School Postcards
James Ward
Director
TDC AV
Rebecca Parker
Senior Partner
AMuto Project Management
Bill Pigg
Director
Holden Consult Ltd
Alex Harris
Employer Partnership Manager
Joblink - Leeds University Union
Louise Dobson
Quality Assurance Manager
Genco Electrical Projects Ltd
Mandy Haigh Haigh
Project Manager
Leep1 CIC
Ali Pickett
Director
Trueform Wellness Ltd
Janie Gonsalez
Business Development Executive
The Yorkshire Mafia
Catherine Stern
Operations Director
CEA Limited
Nadia Williams
Marketing Manager
British Recycled Plastic
Sarah Agar-Brennan
Business Coach Specializing in Product Development
Sarah Agar-Brennan Business Consultancy
Lisa Caswell
Freelance
TBC