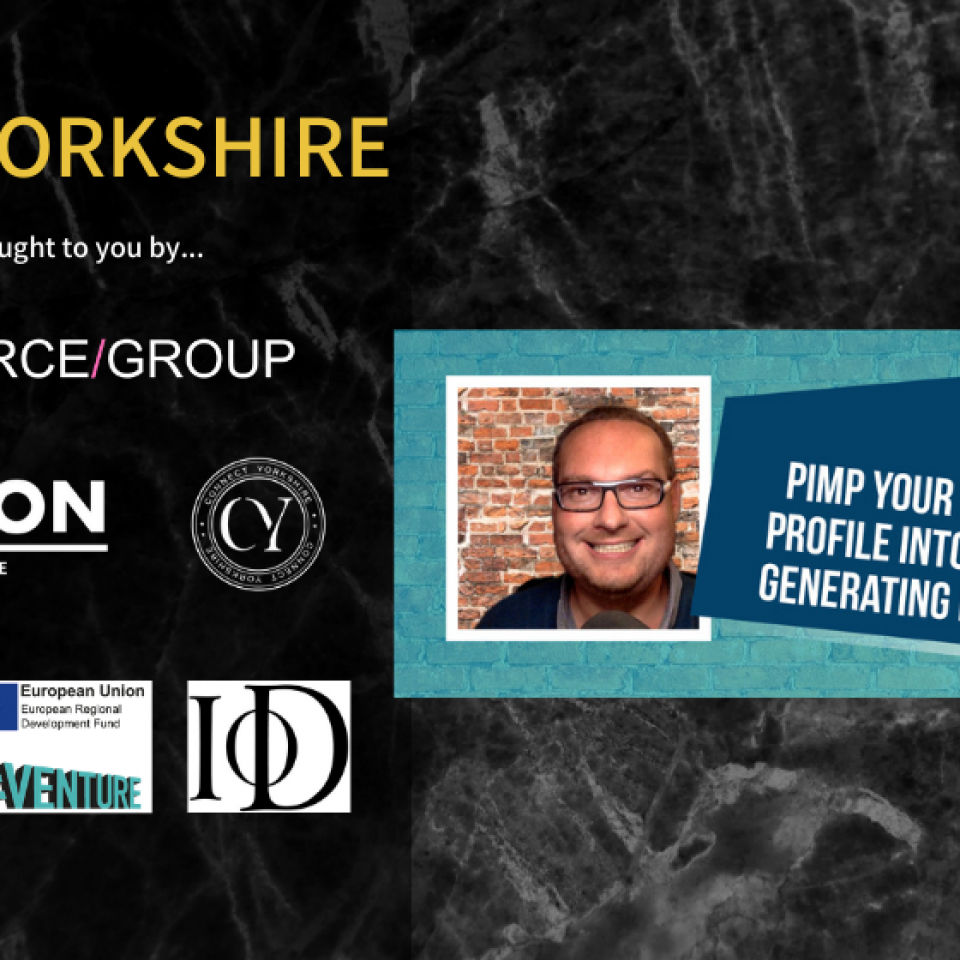 Pimp your LinkedIn profile into a client generating machine!
This event is part of One Yorkshire, a three-month virtual series of curated events, seminars, workshops and get-togethers for everyone in, from or into Yorkshire, created to deliver a real business boost to our community. Events are free of charge and everyone is welcome to attend.
Join Jonny Ross for a 1 hour interactive webinar!
Jonny gets 30% of his new business directly from LinkedIn. Find out how he finds, approaches and converts prospects on LinkedIn
The course is delivered through a combination of seminar and presentation style learning.
Want to use LinkedIn to find new customers or clients, develop relationships and win new business? This webinar is for you.
You will learn:
How to think like a search engine, if you can understand google, you will get LinkedIn!
How to pimp your profile to be loved by LinkedIn and Google, appearing high in both of their searches for people looking for products / services you offer.
What type of profile picture to use to ensure people do business with you
The power of the network and how to grow it
How to use LinkedIn search
What LinkedIn Groups have to offer
How to rock on LinkedIn with content, what types of content, how to be a thought leader on LinkedIn
Understand what premium has to offer, as well as tools like LinkedIn advertising, and LinkedIn Sales Navigator.
Expect lots of takeaway tips and tricks that are easy to implement and can achieve the best/quickest results.
08:30 - 09:30
Zoom
Please register - meeting link will be e-mailed to you in advance of event
Attending
Bryony Padgett-Jones
Business Development Manager
YBS Share Plans
Richard Andrews
Executive Coach
Create the Future Ltd
Dan James
Student
Loughborough university
Gordon Wills
Chartered Financial Planner
Wills Financial Consultancy
Esther Morris
Senior Sales Manager
Elder Studios
Scott Palmer
Chartered Financial Planner
Novus Financial Services
Dom Owen
Director
Tuned to R.I.S.K. Ltd
Matthew Ridsdale
Director
Cannon PR
Ciara White
Director
Hellbent Events Ltd
Steve Southwell
Trainer
Southwell Auditing, Consulting & Training
Sue Beckingham
Principal Lecturer and LTA Lead for Computing
Sheffield Hallam University
Lindsey Davies
Director
Open Communications
Andrew Vevers
Voiceover Artist
Vevers Voiceovers
Andrew Jones
Owner
Wakefield GoWeb
Georgia Featherstone
Corporate Partnerships Manager
St Gemma's Hospice
Peter Nicholson
Director
Interactive Flat Panels Ltd
Fergus Johnson
Operations Director
True North Products Ltd
Lucille Moore
Brand Photographer
Brand Stories
Sally Waddingham
Mortgage Financial Crime Risk Specialist
Unity FCS
Chris Hart
Managing Director
Graham Hart (Process Technology) Ltd
Ross Bayston
Owner
Unite People Ltd
Michael Hackett
MD
Technical Display Consortium Ltd
Liz Blades
Marketing Manager
Lockyers
Abby Worsnip
Director
Agent Public Relations Ltd
Alex Harris
Employer Partnership Manager
Joblink - Leeds University Union
Mandy Haigh Haigh
Project Manager
Leep1 CIC
Alexis Nicolaidis
Interior design consultant
V A Heritage
Paul Buckley
Accountant
Hargreaves
Nadia Williams
Marketing Manager
British Recycled Plastic
Sarah Agar-Brennan
Business Coach Specializing in Product Development
Sarah Agar-Brennan Business Consultancy
Helen Crossland
Start-Up Business Coach
Helen Crossland