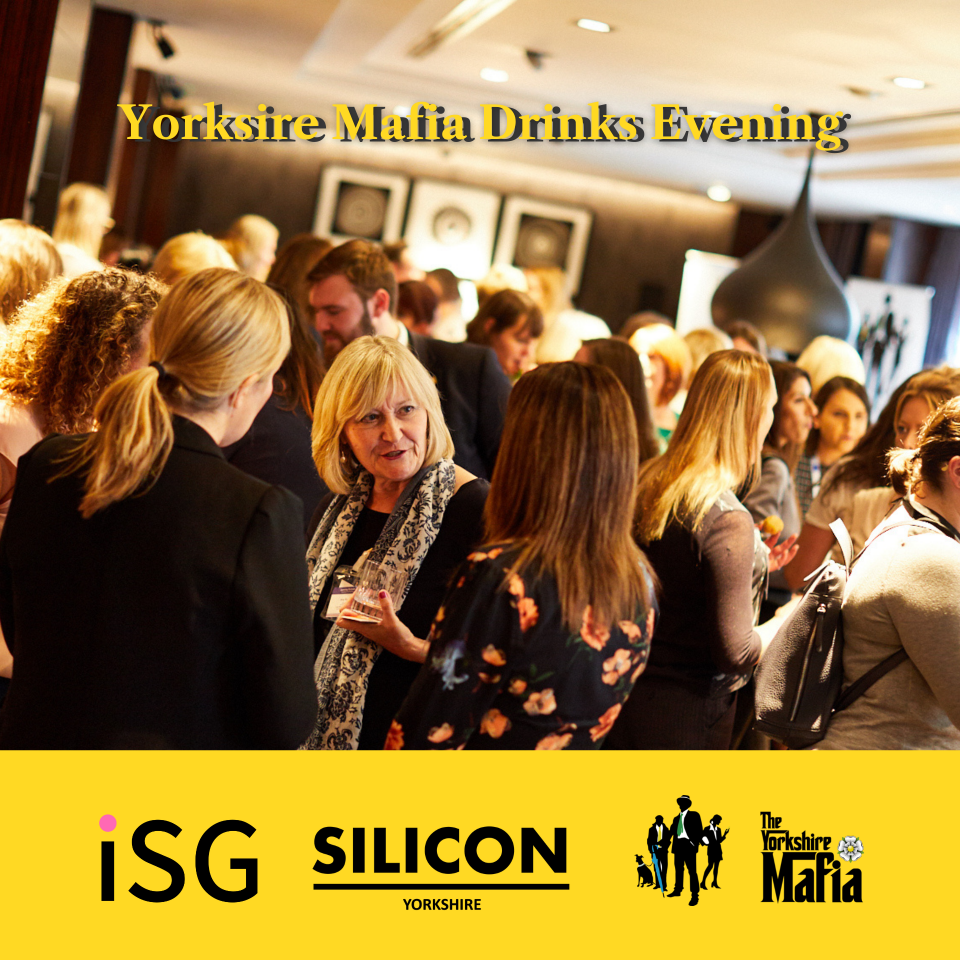 #LeedsDrinksYM
Leeds Drinks Evening
It's been tough. But… we're here. You're here. And, we hope you are all as well as can be.
We've missed you!
It's been tough. But… we're here. You're here. And, we hope you are all as well as can be.
Let's build back, stronger. Together.
We've partnered with Chaophraya, in Leeds, to put on our first Yorkshire Mafia event for quite some time! It's a stylish city centre venue with amazing food. We're inviting business owners and decision-makers to join us for a great evening of real-life networking, with like/minded professionals, in a welcoming and sales-free, environment.
You should be attending this event if:
You are a business owner/decision maker looking to grow your network of influential contacts.
You are looking to find new contacts that you can learn from, teach, develop real relationships with, and ultimately catch up with
You understand the value of relationship building and adhere to our strict 'no selling' rule in order to build real relationships – no elevator pitches, just real, engaging conversations.
Our Leeds drinks evenings regularly sell-out, so sign up now to avoid disappointment!
17:00 - 23:00
Chaophraya
20A, Blayds Court, Swinegate, Leeds LS1 4AG
Attending
Janie Gonsalez
Sales/Account Manager
RapidSpike
Paul O'Looney
Solution Architect
Netcompany
David Gray
Non Executive Director
River Stewardship Company
Charlotte Owen
Head of Business Development
Topodium Group
Fabi Viola
Creative Director
Fab Media
Fiona Bradley
Founder
FB Comms
Richard Higginbottom ACA
Audit & Accounts Manager
Brown Butler Limited
David Israel
Key Account Manager
Leeds City Council
Hayley Hudson
Wealth Management Consultant
St. James's Place Wealth Management
Matthew Haley
Business Rental Sales Executive
Enterprise Holdings
Glynn Pearson
Estate Agent
Glynn Pearson - Keller Willams
Paul Bak
Director
Paul's Innovative Programs Ltd
Joseph Hepple
Inbound Growth Specialist
6teen30 Digital
Thomas Fellows
Financial Planner
Tilney
David Powell
Strategic Overhead Management Specialist
Auditel
Alison Kaye
Director
Evabold
Charlie Myers
Business Development Manager
Midas Receivables
Marian Felix
Executive Assistant and Office Manager
Cooperative Innovations
Liz Reynolds
Head of HR
FMG
Eve King
Solicitor
Rinew Legal Limited
Gillian Sharma
Marketing Manager
Piksel
MIRELA TEODORESCU
Operations director
Safeguard Armour
Natasha Sambhi
Event Coordinator
Successful Events Ltd
Nigel Cliffe
LinkedIn Training
Value Exchange
George Wood DipPFS
Financial Adviser
Schroders Personal Wealth
Kirsty O'Sullivan O'Sullivan
Recruitment Consultant
Jo Holdsworth Recruitment
Nick Thorpe
Managing Director
HoRde Consultancy
Helen Hepworth FCIM
Managing director
Collective Stories
Charlie Wagner
Director of Growth
Direct Marketing Incentives and Premiums Ltd
Jon Dukes
Head of IT
Direct Voice & Data
Jennifer Blacow
Director
Aspiedent CIC
Ellan Campbell-Swann
Director
Sixty7 PR Ltd
Sam Cooke
Property Sourcer
Fowlds Cooke Property Solutions LTD
Alexander Paling
Strategy Director
Embryo Digital
Dale Sidebottom
Partnership & Innovation Manager
IN4.0 Group
Gareth Huxall
CEO
ViVoTECH Ltd
Emma Roberts
Litigation Executive
Rinew Legal
Guy Dickie
Associate Director of Digital
Leeds Teaching Hospitals NHS Trust
Chris Salt
Corporate Partnerships Executive
Candlelighters
Natalie Pucher
Member Services Manager
2-Work
Iain Shaw
Director - Marketing, Communications & Technology
Brilliant Lighting
Daniel Samme
Head of Sales & Marketing
Walton Group
Harry Burton
Customer Success Engineer
RapidSpike
Owen Gleadall
Online Ticketing & Admissions Solutions Specialist
Merlinsoft Ltd - Award Winning Admission & Ticketing Solutions for Visitor Attractions and Events
Maria Beckwith
Owner/Founder
Wills @ Home
Georgia Featherstone
Corporate Partnerships Manager
St Gemma's Hospice
Bruce McLeod
Daylite Certified Coach
Peak Business Growth Ltd
Barnaby Patchett
Managing Director
One Nine Nine
Lucille Moore
Brand Photographer
Love Lucille
james hyde
Company Director & Founder
Flint Hyde & www.mevie.com
Lisa Aldred
Senior Corporate Fundraiser
St Gemmas Hospice
Hannah Martin-Singh Martin-Singh
Brand Manager
UniHomes
Sam Taylor
Creative Director
madeby.studio
Simon Glenn
Co-founder
Meeow Ltd
Matt Hitchcock
Managing Director
Other Things
Rebecca Lowe
Corporate Partnerships Manager
Royal Armouries
Andrea Lee
Head of Division, Temporaries Team
Jo Holdsworth Recruitment Ltd
Clinton lofthouse
Head of Creative
Rebel North Creative
Lillian Latto
Founder and Managing Director
MATCHFiT Consults
Chris Longfellow
Co-Founder
Procomplete Ltd
David Banks
Partner
David Banks Associates
Antony Eckersley
Managing Director
TSE Solutions Ltd
Diana Paduroiu
Founder & Creative Director
PRE VISSION
Keith Waddington
Business Relationship Manager
Barclays
Neil Kinrade
HR Director
HoRde Consultancy
Pippa Rymill
Founder & Director
Spark Finder
Vicki Watt
Business Development Manager
Neighbourhood
Nikki May
Managing Director
Sistermatic Solutions Ltd
Josanne Richardson
Charity
Dementia UK
Joanna Hawkins-Spencer
Director of Cost Consultancy
Wainwrights
Tom Prestwood
Investment Manager
Tilney Group
James Manford
Director
Successful Events Limited
Mohammad Patel
Owner
Sensi Group
Oliver Dunne
Associate Financial Planner
Tilney
Paula Heslop
Director
Procomplete Ltd
Daniel Dufton
Director
Whitesides Chartered Accountants
Ian Barber
Director
Reach Aware Limited
Christopher Hilton
Managing Director
Annuity Management Group (Support Warehouse & EPD)
Basit Patel
Director
BP Telecoms
Neil Hodgson
Business Development Manager
Lifetime
Wayne Cockerill
Managing Director
Aindale Business & Technology
Alex Byers
Regional Fundraiser
When You Wish Upon A Star
James Vickers
Director of Finance
Thai Leisure Group
Lauren Bell
Cognitive Behavioural Psychotherapist
Sensus Wellbeing
Alison Cameron
Corporate Partnerships Manager
Leeds Hospitals Charity
Darren Bean
Sales Manager
24/seven cloud communication
Matt Bromfield
Business Development
Red route
Matthew Blackburn
Founder
Softlight digital
Natasha Bradley
Commercial Manager
The Inform Team
Scott Stalbow
Managing Director
SOS Marketing
Nathan Shrubb
Corporate Partnerships Manager
NSPCC
Mike Ridgway
Director
CPMA Limited
Megan Phillips
Sales & Events Manager
Revolution Bars Group Call Lane Branch
Ian McAleese
International HR Director
Snowflake
Andy Westerdale
Director
Zenith Property Developments (Leeds)Ltd
Stewart Harper
Founder / Director
Cardno Management Services Ltd.
Shaun Sagar
Managing Director
Sagar McClintock Ltd
Tracie Harrison
Head of Relationship Fundraising
Leeds Hospitals Charity
Laura Jervis
Group Sales and Reservations Manager
ECC
Jemma Mcmahon
UK Sales Manager
Roomzzz
Daniel Egan-Sheath
Finance And Operations Director
Northern Balance Ltd
Hayley Elliker
Head of Sales
Thorpe Park Hotel & Spa
Christine Hughes
Business Relationship Manager
Barclays Bank
Mark Booth
Business Development Director
Principle Networks
Richard Kenworthy
Business Recovery Director
Begbies Traynor
Andrew Batty
Managing Director
Creative Marketing Services
Mark Pettit
Manageing Director
Perspectives
Adam Baillie
Investment Director
Quilter Cheviot
Ada Spahiu
Business Manager
Barclays
Emily Rudkin
Divisional Manager
Jo Holdsworth Recruitment
Neil Janney
Senior IT Recruitment Consultant
Hays
Husam Khoury
Business manager
Barclays
Leon Buck
Founder
JabaJaba
Karen Buckland
Manager
Neighbourhood Action
Christopher Limbert
Director
LEO Business Consultancy