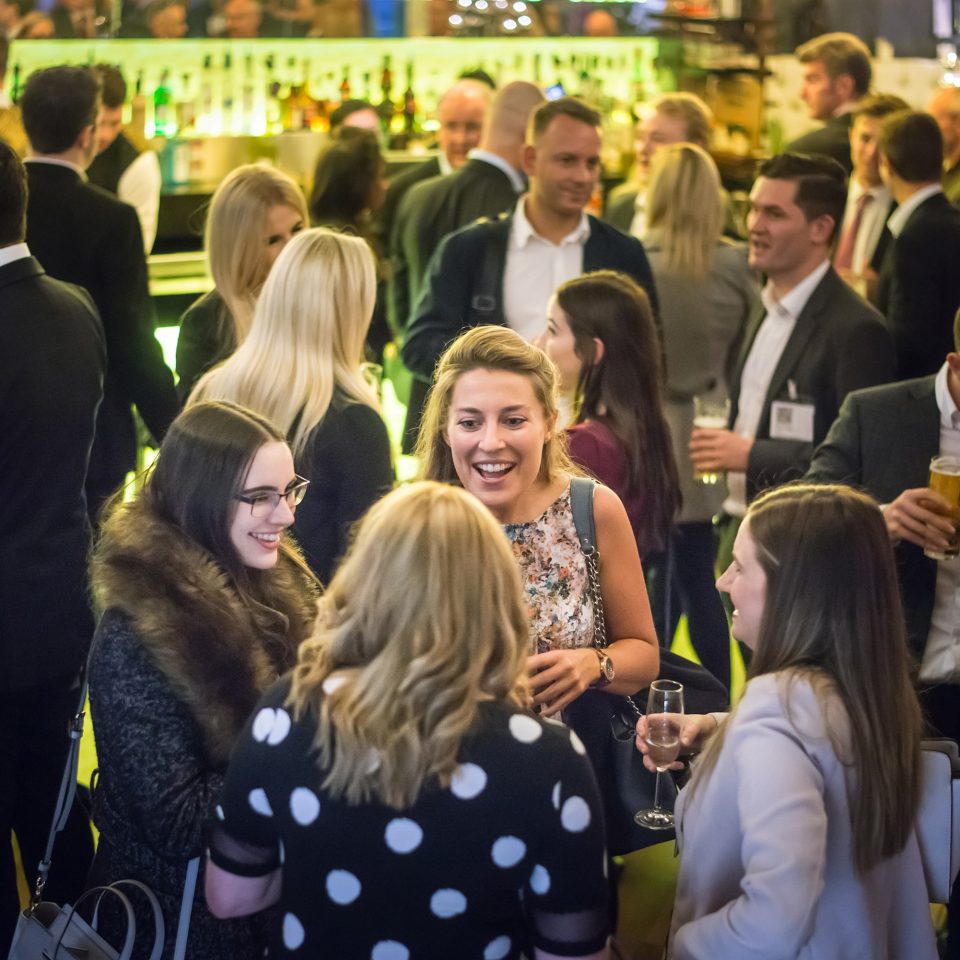 Missed out on the Leeds Business Lunch? Fear not…
Following the conclusion of Leeds Business Lunch 2019, we're heading across the road for this year's edition of the 'Leeds Big Drinks Evening'.
We will be back hosting the event in the stylish surroundings of Chaophraya, in Leeds City Centre. Enjoy an evening of relaxed networking with like-minded business professionals in a contemporary, Thai-style setting.
You should be attending this event if:
You are a business owner or decision maker looking to grow your network of influential contacts within the Leeds region
You are looking to find new contacts that you can learn from, teach, develop real relationships with, and ultimately (where appropriate) trade
You understand the value of relationship building and adhere to our strict 'no selling' rule in order to build real relationships – no elevator pitches, just real, engaging conversations.
Our Leeds drinks evenings regularly sell-out, so sign up now to avoid disappointment!
17:00 - 23:00
Chaophraya
20A, Blayds Court, Swinegate, Leeds LS1 4AG
Attending
Alex Byers
Area Fundraising Manager - Yorkshire and the Humber
RNIB
Janet Curran
Consultant
Lysna Ltd
Craig Render
Sales & Business Manager
Paragon Service Point
Stuart MacMillan
Director
Definitive Ltd
Alex Sladman
Magician
Sladman Magic
Andrew Cleaton
Director
Epiphany Music Ltd
Mark Williams
Surveyor
Scanlans Consultant Surveyors
Ron Maycock
Business Coach, Executive Coach and Certified Value Builder
ActionCOACH Castleford
Becky Wood
CEO
BEE Events Limited
David Israel
Key Account Manager
Leeds City Council
Simon Hill
IT and Projects Director
Jersey House Limited
Charlene Coulbeck
Financial Planner
Informed Financial Planning
Paul Beynon
Patent Attorney
Appleyard Lees
James Bowers
Wealth Management Consultant
Sovereign Wealth LLP
Caren Launus-Gamble
Director
KreativeInc Agency Ltd
Adrian Hogarth
Director
Sports Prestige and Classics
Rudy Heywood
Owner & Founder
Famous Wolf
Gary Butterfield
Co-Founder and Executive Director
Everyday Juice Limited
Matt Pallister
Recruitment Business Manager
Marmion
Scott Palmer
Chartered Financial Planner
Novus Financial Services
Paul Horton
Print & Sustainable Packaging Consultant
brandprintcolour™️
Matt Cornish
PR consultant
Manifest Marketing
Zoe Bray
Corporate Partnerships Manager
Royal Armouries
Rick Wilkinson
Managing Director
Conversational Selling Ltd
Keith Loveday
Director
Loveday Media Limited
David Powell
Carbon Footprint Specialist
Auditel
Anson Chu
Marketing Executive
RAM Tracking
Ben Reasbeck
Business Relationship Manager
Barclays
Tracy Milnes
PR & Account Manager
Bonner & Hindley
Natalie Ball
Business Development Executive
Welcome to Yorkshire
Daniel Wilson
New Business Sales
NCC Group
Luke Norman
Financial Planning Executive
The Private Office
John Lucas
Director
IT Director 4 Hire
Richard Twigger
Technical Account Manager
Conformedia Systems Ltd
Chris Dennison
Development Consultant
DWA Architects & Engineers
Steven Haynes
Founder
Coact
Phill Burke
Managing Director
YTL
April Leeson
Graduate/Financial Planning Executive
The Private Office
Andrew Woolhouse
Director & Chartered Financial Planner
iWealth Financial Ltd
steven wolfenden
Managing Director
LamSol (UK) Limited
Sharon Stacey
Corporate Workshop Host
Sharon Stacey Music
Alex Lord
Enterprise Portfolio Manager
Direct Line Group
Joe Taylor
Event Manager
EJ Events UK
Jennifer Blacow
Director
Aspiedent CIC
Joanne Theodore
Director
Strategic Solutions Northern Ltd
Ed Donson
Senior Associate
Cognizant
Chris Rabbitt
Founder
Meeow
Paul McCormack
Managing Director
Blackrock Business Consulting Ltd
Isobel Sibley
Relationships and Events Manager
Fazenda Rodizio Bar & Grill
Mike Wilford
Business Development Executive
Actioncoach
Tom Saunders
Freelance Videographer and Motion Graphics Designer
Tom Saunders TV
Alexander Paling
Strategy Director
Embryo Digital
Ella Gill
Sales Manager
Bar Soba Group
Nicola Christian
Business and Corporate Engagement Partner
Canal and River Trust
Nadine Burzler
Marketing Consultant
www.NadineBurzler.com
Lauren Di Pietro
Architect
DWA Architects
David Rayner
Managing director
Conformedia
Paigon Johnstone
Director
Mash Up Media
Hendrik le Roux
Business Development Manager
Rudding Park
Ben Murphy
Legal Technology Consultant
Bravo Charlie Mike Limited
Jodie Beardmore
Support and Marketing Assistant
Fablr Limited
Helen Kirby
Head of Marketing
Cromar Building Products
Mark Craven
Founder
Mcruxive
Jane Hogarth
Director
Sports Prestige and Classics Ltd
Victoria Bell
Business Relationship Manager
Leeds Credit Union
Phil Storey
Director
People At The Centre
Gareth Lisle
Director
Bluehoop / Business Up North
Tim Inggall
Trainee Recruitment Consultant
Marmion
Ellie MacDonald
Managing Director
MacComms
Elizabeth (Liz) Jowett
Business Relationship Manager
Santander
Daniel Dufton
Senior Manager
Buckle Barton Limited
Michael May
Certified Microsoft Excel 2016 Specialist | Excel Developer/Programmer | Bespoke Excel Spreadsheets
Rousseau Associates Limited
Tony Lubbock
Lead Business Analyst
University of Leeds
Bernard Adjenughure
Media and Creative Designer and Consultant
TKJ Global Media Ltd
Gavin Harris
Business Development Manager
Microform Imaging Ltd
Ella Grayson
Sales Executive
Be at One Leeds
Libby Latto
Spa Membership Advisor
Thorpe Park Hotel & Spa
Nina Copely
Owner
Orchestrate events
Eddie Stow
Sales Manager
VENUS STONE LTD
Jenny Sellers
Community Fundraising Manager
SNAPS Yorkshire/Leeds Weekend Care Association
Tom Moore
Business Development Manager
Service Graphics
Timothy Cooper
Business Development & Marketing Director
The Automobile Association
James Alexander Crowther
Sales Director
Core Telecom Ltd
Mike Hardcastle
Director
Novalead Limited
Gemma Cross
Senior Community Fundraiser
Sue Ryder Wheatfields Hospice
Barnaby Patchett
Managing Director
One Nine Nine
James Bolger
Event Manager
New Citizens Ltd
Simon Glenn
Co-founder
Meeow Ltd
John Hill
Area Sales Coordinator
Stonegate Pub Company Limited
Natalee Goas
Sales Manager
Park Plaza Hotel, Leeds
David Banks
Partner
David Banks Associates
Antony Eckersley
Managing Director
TSE Solutions Ltd
Bob Procter
Director
4serve Ltd
Russell Briggs
Managing Consultant
All My Systems
Helen Firth
Custom Clothier Manager
Jacob Brian Tailors
Andy Pollard
Sales Director
4Site Security
Diana Paduroiu
Founder & Creative Director
PRE VISSION
Keith Waddington
Business Relationship Manager
Barclays
Hatty Hanna
Managing Director
Stereo Social
Geraldine MacMillan
Director
Jinglenook Ltd
Paul Addy
Director
Positive People HR
Simon Monaghan
Director
Clear Target
James Manford
Director
Successful Events Limited
Barbara Devall
Principal Dentist & Owner
Oakwood Dental Practice
HELEN Rook
Regional Fundraiser
When You Wish Upon A Star
dan gregory
Pre construction Manager
Mech FS
Callum Gamble
Website Designer/Developer & Co-Founder
KreativeInk Web & Content
James Gwynne
Director
JMPG Associates Ltd
Kris Macdonald
Business Account Manager
Exa Networks
Tracey Goldsmith
Creative director
English Framing Co
Amy Morgan
Lab Manager
Barclays
Alex Mitsionis
Microsoft Dynamics 365 Consultant
ixRM
Sarah Greenwood
Director
Whitesides Chartered Accountants
Ashley Weir
Director
We Are At One Limited
jessica gregory gregory
Training manager
HD Brows
Michael Woodcock
Senior Account Manager
Arena Group Limited
Megan Beaton
Group Sales Manager
Escapism Bar Group
James Vickers
Director of Finance
Thai Leisure Group
John Metcalf
Partner
The Private Office
Geoffrey Lawler
Director
The Public Affairs Company
Caroline Tasker
Chartered accountant
Tasker Accounting Services Limited
Jacquie McGuire
Regional Fundraiser
Parkinson's UK
David Cole
Photographer
colecreative
Sophie Foster
Marketing Manager
Mech FS
Keith Park
Director
TCP Leeds Ltd
Charlie Zwager
Assistant Manager
Fazenda
Gary Holdsworth
Business Development Manager
Biscuit IT
Polly Hale
Corporate Partnerships Manager
Martin House Children's Hospice
Paul Tebbutt
Business Development Manager
Great Annual Savings Group
Colin Tweedie
Principal
CJT Consulting
Paula Chellingworth
Business Development Manager
This Is Beacon
Linda Lodge
Operations Director
Rockwood Financial Solutions
Gina Stringer
Senior PR Manager
Taylors of Harrogate
Lauren Robinson
Head of Business and Events
want2race
Angela Wooller
Executive Assistant
AYRE Ltd
Michelle Cooper
Acquisition Marketing Manager
Leeds Rhinos
Johnny Froggatt
Sustainability Consultant
Engie
Charis Palmer-Smeaton
Charity Operations Manager
The Brownlee Foundation
Abdul Kotia
Business Analyst
MBMB
hazel stapleton
distributor
utility warehouse
Ali Hobbs
Director
The Thinking Agency
KIM MOORHOUSE
PA & Office Manager
ERE PROPERTY
Holly Johnson
Business Development
Contract Recovery Solutions
Janie Gonsalez
Business Development Executive
The Yorkshire Mafia
Damian Walsh
Director
Martin Walsh Architectural
Wilson Lui
Regional Manager
iGears Limited
Bella Gamsu
Director
Santander UK
Sarah Riley
Director
SJR Commercial Finance Ltd
Dave Trolle
Managing Director
Summit
Jag Panesar
Director
Xpand
Caroline Moore
Business Development Manager
ActionCOACH
Hayley Elliker
Head of Sales
Thorpe Park Hotel & Spa
Pavan Ward
Managing Director
Creative Allies Ltd
Natasha Marsay
Community Facilitator
RNIB
Karl Beckett
Director
Karl Beckett
Rick Ward
Creative Director
We are the Allies
Tony Store
Business Consultant
Catax
Carol haley
Director
KCH Consulting Limited
Brian Snape Snape
Director
Synergy Commercial Finance
Georgina Moran
Director
GMM Consulting | Employment Law & HR Services
Andrew Batty
Managing Director
Creative Marketing Services
Rizman Khan
Photographer
Coverage Studio
Matt Bromfield
Business Development Manager
TM Group
Terry Horne
Director
Avalon Media Services
Ada Spahiu
Business Manager
Barclays
Evbe Holdsworth
Community Fundraising Manager
SNAPS Yorkshire
Indy Bansal
Consultant to NHS
HTIK limited
Sarah Gough
Associate Director
Grayling
Stuart Edmond
Head of Programmes
Callcredit
Gavin Kendall
Area Manager
Reed
Ruth Stephenson
Business Development Manager
You & Me Media
Selvin Brown
Owner
Online Business Advice
Husam Khoury
Business manager
Barclays
Neil Hickson
Corporate Development Executive
Towergate Insurance
Lee Pearson
Marketing Manager
Yorkshire Telecommunications Ltd
Rob Murray
Business Development Manager
JCT600 Mercedes-Benz
Karen Buckland
Manager
Neighbourhood Action