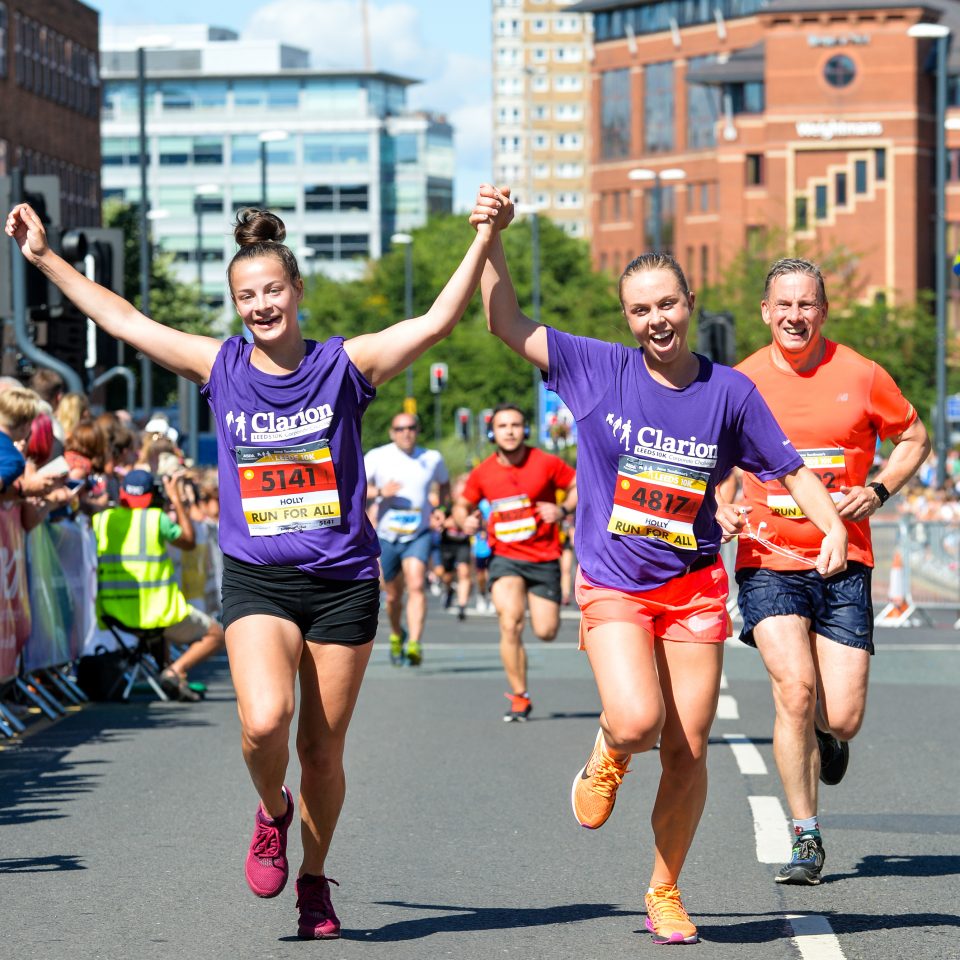 Leeds 10K Clarion Corporate Challenge
Launched over 10 years ago the Leeds 10K Clarion Corporate Challenge has grown year on year with over 700 individuals taking on the challenge in 2018 and you can join us on Sunday 7th July 2019!
The Leeds 10K Clarion Corporate Challenge attracts teams from all walks of life and is suitable for all abilities. With teams returning each year from solicitors, marketing agencies, schools, running clubs and car dealers to name just a few.
Now one of the highlights on the region's running calendar, Jane Tomlinson's original legacy run is famed for its fun, friendliness and fantastic atmosphere. And if it's a PB you're after, this is the run for you, thanks to its flat, fast course and enthusiastic spectators who will spur you on to the spectacular Town Hall finish.
Get your team of 5 or more participants together – enjoy the event day excitement and all the elements that the Corporate Challenge has to offer. Included in your package at £55 per person is
Race Kit –Each team receives a personalised technical running shirts to wear on race day. The t-shirts will be branded with your company logo and team name, helping to identify your team on race day and giving you great PR exposure.
PR and Media Coverage – Teams signed up to the event will have the chance to feature in profile-raising news stories concerning the 10K via the event's media partners and social channels.
Pre-Event Social– To be hosted in Leeds city centre on the evening of Thursday 4th – Come and join the pasta party and compete in the Leeds Quiz as well as meeting the competition. It is also your chance to have some final pre-race chats and bonding.
Race Day Hospitality -On the day, your team can enjoy VIP Corporate Hospitality. The dedicated area will ensure the team can relax and enjoy a stress-free, pre-race morning, before taking up their position on the start line. Refreshments will be provided pre and post event and teams will have a comfortable meeting place to get together.
Team Photos – Complimentary team photos will be taken pre-race and presented framed post-event, as a souvenir of your day.
Trophies and Awards -Awards will be presented post-race to the Fastest Teams, along with honours for Fastest Male and Female Corporate Team Members.
Book your place here for the Leeds 10K Clarion Corporate Challenge. If you would prefer to be invoiced, contact Nicola Christian via [email protected] or call 0113 826 7776