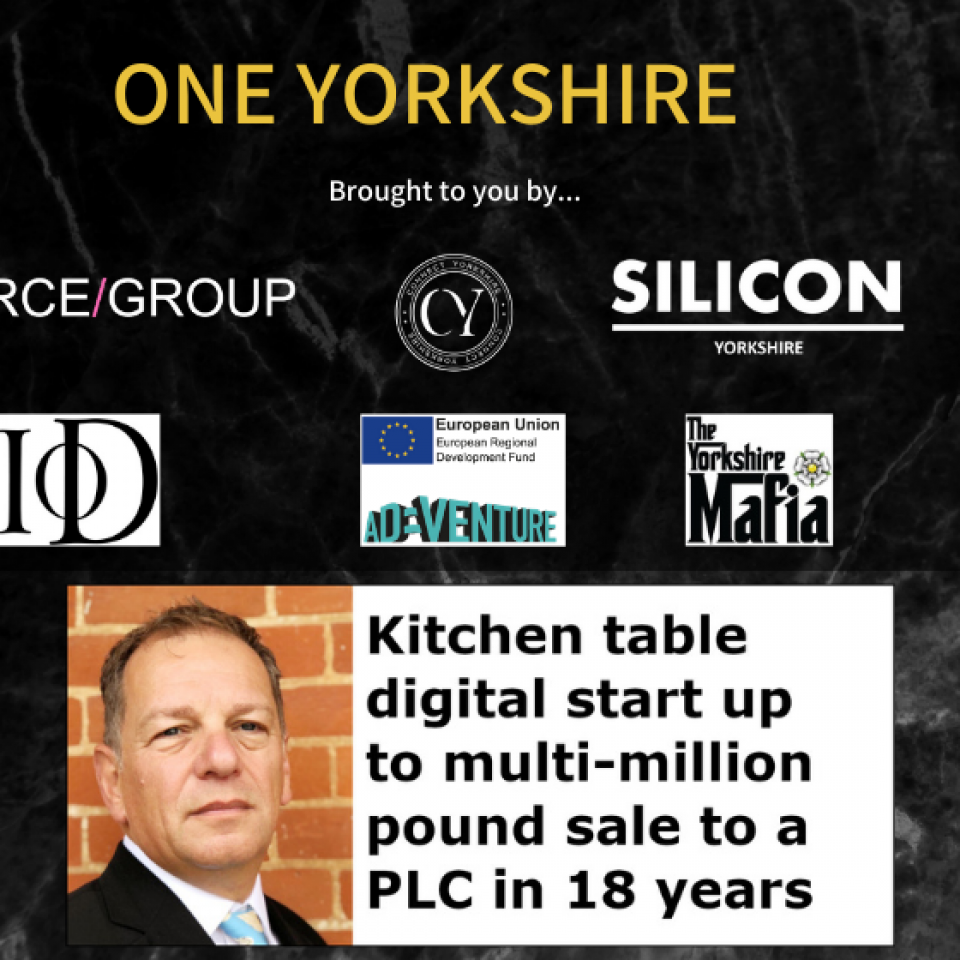 Kitchen table start up to multi-million pound sale to a PLC in 18 years
This event is part of One Yorkshire, a three-month virtual series of curated events, seminars, workshops and get-togethers for everyone in, from or into Yorkshire, created to deliver a real business boost to our community. Events are free of charge and everyone is welcome to attend.
Hear Phil Fraser's story of a failed Angel Investment pitch accidently leading to a kitchen table online start up that 18 years later was sold in a multi-million pound deal to a PLC.
Plus the 10 key lessons that Phil learnt and you need to know when running your business.
There will also be a live Q&A at the end of the session.
10:00 - 10:45
Zoom
Please register - meeting link will be e-mailed to you in advance of event
Attending
David Israel
Key Account Manager
Leeds City Council
Saffron Wylde
Founder
Levi and Vasey
Clare Watson
Founder and Delivery Director
Avenue BD
Diane Benn
Director
High Flying Comms Ltd
Richard Eyre
Consultant
Staycating
Tas Hadjisavva
MD
Clubit TV
Sarah Wilks
Administrative Assistant
N/A
Daniel Northcott
Business Development Director & Owner
Access North Ltd UK
Paul Lillywhite
Director
Lillywhite Consultancy Limited
Mark Shay
Business Development Manager
Barclays Wealth
Charles Brook
Partner
Poppleton & Appleby
Sam Agnew
Founder
Everyday People
Colin Glass
Senior Partner
WGN
Andy Johnson
Founder
InfoSec360 Ltd
Laura McDonald
Digital Marketing Consultant
LMc Digital Marketing
Fergus Johnson
Operations Director
True North Products Ltd
Francis Grogan
Director
GRGprint
Steve Keetley
Work Winning Director
AECOM
Michael Tolan
Director
Langcliffe Ltd
Suzanne Moore
Graphic Designer
Ideas That Work
Vanessa Warn
Owner
Little Green Rascals Organic Day Nursery
Ian Shepherd
Managing Director
Denlo Limited
Laura Smith
Business Owner
The Waggy Tails Store
Hattie I'Anson
Manager
The Golden Paste Company
andrea smith
business owner
Thursdaychildcards
Jonathan Bunney
MD
Fluid Consult - Energy Solutions
Sam Lodh
Director
Search For The Next Limited
Rhona Munro
Founder
Kinbella
marc Giraudon
Partner
Bow Wave partners
Lisa Shepherd
Director
Bloom Bakers
Catherine Ann Reid
CEO
Doqit Technologies Ltd
Tom James
Director
Howard Conrad
Dally Purewal
Director
Ideas That Work
Jim McLaughlin
Adviser
Boardroom Assist
Saskia Roskam
Founder/ Director
Bloom Bakers
Sam Sargent
Partner
The Alternative Board
Helen Crossland
Start-Up Business Coach
Helen Crossland
Michael Peckett
MD
FELL PROMOTIONS LTD
Jessica McNally
International e-Commerce Adviser
Department for International Trade
Jonathan Scott
Director
Kangaroo SEO