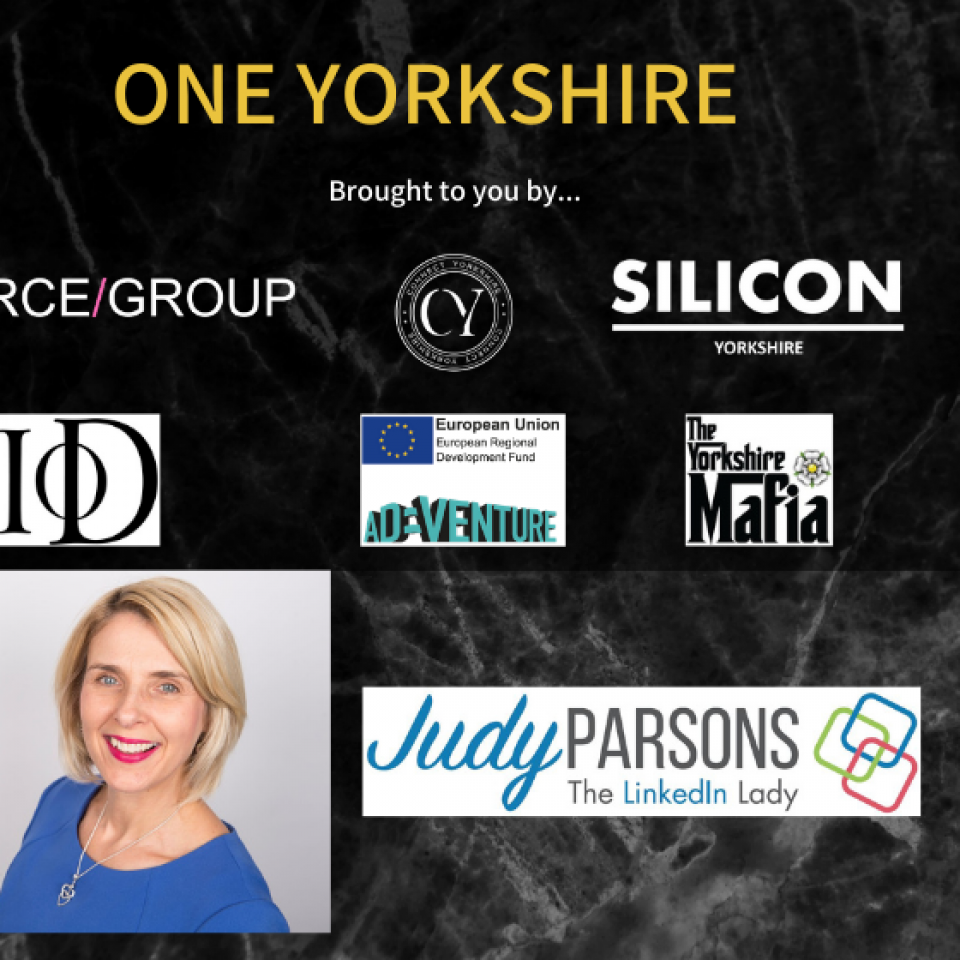 How To Get Your Dream Clients Coming To YOU on LinkedIn – Step 3
You know LinkedIn is powerful. You know your ideal clients are on LinkedIn. You want to go full out and get LinkedIn working for your business. But just how do you get your dream clients coming to you on LinkedIn?
Judy Parsons, the LinkedIn Lady, has been teaching and mentoring business owners for over 8 years on how to use LinkedIn for business, as well as using it to grow her own business.
In Step 3 of how to get your dream clients coming to YOU, Judy shares how to raise your visibility, so you attract self-selecting clients to you on LinkedIn. This step follows on from the previous session about how to grow your LinkedIn network the right way.
According to research, 57% of a buying decision has already been made before you even know about it. You want to ensure you're being seen as the expert by posting content to influence those buying decisions.
So with your dream clients on LinkedIn researching solutions to the problems you solve, it's time to get active.
Join Judy for Step 3 and find out how best to post on LinkedIn, including:
–   What and where to post on LinkedIn
–   Common posting mistakes and how to avoid then
–   The best time to post
–   Tips on increasing engagement
13:00 - 14:00
Zoom
Please register - meeting link will be e-mailed to you in advance of event
Attending
Carlyn Wiltshire
Sales Consultant
CW Sales ltd
Naomi Berry
HR Consultant
Progeny
Simon Moulson
Managing Director
Trade Credit Solutions Ltd
Lily Patrick
Sales Development Executive
Catax
Rebecca Gascoyne
junior salesforce consultant
Inardua
Deborah Bennett
Owner
The Chronic Coach
Harold Rose
Managing Director
Alex Rose fine tailoring
Jamie Holmes Chartered FCSI
Director
CurrencyWave
Sally Poyser
Leadership coach
SPoyser coaching
Dom Owen
Director
Tuned to R.I.S.K. Ltd
David Powell
Carbon Footprint Specialist
Auditel
Matthew Ridsdale
Director
Cannon PR
Kelsie Beaumont
Corporate Sales Manager
REKOM UK
Kelly Anne Suter Johnson Johnson
Owner at Advanced Admin Support
Advanced Admin Support
Courtney Hodgson
Graduate Marketing Executive
Merlinsoft
Simon Morgan
Creative Director
Bread & Butter Creative Communications
Peter Cruikshanks
Managing Director
Outside In Management
Tami Thorsen
Life-Coach and COACH Model Trainer
Head2Heart Onward Life-Coaching
Rituparna Ghosh
Coach
Laughter Conversations & Coaching
Darren Clewes
Group Sales Director
Forward and Thinking
Kelen Beauchamp
Director
Fidence Consulting
Chris Verney
Regional Fundraiser
Martin House Children's Hospice
Clare Hodcroft
Director/Owner
Spark People Solutions Ltd
Nicola Christian
Business and Corporate Engagement Partner
Canal and River Trust
Rose Dodd
Creative Director
topography studio
Sarah Edwards
Founder
Purple Banana Marketing
Linda Hogg
Head of Business Development
Black Marble
Marcus Cecil de Vasconcelos
Transformational Coach
Marcus Cecil Coaching
Charles Maltby
Creative Technical Mentor
4CTM LTD
Rachel Whibley
Managing Director
Carrot Productions
Sarah Alcock
Managing Director
Simonside
Philippa Kaye
Founder
Indian Experiences
Paul Smith
Founder
100 Innovations per Hour
Andrew Vevers
Voiceover Artist
Vevers Voiceovers
Martin Linch
Director
SOLEMEA Limited
Phil Fraser
Business Sounding Board
Phil Fraser
Sarah Hull
Family Law Solicitor
Life's Chapters
Lucy Harper
Owner
Lucy Harper Communications
Lynne Wright
Chief Experience Officer
Ferris Wheel People Experience Agency
Adrian Burton
BDM
Crucial Engineering Ltd
Andrew Jones
Owner
Wakefield GoWeb
Andy Johnson
Founder
InfoSec360 Ltd
Rozalia Szatanik
Photographer
Rozalia Szatanik Photography
Peter Nicholson
Director
Interactive Flat Panels Ltd
Victoria Fleming
Director
Buzztastic Ltd
Lucille Moore
Brand Photographer
Brand Stories
Fran Grant
Copywriter
Fran Grant Press Ltd
Lisa Buck
Marketing manager
Catch
Richard Gadd MSc MBA - Senior Consultant, Coach and Mentor
Executive Director
Developing Business Excellence Limited
Sally Coton
Business Coach
Innate Potential
Andy Redfern
Company Director
Redtronic
Lisa Saunders
Bdm
Alcumus
Justine Mooney
Director
Justine Mooney Ltd
Suzanne Shaw
L&D Consultant
Ascent
Debra Samuel
Owner
The Computer Guru
Emily Bush
Events Fundraiser
Roundabout Ltd
Nicholas Paszek
Solicitor
Square One Law
Kathryn Johnson
Creative Catalyst
School Postcards
Allan McGrane
Freelance Trainer
LighterMinds Training
Stephen Dunne
Consultant
Networks Technology
Audrey Zeitoun
Coach
Audrey Zeitoun Coaching
Paula Grizzard
Founder
She Business
David Cullen
Mr
Donelan Property
Sarah Liddle
Small Business Owner
The Lady in the Shed
Stephanie Tague
Head
Building Our Skills
Michael Hackett
MD
Technical Display Consortium Ltd
Andrew Glen Glen
Managing Director
Riverside Greetings Limited
Vicky Travis
Growth Manager
Virgin Money
Michelle Dexter-Lowe
Events Manager
University of Sheffield
Aimee Hayhurst
Partnerships Team Manager
Martin House Children's Hospice
Martin Jesper
Expert in Leading, Inspiring & Transforming Elite Sports Clubs & Businesses
Rootcorz Limited
Rebecca Newenham
Founder
Get Ahead VA Ltd
Mandy Haigh Haigh
Project Manager
Leep1 CIC
Kirsty Darcy
Director
Fondant Marketing
Denise Jennings
MD
Athena HR
Mira Rutter
Coach
Rutter LLP
Zlatina Petrova
life coach
Sunshine Fig Coaching
Sarah-Jayne Beckett
Communications Manager
CORE
Lyn Morton
Business Development
Scandinavian Homes
Kedar Karandikar
Mediator
AE Mediation
Jane Bytheway
Director
Jane Bytheway Ltd
Mike Sinnett
People Development Specialist
Retired
Linday Dixon
Consultant Solicitor
Michael Lewin Solicitors
Suzanne Gamache
Holistic Healer
Suzanne Gamache Healing
Michael Woodcock
Director
Nuvem Solutions Ltd
Nick Dance
Business Development Manager
Postify
Angeline Maclaren
Financial Adviser
Navigation Wealth Management
Karen Gavin
Photographer
Karen Gavin Photography
Sharon Mushod
Sales Manager
Aiforia
LYNDA GILLINGHAM
Holistic Coach and Integrative Therapist
Empower and Grow
Antony Marlow
Director - Data and Digital Transformation
Balanced Consult
Alexis Nicolaidis
Interior design consultant
V A Heritage
William Sims
Owner
Biz Internet Marketing
Karl Beckett
Director
Karl Beckett
Sam Sargent
Head of Operations
Exawatt
Suzanne Smith
Fatigue Specialist
Reconnecting You
Ericka Hill
Fundraising, Marketing & Communication Officer
SCCCC
Toni Jackson
Managing Director
Virtually Managing Ltd
Julie Pocock
Accountant
Kingfisher Services (Yorkshire) Ltd
Rebecca Lewis
Executive Coach
RL Coaching
Richard Newby
Health and Safety Consultant
My HSE Manager Ltd
Julie Allen
coach
Your Space
Jacinda Love
Marketing Consultant
Freelance
Jamie Middleton
Operations Manager
TDC Ltd
Mark Ashmore
Specification Consultant
BePlas
Michelle Poole
Owner
Virtual Hand
Isobel Burgess
Administrator
Auditel
David Wilson
Director
PwC
Shirley Cooper
NED
Ministry of Justice
Peter Scott
Coach
Peter Scott Coaching
Michelle Dalby
Marketing Manager
MD Marketing Associates
Lauren Mosettig
Social Media Manager
The Northern Affinity
Matthew Milsom
Director
MDM Solutions Ltd
Stephen Astin
Will Writer
Touchstone Wills
Helen Crossland
Start-Up Business Coach
Helen Crossland
Michael Peckett
MD
FELL PROMOTIONS LTD
Thomas Fensom
Sales Development Manager
Catax
stuart gascoyne
Consultant
cloudteam
Kate Clark
Company Director
Rae & Eve
Jessica McNally
International e-Commerce Adviser
Department for International Trade
Ruth Richards
Intuitive Coach
Ruth Richards Coaching
Tim Duddridge
Transformation Coach
Tim Duddridge Coaching
Bradley Perigo
Videographer
Bradley JP Productions
Rosine Suire
Consultant and Coach
Rosine Suire