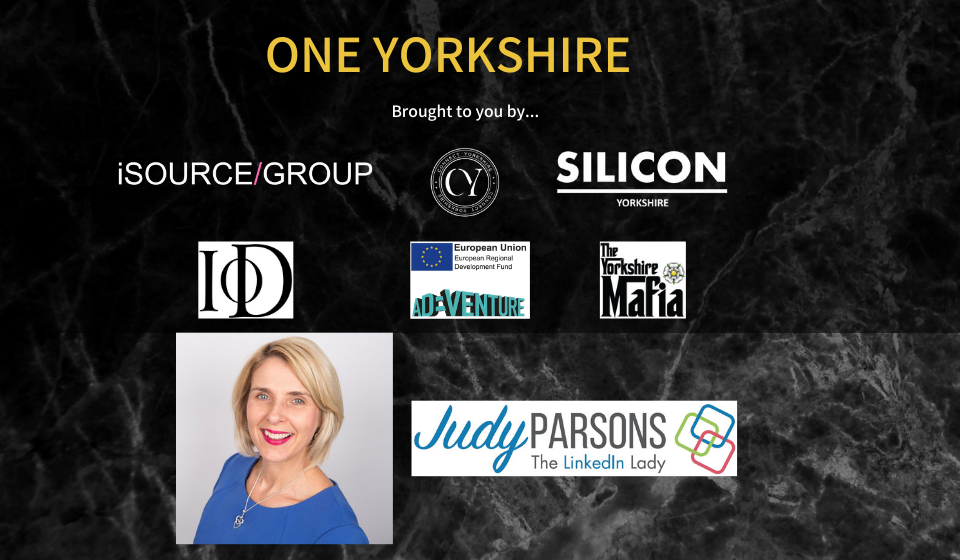 How To Get Your Dream Clients Coming To YOU on LinkedIn – Step 2
You know LinkedIn is powerful. You know your ideal clients are on LinkedIn. You want to go full out and get LinkedIn working for your business. But just how do you get your dream clients coming to you on LinkedIn?
Judy Parsons, the LinkedIn Lady, has been teaching and mentoring business owners for over 8 years on how to use LinkedIn for business, as well as using it to grow her own business.
In Step 2 of how to get your dream clients coming to YOU, Judy shares how to use LinkedIn to network with the people you want to meet and who are interested in what you have to say.
This follows on from the previous session about how to get your LinkedIn profile found and noticed by the right people.
LinkedIn is fundamentally one big database with 28 million LinkedIn profiles in the UK alone.  What's more, LinkedIn gives you the tools to drill down and find the people you want to meet – for free!
Join Judy for Step 2 – Your Network is Your Net Worth, and find out how to grow your network the right way including:
–   Who should you connect with?
–   How to find your audience
–   #1 strategy for generating new clients
–   Top tips for starting the conversation
13:00 - 14:00
Zoom
Please register - meeting link will be e-mailed to you in advance of event
Attending
Naomi Berry
HR Consultant
Progeny
Bethan Vincent
Marketing Director
Netsells
Deborah Bennett
Owner
The Chronic Coach
Robin Miller
Director
Beco Products Ltd
Dom Owen
Director
Tuned to R.I.S.K. Ltd
David Powell
Strategic Overhead Management Specialist
Auditel
Matthew Ridsdale
Director
Cannon PR
Peter Cruikshanks
Managing Director
Outside In Management
Kevin Pritchard
Owner
Properitum Associates
Darren Clewes
Group Sales Director
Forward and Thinking
Kelen Beauchamp
Director
Fidence Consulting
Nicola Christian
Business and Corporate Engagement Partner
Canal and River Trust
Sarah Edwards
Founder
Purple Banana Marketing
Stephanie Lester
Artist
Stephanie Lester Fibre Artist
Paul Smith
Founder
100 Innovations per Hour
Avelino Manuel
Therapist
Avelino Santos
Phil Fraser
Business Sounding Board
Phil Fraser
Sarah Hull
Family Law Solicitor
Life's Chapters
Jenny Sellers
Community Fundraising Manager
SNAPS Yorkshire/Leeds Weekend Care Association
Rachel Thompson Thompson
Employment Law Specialist
RT Advance Consulting
Andrew Jones
Owner
Wakefield GoWeb
William Fox
Business Development Manager
Boulder Developments Ltd.
Lucille Moore
Brand Photographer
Love Lucille
Fran Grant
Copywriter
Fran Grant Press Ltd
Lisa Buck
Marketing manager
Catch
Lisa Saunders
Bdm
Alcumus
Kathryn Johnson
Creative Catalyst
School Postcards
Francis Grogan
Director
GRGprint
Angela Horner
Associate Director
Browns Department Store
Stephanie Tague
Head
Building Our Skills
Michael Hackett
MD
Technical Display Consortium Ltd
Andrew Glen Glen
Managing Director
Riverside Greetings Limited
Vicky Travis
Growth Manager
Virgin Money
Michelle Dexter-Lowe
Events Manager
University of Sheffield
Martin Jesper
Expert in Leading, Inspiring & Transforming Elite Sports Clubs & Businesses
Rootcorz Limited
Kirsty Darcy
Director
Fondant Marketing
Denise Jennings
MD
Athena HR
Phill Andrew
Owner
The Image Mill
Lyn Morton
Business Development
Scandinavian Homes
Kedar Karandikar
Mediator
AE Mediation
Janie Gonsalez
Business Development Executive
The Yorkshire Mafia
Karen Gavin
Photographer
Karen Gavin Photography
Sharon Mushod
Sales Manager
Aiforia
LYNDA GILLINGHAM
Holistic Coach and Integrative Therapist
Empower and Grow
Alexis Nicolaidis
Interior design consultant
V A Heritage
Isobel Burgess
Administrator
Auditel
David Wilson
Director
PwC
Peter Scott
Coach
Peter Scott Coaching
Lauren Mosettig
Social Media Manager
The Northern Affinity
Helen Crossland
Start-Up Business Coach
Helen Crossland
Jessica McNally
International e-Commerce Adviser
Department for International Trade
Bradley Perigo
Videographer
Bradley JP Productions
Nicholas Paszek
Solicitor
Rradar
Rosine Suire
Consultant and Coach
Rosine Suire