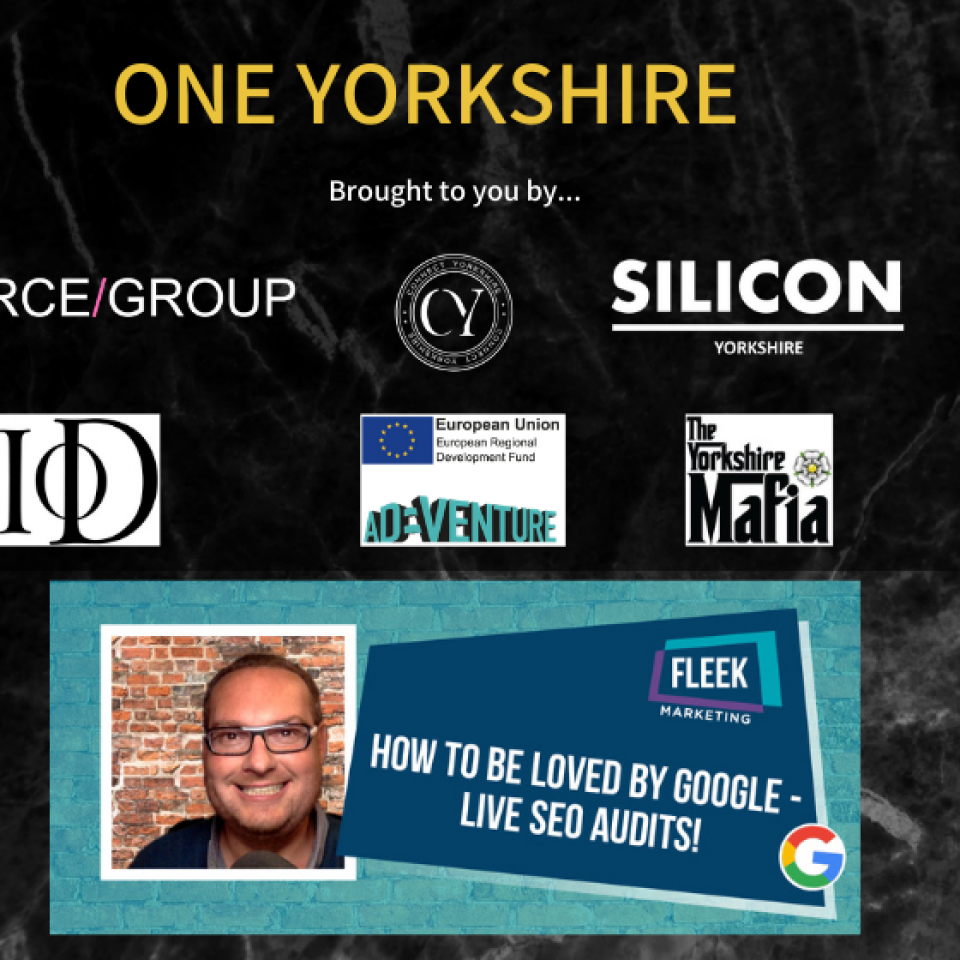 How to be loved by Google – LIVE SEO Audits!
This event is part of One Yorkshire, a three-month virtual series of curated events, seminars, workshops and get-togethers for everyone in, from or into Yorkshire, created to deliver a real business boost to our community. Events are free of charge and everyone is welcome to attend.
Join Jonny Ross for a 1 hour interactive webinar!
This LIVE SEO AUDIT will see Jonny pick apart websites and shred them to pieces in a live interaction, together with other business owners.
Jonny is known for optimising website and getting Google to love them!
16:00 - 17:00
Zoom
Please register - meeting link will be e-mailed to you in advance of event
Attending
Scott Palmer
Chartered Financial Planner
Novus Financial Services
Harold Rose
Managing Director
Alex Rose fine tailoring
Andrew Vevers
Voiceover Artist
Vevers Voiceovers
Andrew Jones
Owner
Wakefield GoWeb
Peter Nicholson
Director
Interactive Flat Panels Ltd
Lisa Buck
Marketing manager
Catch
Becca McClure
Director
North Sky Yurts
Kathryn Johnson
Creative Catalyst
School Postcards
Stephanie Tague
Head
Building Our Skills
Michelle Dexter-Lowe
Events Manager
University of Sheffield
Lyn Morton
Business Development
Scandinavian Homes
Donna Morris
Marketing Manager
Marketing
Alexis Nicolaidis
Interior design consultant
V A Heritage
Tom James
Director
Howard Conrad
Joanne Addison Addison
CEO
Kiddieholidays
Sarah Agar-Brennan
Business Coach Specializing in Product Development
Sarah Agar-Brennan Business Consultancy
Michael Peckett
MD
FELL PROMOTIONS LTD
Bradley Perigo
Videographer
Bradley JP Productions
Rosine Suire
Consultant and Coach
Rosine Suire
Charlotte Paine
Director
North Sky Yurts