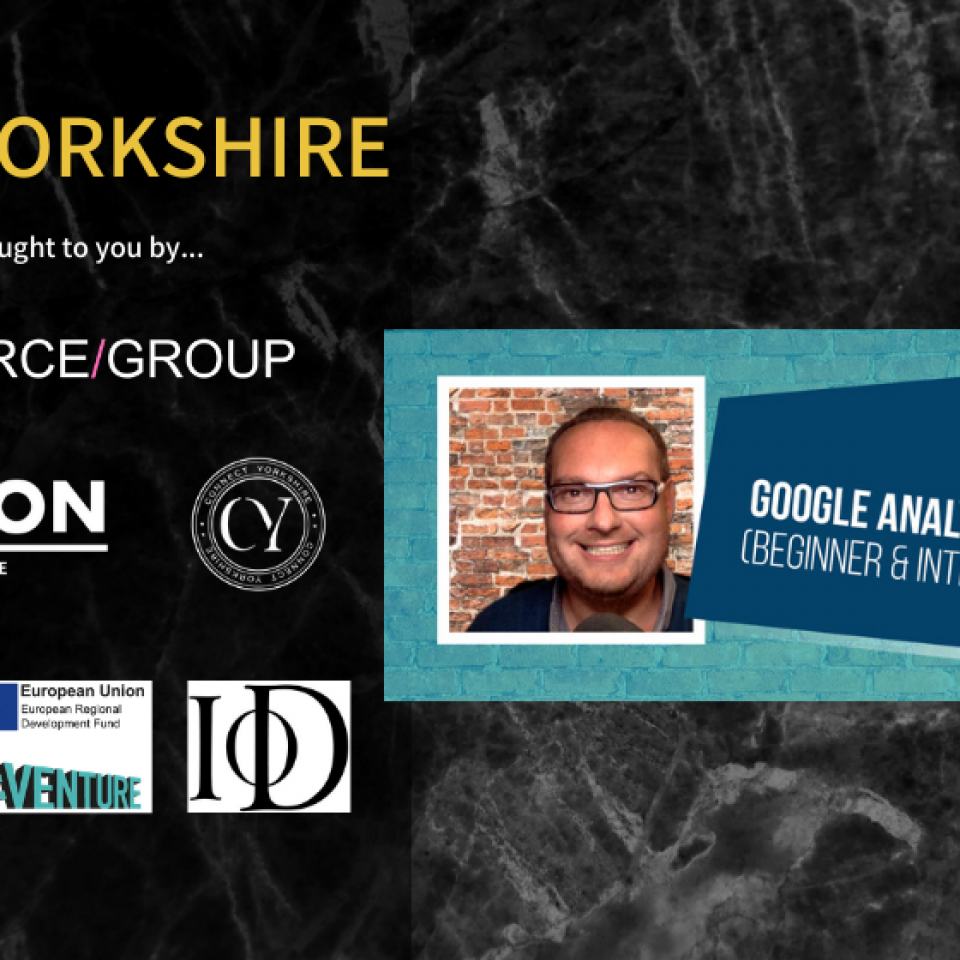 Google Analytics LIVE (Beginner & Intermediate)
This event is part of One Yorkshire, a three-month virtual series of curated events, seminars, workshops and get-togethers for everyone in, from or into Yorkshire, created to deliver a real business boost to our community. Events are free of charge and everyone is welcome to attend.
Join Jonny Ross for a 1 hour interactive webinar!
Designed for delegates with a basic understanding of Google Analytics, this masterclass looks at ways of tracking campaign progress, whilst incorporating the use of analytical tools to measure their success.
As well as covering the ins and outs of Google Analytics, you will explore some of the more popular marketing tools – and some you may have never heard of – and how they can be used effectively to spot new opportunities for your business.
By the end of the course, delegates will:
– Understand how to strategically and effectively use Google Analytics, as well as a variety of other digital marketing tools
– Understand how to measure website performance and use results to spot new business opportunities
– Be able to use web analytic tools to understand in which areas budget can be focused
Expect a variety of takeaway tips and tricks that are easy to implement and can help you achieve the best results.
12:00 - 13:00
Zoom
Please register - meeting link will be e-mailed to you in advance of event
Attending
Scott Palmer
Chartered Financial Planner
Novus Financial Services
Matthew Ridsdale
Director
Cannon PR
James Clark
Director
TribusIT
Paul Lillywhite
Director
Lillywhite Consultancy Limited
Lindsey Davies
Director
Open Communications
Amanda McDermott
Chartered Landscape Architect
2B Landscape Consultancy Ltd
Sophie Packman
Content Developer
WRIPA (University of York)
Peter Nicholson
Director
Interactive Flat Panels Ltd
Andrew Vevers
Voiceover Artist
Vevers Voiceovers
Martin Linch
Director
SOLEMEA Limited
Lucille Moore
Brand Photographer
Brand Stories
Laura Baker
Fundraiser
Nomad Opening Doors
Maria Petra Romero-Miranda
Director
AMALIDA Properties Ltd
Jennifer Coulter
Digital Graphic Designer
Cromwell
Chris Hart
Managing Director
Graham Hart (Process Technology) Ltd
Liz Blades
Marketing Manager
Lockyers
Michelle Dexter-Lowe
Events Manager
University of Sheffield
Amanda Danells-Bewley
Bunting Queen
Bewleys Bunting Emporium
Alex Harris
Employer Partnership Manager
Joblink - Leeds University Union
James Fawcett
Director
Another Beer Ltd
Mandy Haigh Haigh
Project Manager
Leep1 CIC
Janie Gonsalez
Business Development Executive
The Yorkshire Mafia
Alexis Nicolaidis
Interior design consultant
V A Heritage
Sereba Ferrari
Digital Event Producer
Son et Lumiere
Caroline Gill
Marketing & Communications Manager
Candlelighters
Paul Buckley
Accountant
Hargreaves
James Hall
Personal Development Coach
James Hall Coaching
Sarah Agar-Brennan
Business Coach Specializing in Product Development
Sarah Agar-Brennan Business Consultancy
Helen Crossland
Start-Up Business Coach
Helen Crossland
Bridget Summers
Owner
Footprint PR