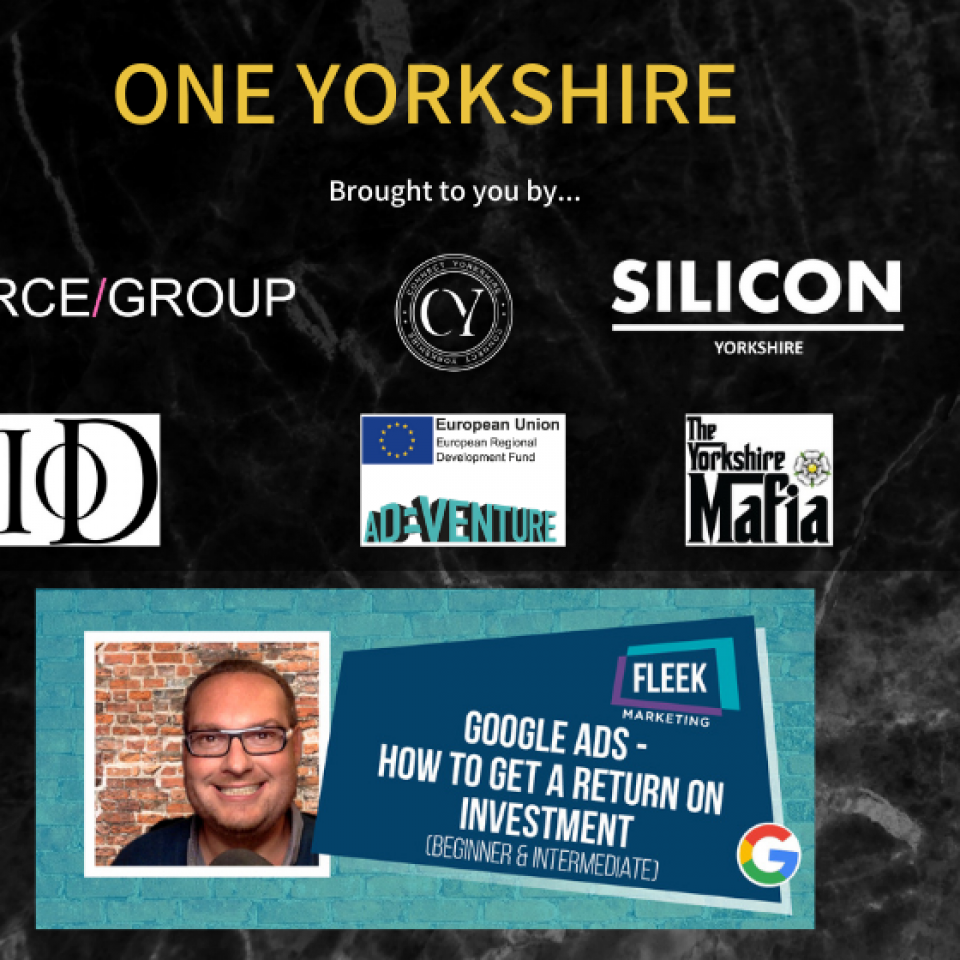 Google Ads – How to get a return on investment (Beginner & Intermediate)
This event is part of One Yorkshire, a three-month virtual series of curated events, seminars, workshops and get-togethers for everyone in, from or into Yorkshire, created to deliver a real business boost to our community. Events are free of charge and everyone is welcome to attend.
Join Jonny Ross for a 1 hour interactive webinar!
This webinar will look at how Google Adwords (PPC) can be used strategically to power growth and how to track ROI and performance of a website. Delivered by Jonny Ross, this session will help with understanding the steps needed to design your google ad campaigns.
– Understand the role of Pay per Click in the search marketing landscape
– Develop and implement PPC campaigns that increase high quality clicks and raise Quality Scores
– Craft highly effective PPC ads that encourage click-throughs while continuously testing
– Develop a bid management strategy to maximise high quality visitors and minimise costs
– Identify, measure and act upon the KPIs that will help you boost your PPC performance
– To increase ROI
– To be more strategic with marketing decisions
Learn about
– Bidding strategies
– Quality Score
– Selecting keywords
– Creating Ads
– Tracking & Reporting
09:00 - 10:00
Zoom
Please register - meeting link will be e-mailed to you in advance of event
Attending
Carlyn Wiltshire
Sales Consultant
CW Sales ltd
Scott Palmer
Chartered Financial Planner
Novus Financial Services
Harold Rose
Managing Director
Alex Rose fine tailoring
Nicole Spencer
Managing Director
RMC Digital Print Limited
James Clark
Director
TribusIT
Andy Johnson
Founder
InfoSec360 Ltd
Peter Nicholson
Director
Interactive Flat Panels Ltd
Jennifer Coulter
Digital Graphic Designer
Cromwell
Stephanie Tague
Head
Building Our Skills
Liz Blades
Marketing Manager
Lockyers
Michelle Dexter-Lowe
Events Manager
University of Sheffield
James Fawcett
Director
Another Beer Ltd
Dan Blackith
Director of People & Culture
Avalon Group
Alexis Nicolaidis
Interior design consultant
V A Heritage
Tom James
Director
Howard Conrad
Laura Mason
Digital Marketing Executive
Dementia UK
Peter Scott
Coach
Peter Scott Coaching
Joanne Addison Addison
CEO
Kiddieholidays
Helen Crossland
Start-Up Business Coach
Helen Crossland
Bradley Perigo
Videographer
Bradley JP Productions