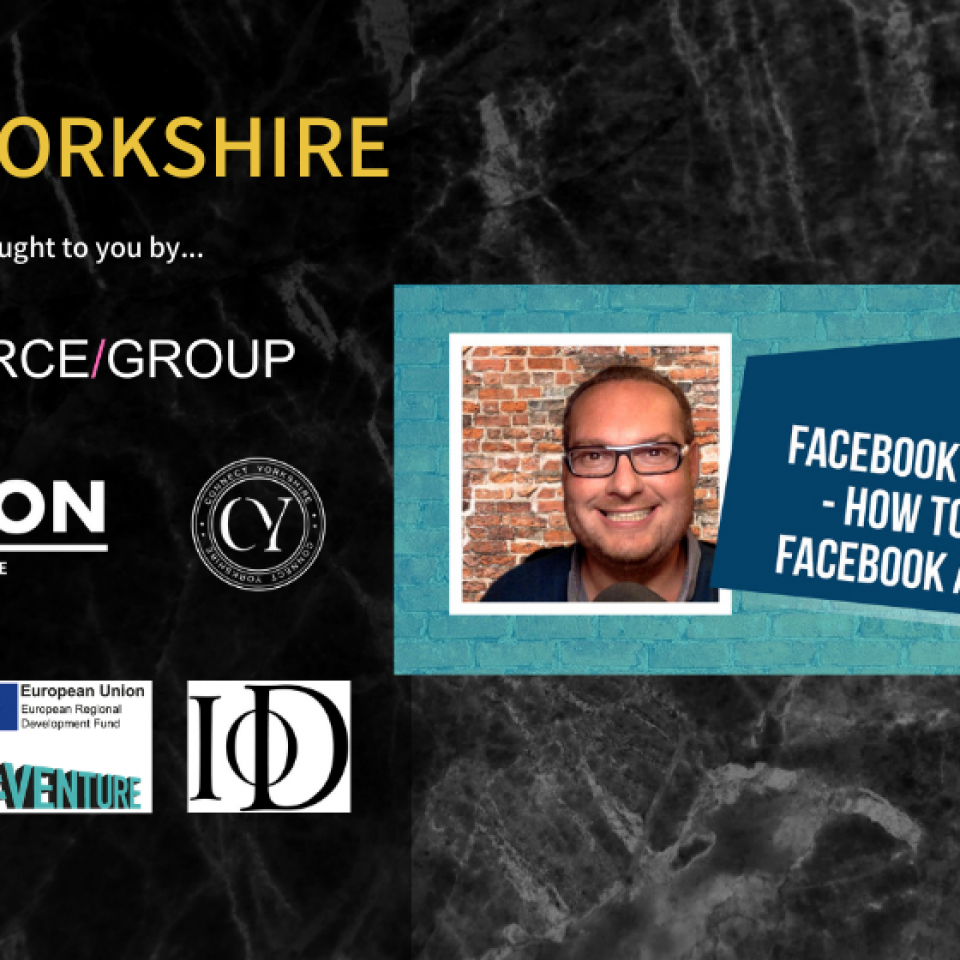 Facebook Advertising – how to win with facebook advertising
This event is part of One Yorkshire, a three-month virtual series of curated events, seminars, workshops and get-togethers for everyone in, from or into Yorkshire, created to deliver a real business boost to our community. Events are free of charge and everyone is welcome to attend.
Join Jonny Ross for a 1 hour interactive webinar!
With over 5,000,000 advertisers and a 40% market share of digital advertising revenue growth, Facebook Ads are fast-becoming a vital part of any successful business' marketing strategy.
Led by digital strategist Jonny Ross, this one-day masterclass on Facebook advertising and social analytics will cover:
– Facebook Ads
– Google Ads (PPC) vs Facebook Ads
– Audience Insights
– Target Audience
– Personas
– Metrics / KPIs and Measures
– Triangulating and tracking
– What makes a great advert
– Call to actions
– Landing Pages
– Split testing
You can expect to come out of the masterclass having discovered a variety of effective tools and techniques to build and optimise your target audience.
Jonny will be sharing some of his top tools and best practices for creating a successful advert.
11:30 - 12:30
Zoom
Please register - meeting link will be e-mailed to you in advance of event
Attending
Hannah Swierstra
Founder
Balance VA Services
Julia Szajdzicka
Managing Director
ND Metering Solutions
Deborah Bennett
Owner
The Chronic Coach
Scott Palmer
Chartered Financial Planner
Novus Financial Services
David Powell
Carbon Footprint Specialist
Auditel
steven wolfenden
Managing Director
LamSol (UK) Limited
Sue Beckingham
Principal Lecturer and LTA Lead for Computing
Sheffield Hallam University
Becky Nightingale
Social Media Manager
self employed
Ruth Jago
Marketing manager
Levi Solicitors LLP
Lindsey Davies
Director
Open Communications
Sophie Metcalfe
Director
Your Marketing Doctor
Andrew Vevers
Voiceover Artist
Vevers Voiceovers
Andrew Jones
Owner
Wakefield GoWeb
Peter Nicholson
Director
Interactive Flat Panels Ltd
Lucille Moore
Brand Photographer
Brand Stories
Kathryn Johnson
Creative Catalyst
School Postcards
Hannah Wainwright
Digital Marketing Assistant
Levi Solicitors
Liz Blades
Marketing Manager
Lockyers
Michelle Dexter-Lowe
Events Manager
University of Sheffield
James Fawcett
Director
Another Beer Ltd
Paul Smith
Owner
PS71 Media Concepts
Donna Morris
Marketing Manager
Marketing
Tom James
Director
Howard Conrad
Rachel Heley
Director
Wild Moose
Peter Scott
Coach
Peter Scott Coaching