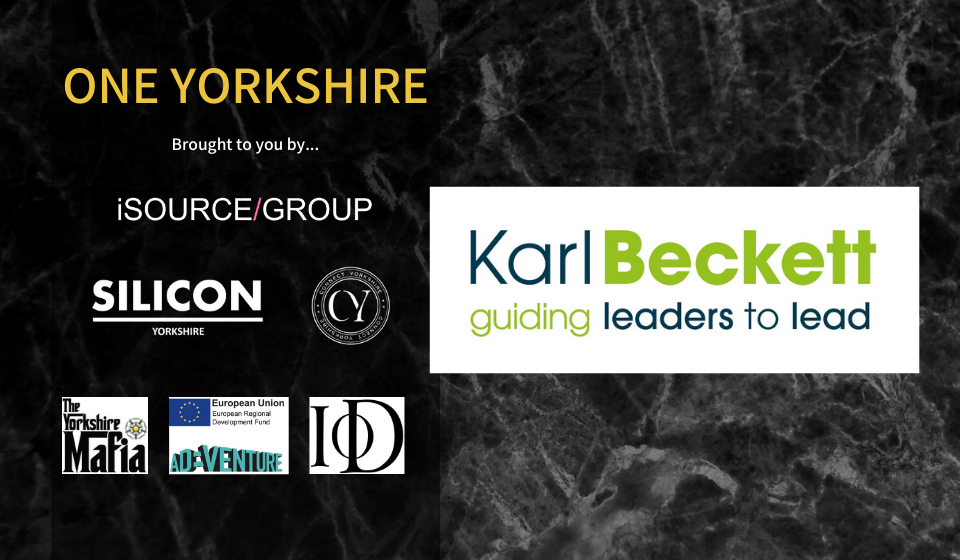 Developing Personal Resilience
This event is part of One Yorkshire, a three-month virtual series of curated events, seminars, workshops and get-togethers for everyone in, from or into Yorkshire, created to deliver a real business boost to our community. Events are free of charge and everyone is welcome to attend.
Last year's events will have impacted on even the hardiest of us at some level and personal resilience is going to play a huge part in our ability to head into 2021 and beyond with positivity. So wouldn't you like to start this New Year knowing you have the mental resilience to lighten your load? To further develop your resilience, so you can handle whatever comes your way?
To help you, Professional Leadership Guide Karl Beckett will take you through his Resilience Valley process on the 15th Jan from 10 am – 11.00 am
In the session, he will share with you:
• 7 key areas you can utilise to develop your resilience
• How to appreciate the emotions of change and use practical tools to work through the low times to those sunnier climates of the Valley
• Mental tools which will help you survive and thrive in a competitive world
• How resilience is a skill you can develop and is not something you are just born with
• Practical tips that have been invaluable to both Karl and his many clients; and can help you too
10:00 - 11:00
Zoom
Please register - meeting link will be e-mailed to you in advance of event
Attending
Dom Owen
Director
Tuned to R.I.S.K. Ltd
Alex Lawler
Marketing Manager
DB3 Architecture
Sam Cooke
Property Sourcer
Fowlds Cooke Property Solutions LTD
John Ievers
Director
CDR Group
margot emanuel
Project Manager
Solent Corporation
Martin Linch
Director
SOLEMEA Limited
Andrew Whitaker
Owner
Wakefield GoWeb
Dr Fiona Robertson MA, PhD
Senior Lecturer
Leeds Beckett University
Fergus Johnson
Operations Director
True North Products Ltd
Maria Petra Romero-Miranda
Director
AMALIDA Properties Ltd
Kathryn Johnson
Creative Catalyst
School Postcards
Josanne Richardson
Charity
Dementia UK
Stephen Dunne
Consultant
Networks Technology
Emma Czestochowski
Centre Leader
IntoUniversity
Caroline des Forges
HR Executive
N/a
Ian Shepherd
Managing Director
Denlo Limited
Jacquie McGuire
Regional Fundraiser
Parkinson's UK
Helen Jillings
Advocate
Advonet
Mandy Haigh Haigh
Project Manager
Leep1 CIC
Jill Peel
Creative Director
10 Associates Ltd
Kedar Karandikar
Mediator
AE Mediation
Graeme Roberts
Branch Manager
Yorkshire Building Society
Clive Taylor
Independant Mental Capacity Advocate
Advonet
Richard Haxby
Technical Director
Trelleborg
Alexis Nicolaidis
Interior design consultant
V A Heritage
Caroline Webb
Citizen Advocacy Volunteer Coordinator
advonet
Shabina Bhatia
Finance Manager
Carillion
Peter Nicholson
Director
Interactive Flat Panels Ltd
Rizman !
creative director
coverage studio
Paul Buckley
Accountant
Hargreaves
Nick Betts
Technology Consultant
Scott Logic
Charlie Fletcher
Apprentice Customer Consultant.
Yorkshire Building Society
Sarah Agar-Brennan
Business Coach Specializing in Product Development
Sarah Agar-Brennan Business Consultancy
Luke Dixon
Operations Director
Ameresco