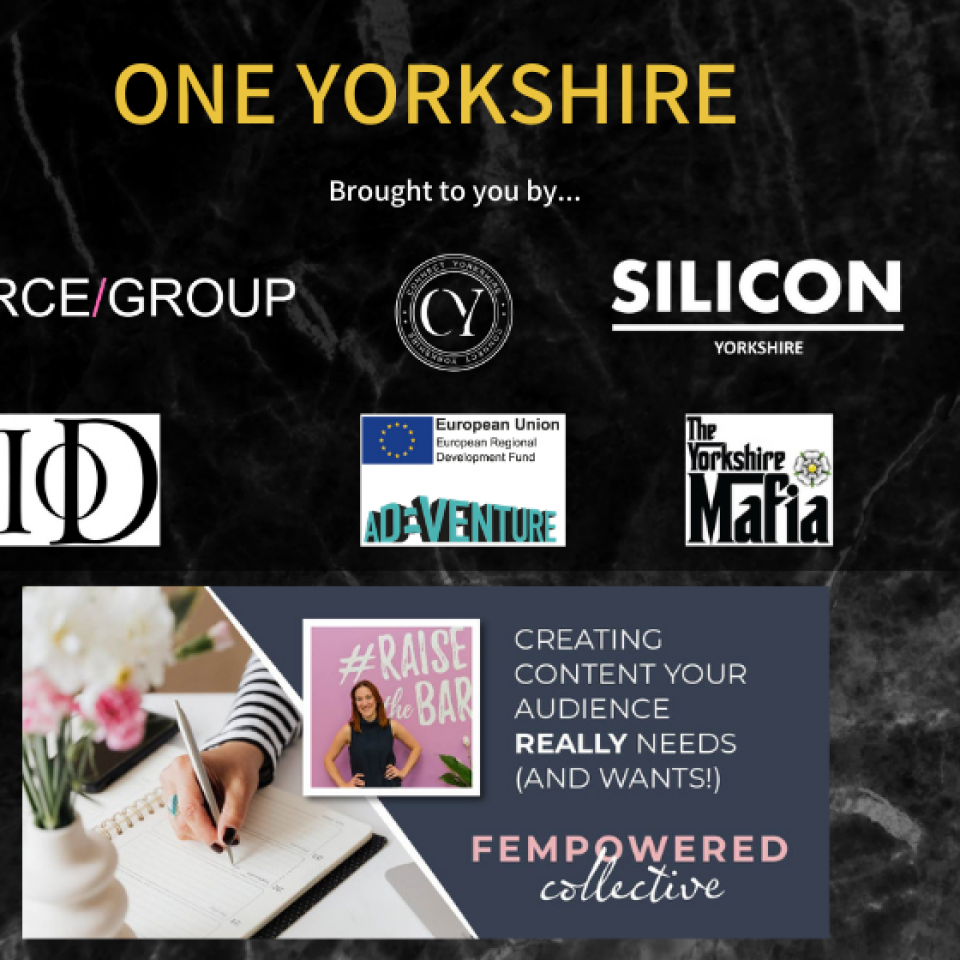 Creating content your audience REALLY needs (and wants!)
Creative block – we've all been there. It's too easy to get stuck in a rut and panic about what to post on social media or website blogs.
Last-minute or ill-prepped content will not bring you a return.
We're on a mission to breathe new life into dried-up feeds with content your audience really wants and needs – and will actually bring you more business.
In this one-hour masterclass, former journalist Sophie Metcalfe (Founder of Fempowered Collective and Creative Director of The Soapy Group) gives her top tips to researching, writing and creating VALUABLE content that works for your brand.
You will learn:
– What type of content is valuable to your audience (and brand)
– How to work with trust signals
– Using keyword research
– Writing good content
– Developing your social media to deliver your content strategy
This webinar nicely follows on from our previous webinar "Creating and unforgettable content strategy" on Friday 12 February. You don't have to have been on that webinar – but it will make creating content easier.
13:00 - 14:00
Zoom
Please register - meeting link will be e-mailed to you in advance of event
Attending
Naomi Berry
HR Consultant
Progeny
Deborah Bennett
Owner
The Chronic Coach
Harold Rose
Managing Director
Alex Rose fine tailoring
David Powell
Carbon Footprint Specialist
Auditel
Matthew Ridsdale
Director
Cannon PR
Kevin Pritchard
Owner
Properitum Associates
Jo Crebbin
Director
Honeycomb Consulting Ltd
Kelen Beauchamp
Director
Fidence Consulting
Daneile Moore
Marketing and Communications Manager
AD:VENTURE
Janet Doran
Business Coach
The Positive Pen
Sophie Metcalfe
Director
Your Marketing Doctor
Andrew Vevers
Voiceover Artist
Vevers Voiceovers
Martin Linch
Director
SOLEMEA Limited
Lynne Wright
Chief Experience Officer
Ferris Wheel People Experience Agency
Andrew Jones
Owner
Wakefield GoWeb
Peter Nicholson
Director
Interactive Flat Panels Ltd
Eleanor Brown
Women's Ambassador Coordinator and Training Facilitator
Aspire-Igen
Lucille Moore
Brand Photographer
Brand Stories
Gemma Smith
Translations and Training Manager
Alexika Ltd
Lisa Buck
Marketing manager
Catch
Sam Marshall
Founder/Managing Director
Monkey Mountaineering
Simon Darlaston
Managing Partner
Sandler Training
Lisa Saunders
Bdm
Alcumus
Jennifer Gibbard
Owner
Jennifer Gibbard Virtual Assistant
Mary Duggan
Owner
Cockleshell Creative Coaching
Kathryn Johnson
Creative Catalyst
School Postcards
Francis Grogan
Director
GRGprint
Josanne Richardson
Video Production and Editing
Visionmix Productions Ltd
Michael Tolan
Director
Langcliffe Ltd
Jonathan Halstead
Director
Tranquilitas Ltd
Stephanie Tague
Head
Building Our Skills
Helinka Carr
Owner
Fuschia rosebuds
Michelle Dexter-Lowe
Events Manager
University of Sheffield
Ian Shepherd
Managing Director
Denlo Limited
Lucy Davies
Marketing and communications manager
West Yorkshire Consortium of Colleges
Rachel Shelton
Marketing Lead
Honeybridge LLC
Jeannette Morgan
Owner
I Can Do It V A Services
Hannah Metcalf
Area Retail Manager
RSPCA Leeds, Wakefield & District Branch
James Fawcett
Director
Another Beer Ltd
Louise Dobson
Quality Assurance Manager
Genco Electrical Projects Ltd
Katy Turner
PR
Meteoric Marketing
Rebecca Hopwood
Director
Youbee Media
Dipesh Mistry
IFA / Director
Illuminate Wealth Management Ltd
Sarah-Jayne Beckett
Communications Manager
CORE
Maggie Fenn
Careers and Employability Consultant
The University of Sheffield
Lyn Morton
Business Development
Scandinavian Homes
Kedar Karandikar
Mediator
AE Mediation
Tim Kitching
Semi-retired
N/A
Janie Gonsalez
Business Development Executive
The Yorkshire Mafia
Jessica MacGregor
Director
Piper House
Karen Gavin
Photographer
Karen Gavin Photography
Tamara Freeman
Branding Coach
Soul First by Design
Alexis Nicolaidis
Interior design consultant
V A Heritage
Sarah Jopson
Head of Communications and Marketing
One Medical Group
Tom James
Director
Howard Conrad
narjeet sohanpal
Director
Parentshq
Natalie Tomlinson
Head of Marketing and Communications
Dementia UK
Shabina Bhatia
Finance Manager
Carillion
Laura Mason
Digital Marketing Executive
Dementia UK
Jo Watson Davies
Owner
Whatsit Doodah Writing
Rizman !
Photographer
Coverage Studio
Annina Diston
Creative Director & Graphic Designer
Annina Diston - Creative Direction & Graphic Design
Helen Crossland
Start-Up Business Coach
Helen Crossland
Kate Gavaghan
PA to Tracy Carpenter
Mint HR
Jeremy Meadowcroft
Investment Manager
Finance For Enterprise
Jessica McNally
International e-Commerce Adviser
Department for International Trade
Bradley Perigo
Videographer
Bradley JP Productions
Charlotte Paine
Director
North Sky Yurts