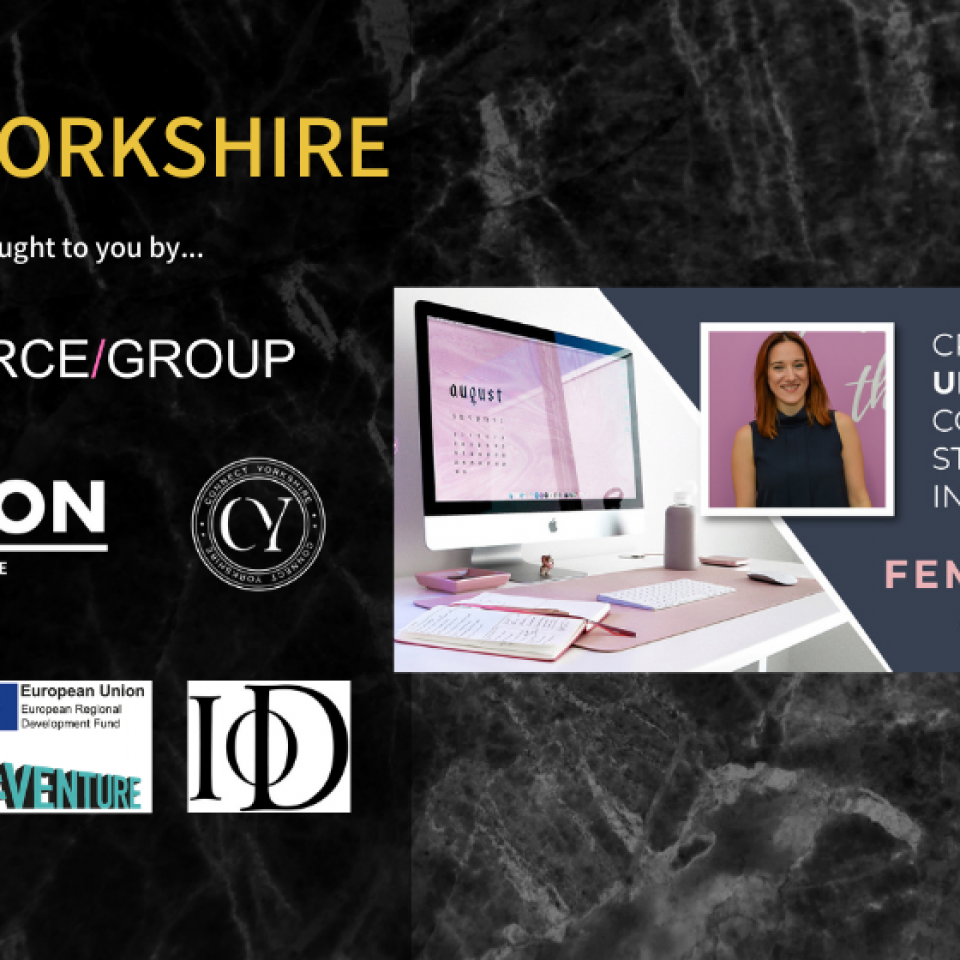 Creating an unforgettable content strategy in 2021
This event is part of One Yorkshire, a three-month virtual series of curated events, seminars, workshops and get-togethers for everyone in, from or into Yorkshire, created to deliver a real business boost to our community. Events are free of charge and everyone is welcome to attend.
Let's make 2021 a year to remember, for all the RIGHT reasons!
Planning content for digital marketing is a huge task, and not one that should be left to the last minute. It's so easy to fall behind, chase your tail or end up posting content for the sake of it. Ad hoc is definitely not an effective or efficient strategy.
The fem-founder of Fempowered Collective is a former journalist and has honed her skills for marketing – and has worked with countless SMEs across Yorkshire and the UK on successful content strategies.
Sophie talks through her top tips to planning and creating VALUABLE and ENGAGING content that will make your audience sit up and take note of your brand. You will learn:
– How and where to start when planning your content
– What makes great content
– Getting your whole year plotted out
– Layering your content strategy across different channels
– Focusing on what really matters to your audience
– Scheduling and time management
10:00 - 11:00
Zoom
Please register - meeting link will be e-mailed to you in advance of event
Attending
Dan James
Student
Loughborough university
Gordon Wills
Chartered Financial Planner
Wills Financial Consultancy
Scott Palmer
Chartered Financial Planner
Novus Financial Services
Ciara White
Director
Hellbent Events Ltd
Lourén Lourens
Financial Director
Food Chem Consulting
Nathan Scott
Founder / Front End Developer
Sahara Digital
David Hartley
Independent Advisor
ChainOne
Rosi Mozo
Design Director
Good2Learn
Sophie Packman
Content Developer
WRIPA (University of York)
Sophie Metcalfe
Director
Your Marketing Doctor
Andrew Vevers
Voiceover Artist
Vevers Voiceovers
Mark Williams
Founder, Content Lead
Lightbox Content Agency
Andrew Jones
Owner
Wakefield GoWeb
Lisa Buck
Marketing manager
Catch
Andrew Fox
owner
Travelfox
James Fawcett
Director
Another Beer Ltd
Mandy Haigh Haigh
Project Manager
Leep1 CIC
Janie Gonsalez
Business Development Executive
The Yorkshire Mafia
Alexis Nicolaidis
Interior design consultant
V A Heritage
Samantha Jenkins
Founder
twelve.dog
Paul Buckley
Accountant
Hargreaves
Paul Eddom
Director / Photographer
Visual Image Photographic Services Limited
Annina Diston
Creative Director & Graphic Designer
Annina Diston - Creative Direction & Graphic Design
Helen Crossland
Start-Up Business Coach
Helen Crossland