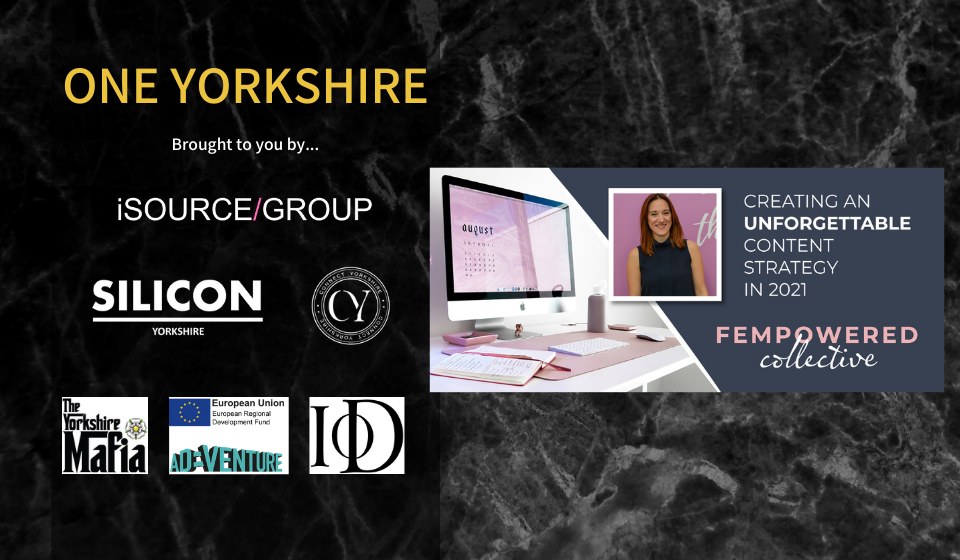 Creating an unforgettable content strategy in 2021
Planning content for digital marketing is a huge task, and not one that should be left to the last minute. It's so easy to fall behind, chase your tail or end up posting content for the sake of it. Ad-hoc is definitely NOT an effective or efficient strategy.
The founder of Fempowered Collective is a former journalist and has honed her skills for marketing working with countless SMEs across Yorkshire and the UK on successful content strategies.
Sophie talks through her top tips to planning and creating VALUABLE, strategic content that will make your audience sit up and take note of your brand. You will learn:
– Setting goals and objectives for your content
– Why valuable content is important
– Using content to build your audience and gain valuable leads
– Layering your content strategy across different channels
– Focusing on what really matters to your audience
13:00 - 14:00
Zoom
Please register - meeting link will be e-mailed to you in advance of event
Attending
Judy Parsons
LinkedIn Trainer ► LinkedIn Profile Writer ► B2B Online Marketing | Wakefield, Leeds, Sheffield
Independent LinkedIn Training & Coaching
David Powell
Strategic Overhead Management Specialist
Auditel
Matthew Ridsdale
Director
Cannon PR
Kevin Pritchard
Owner
Properitum Associates
Kelen Beauchamp
Director
Fidence Consulting
Janet Doran
Business Coach
The Positive Pen
Andrew Vevers
Voiceover Artist
Vevers Voiceovers
Martin Linch
Director
SOLEMEA Limited
Gemma Smith
Translations and Training Manager
Alexika Ltd
Laura Baker
Fundraiser
Nomad Opening Doors
Lisa Buck
Marketing manager
Catch
Sam Marshall
Founder/Managing Director
Monkey Mountaineering
Mary Duggan
Owner
Cockleshell Creative Coaching
Katy Blackburn
Co-Founder
BeSure Events Ltd
Josanne Richardson
Charity
Dementia UK
Michelle Dexter-Lowe
Events Manager
University of Sheffield
Andrew Fox
owner
Travelfox
Steve Cooper
owner
wetherbyweb
Mandy Haigh Haigh
Project Manager
Leep1 CIC
Kedar Karandikar
Mediator
AE Mediation
Emma Bowers
Business Owner
Emmas Dale
Tamara Freeman
Branding Coach
Soul First by Design
Laura Mason
Digital Marketing Executive
Dementia UK
Sereba Ferrari
Digital Event Producer
Son et Lumiere
Jo Watson Davies
Owner
Whatsit Doodah Writing
Rizman !
creative director
coverage studio
James Hall
Personal Development Coach
James Hall Coaching
Annina Diston
Creative Director & Graphic Designer
Annina Diston - Creative Direction & Graphic Design
Helen Crossland
Start-Up Business Coach
Helen Crossland
Daniela Carl
Deputy CEO
RSA
Sarah Hattam
GP/Business Owner
Concilio Health