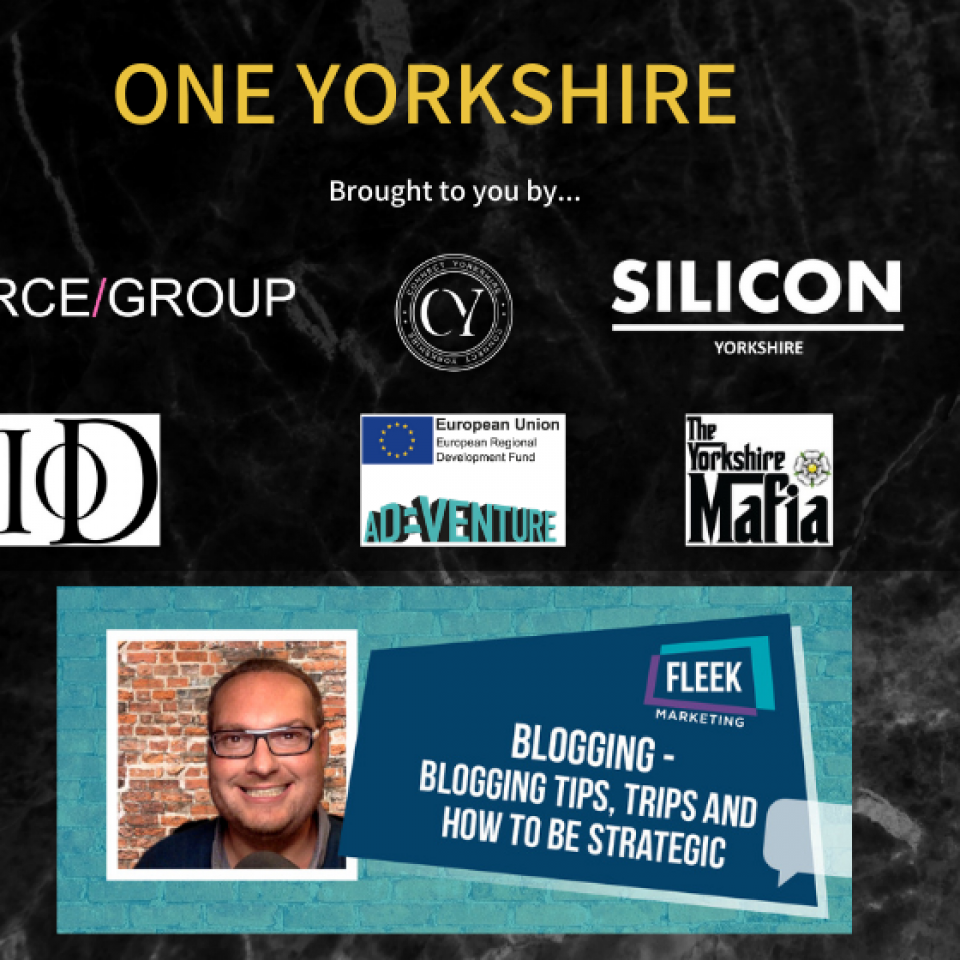 Blogging – Blogging tips, trips and how to be strategic
This event is part of One Yorkshire, a three-month virtual series of curated events, seminars, workshops and get-togethers for everyone in, from or into Yorkshire, created to deliver a real business boost to our community. Events are free of charge and everyone is welcome to attend.
Join Jonny Ross for a 1 hour interactive webinar!
This webinar will look at how blogging can be used strategically to power growth and how to track ROI and performance of a website. Delivered by Jonny Ross, this session will help with understanding the steps needed to design your blog campaigns.
Our expert trainer will be on hand to deliver a webinar that will teach you practical and useful tips which you can implement straight away in your business.
Learn best practice blog titles, SEO techniques, coming up with ideas, blog calendars, how to share blogs, how to create engagement and much more!
12:00 - 13:00
Zoom
Please register - meeting link will be e-mailed to you in advance of event
Attending
Naomi Berry
HR Consultant
Progeny
Robert Carr
Marketing Assistant
Hawsons Chartered Accountants
Darren Bugg
Managing Director
The News Hound Ltd
Deborah Bennett
Owner
The Chronic Coach
Scott Palmer
Chartered Financial Planner
Novus Financial Services
Harold Rose
Managing Director
Alex Rose fine tailoring
Dom Owen
Director
Tuned to R.I.S.K. Ltd
David Powell
Carbon Footprint Specialist
Auditel
Matthew Ridsdale
Director
Cannon PR
Hannah Woodcock
Content Writer
Hallmark Cards
Peter Cruikshanks
Managing Director
Outside In Management
Andrew Vevers
Voiceover Artist
Vevers Voiceovers
Martin Linch
Director
SOLEMEA Limited
Lynne Wright
Chief Experience Officer
Ferris Wheel People Experience Agency
Rachel Thompson Thompson
Employment Law Specialist
RT Advance Consulting
Andrew Jones
Owner
Wakefield GoWeb
Peter Nicholson
Director
Interactive Flat Panels Ltd
Lucille Moore
Brand Photographer
Brand Stories
Gemma Smith
Translations and Training Manager
Alexika Ltd
Laura Baker
Fundraiser
Nomad Opening Doors
Lisa Buck
Marketing manager
Catch
Jez Ash
Consultant
Zenocious
Kathryn Johnson
Creative Catalyst
School Postcards
Francis Grogan
Director
GRGprint
Josanne Burnham
Video Production and Editing
Visionmix Productions Ltd
Stephanie Tague
Head
Building Our Skills
Helinka Carr
Owner
Fuschia rosebuds
Liz Blades
Marketing Manager
Lockyers
Marie Allen
Web copywriter
Web Clarity
James Fawcett
Director
Another Beer Ltd
Sarah-Jayne Beckett
Communications Manager
CORE
Lyn Morton
Business Development
Scandinavian Homes
Kedar Karandikar
Mediator
AE Mediation
Tim Kitching
Semi-retired
N/A
Donna Morris
Marketing Manager
Marketing
Alexis Nicolaidis
Interior design consultant
V A Heritage
Tom James
Director
Howard Conrad
Rachel Heley
Director
Wild Moose
Richard Newby
Health and Safety Consultant
My HSE Manager Ltd
Jo Watson Davies
Owner
Whatsit Doodah Writing
David Wilson
Director
PwC
Michelle Dalby
Marketing Manager
MD Marketing Associates
Sarah Agar-Brennan
Business Coach Specializing in Product Development
Sarah Agar-Brennan Business Consultancy
Helen Crossland
Start-Up Business Coach
Helen Crossland
Dawn Lockwood-Haley
BD Executive
Irwin Mitchell
Charlotte Paine
Director
North Sky Yurts