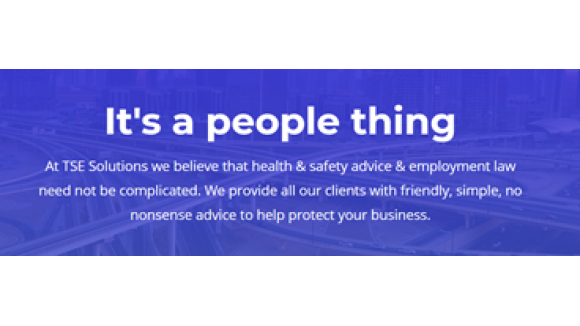 Health & Safety
42 Sunnyridge Avenue, Pudsey, Leeds, West Yorkshire, LS28 7PL
Introduction
TSE Solutions Ltd  provides a comprehensive range of Health and Safety services throughout the UK. Our consultants have the depth of knowledge and experience to help you ensure legal compliance and implement best practice procedures. We can even act as your competent person if required.  Your bespoke Health and Safety system will be delivered in a clear, user friendly electronic format
We offer:
A Health and Safety system bespoke to your business;
Unlimited access to advice via telephone or e-mail 24 hours a day;
The very best practical help backed up with regular visits;
Continued compliance in this critical area.
Audits & Policies
Health and Safety compliance within your business has become an essential element to maintain success.  It is an area that should be taken seriously to try to prevent accidents happening within the workplace.  However, not all businesses find it easy to keep up with the regulation changes that constantly occur.  That is where we come in . . .
TSE Solutions Ltd can carry out Health and Safety audits for your business.  Our dedicated experienced consultants keep up with these changes for you and, after an in-depth look into your business Health and Safety practices, will provide a detailed user friendly report outlining recommendations specific to your needs.
Audits are carried out regularly depending on the service required and the size of the business. The first audit would usually take place at an initial visit and will be reviewed in subsequent visits by your consultant.  The report will help you to manage time scales and resources in order to set the recommendations in place.  Your consultant will be available to discuss the findings of the report and support you with clarifying any issues.
Our consultants will devise a bespoke Health and Safety policy for your business which is a working legal document that is updated on an annual basis. We will devise a Health and Safety management structure to help key employees understand their responsibilities.  Your consultant will be available to offer advice about the policy and make any changes whenever required.