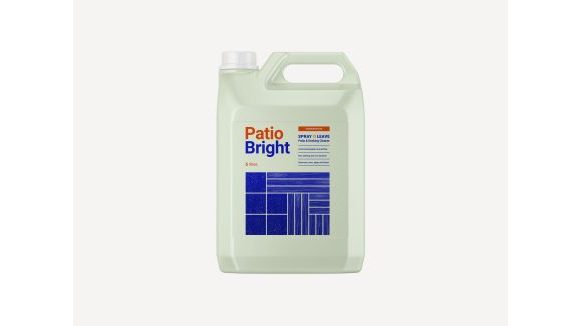 Patio Bright
Commercial grade patio & decking cleaner
Patio Cleaner
The Catalyst, Baird Lane, York, North Yorkshire, YO10 5GW
Patio Bright stands as a high-strength patio cleaner, designed to tackle tough moss, algae, and grime, revealing the pristine beauty of your outdoor space.
Powerful Patio and Decking Cleaner
Patio Bright is formulated with advanced cleaning agents that effectively remove dirt, grime, moss, algae, and other tough stains from various patio surfaces.
Concentrated Formula
With its concentrated formulation, Patio Bright offers excellent value for money. A little goes a long way, providing a cost-effective solution for maintaining outdoor spaces. Dilute at 1:10 for normal use and up to 1:20 for secondary treatments or light application
Safe to use
Patio Bright is safe for pets and plants when used as directed. Our formula is 100% biodegradable. PH neutral and doesn't contain any bleach or acids. However, to ensure safety, keep pets away from the treated area during application and until the surface is completely dry. Following the instructions on the product label will help you achieve a clean patio while keeping your pets safe. While Patio Bright should not damage your plants and grass, care should be taken not to contaminate these areas during application.
Versatile Application
Patio Bright can be used on a wide range of patio and decking materials, including wood, gravel, limestone, glass, plastic and artificial grass . It is adaptable to different surface types, making it a versatile solution for any outdoor surface.
Easy to Use
Patio Bright comes in a convenient concentrate form, allowing for easy dilution and application. It can be applied using a spray bottle, knapsack sprayer, or watering can, depending on the surface and level of cleaning required.
High power concentrate.
Non staining and non abrasive.
Removes moss and algae.
PH neutral and contains  no bleach or acids
For use on all outdoor hard surfaces inc. tennis courts, driveways, roofs, paths and timber products.