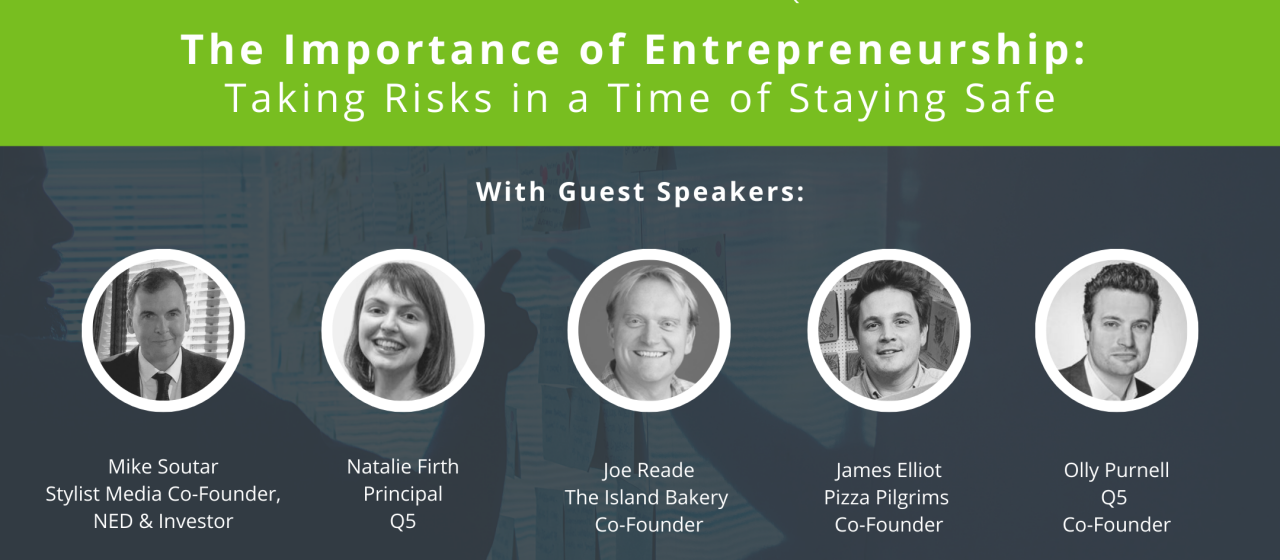 The Importance of Entrepreneurship: taking risks in a time of staying safe
Mar 17
Chaired by one of Q5's founding partners, Oliver Purnell, and Q5 Principal Consultant, Natalie Firth, Q5 are delighted to be joined by three guest founders and entrepreneurs, Mike Soutar (a media impresario, and serial entrepreneur) Joe Reade (biscuit magnate, and CEO of The Island Bakery on the Isle of Mull) and James Elliot (Pizza Mogul, and Co-Founder of Pizza Pilgrims). 

Time:  9.15am-10.15am 
Date:  Wednesday 31st March 2021 
Click to Register: Here 
Times of change challenge expectations and demand creativity.
The World Economic Forum has argued that an entrepreneurial approach can help end the Covid-19 crisis and the agile, risk-taking and innovative nature of an entrepreneur can help steer businesses and society through radical change.
Q5 at inception was an entrepreneurial endeavour, founded during a global economic downturn, in response to market demand for organisational change specialism and supplier agility.
All of our speakers, including Olly Purnell Q5's Founding Partner, will share their stories, top tips and benefits of taking this route.
Two of Q5's speakers also contributed to Q5's 'Magic Sponge' book, a collection of business leader interviews including fantastic stories of entrepreneurship. This can be purchased here with all proceeds going to the mental health charity, Think Ahead.
If you're looking for new ways to approach your business challenges, please join Q5 and feel free to share this event with your network.